Sofia sees Ryanair and Wizz Air battling to be #1 as they clash on 15 routes; good Star Alliance hub links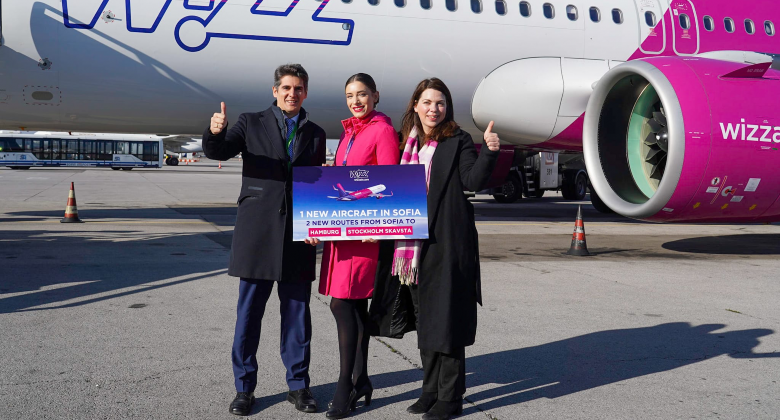 Bulgaria became a member of the EU on 1 January 2007. The same day, neighbour Romania also became a member. Curiously, traffic had already doubled at the country's main airport in Sofia between 2001 and 2006. In 2007 demand grew by more than 20% while the following year passenger numbers again increased by almost 20%. However, the next five years saw little traffic growth.
Between 2013 and 2018 traffic doubled from 3.5 million annual passengers to seven million. Not surprisingly, the main drivers of this growth were Wizz Air (which more than tripled capacity during the period) and Ryanair, which started serving the Bulgarian capital in April 2016.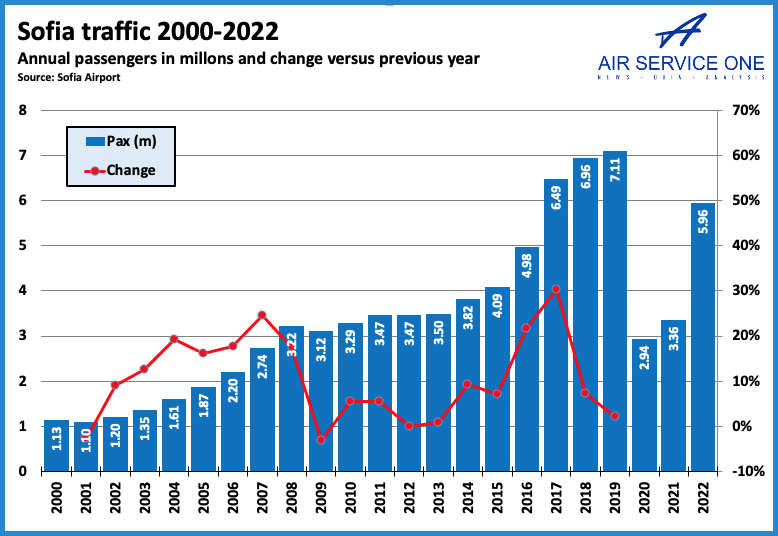 Last year, passenger numbers were a fraction under six million, around 16% below the level of 2019. In September and October last year, demand was only 4% lower than in the pre-pandemic year of 2019. August is the airport's busiest month, with almost 700,000 passengers in 2019. Seasonality is relatively low with August demand only 35% higher than in February.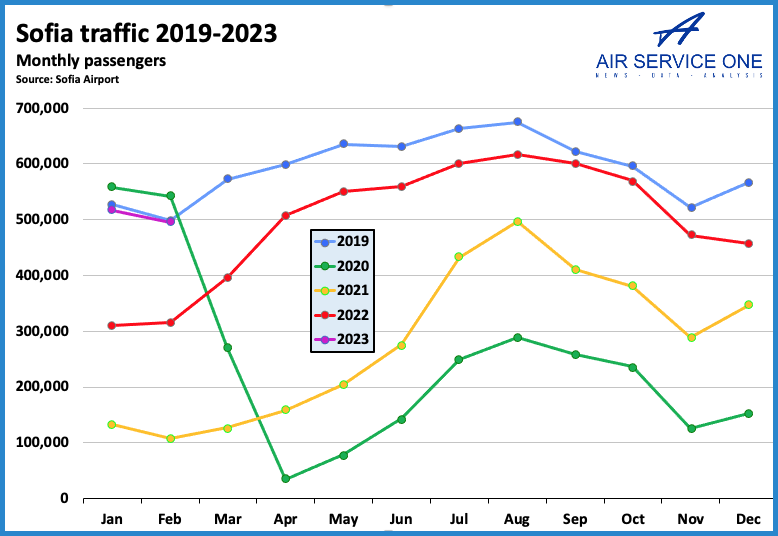 Ryanair and Wizz Air lead the way
According to analysis of Cirium schedule data for August, Europe's two leading ULCCs (Ryanair and Wizz Air) both account for just under 30% of scheduled seat capacity. This summer, Ryanair is offering 134 weekly departures across 38 destinations from Sofia, while Wizz Air is offering 125 weekly departures across 29 destinations. The two airlines compete head-to-head on 15 airport pairs, a significant overlap. The airports served by both carriers are:
Belgium: Brussels CRL
France: Paris BVA
Germany: Memmingen
Greece: Corfu
Israel: Tel Aviv
Italy: Bari, Bologna, Catania, Milan BGY, Naples, Rome CIA
Netherlands: Eindhoven
Spain: Barcelona, Madrid, Malaga
Both carriers also serve London. Ryanair serves Stansted with 17 weekly flights, while Wizz Air serves Luton with 17 weekly flights. In addition, British Airways and Bulgaria Air both serve Heathrow 5-weekly and easyJet flies daily from Gatwick.
This winter had seen Wizz Air launch new routes in December to Hamburg and Stockholm NYO. This summer will see Ryanair start new routes to Rhodes in Greece and Wroclaw in Poland. Wizz Air will be adding Riyadh in Saudi Arabia and Yerevan in Armenia, both starting in April.
Star Alliance carriers have significant presence
Local carrier Bulgaria Air is the third busiest carrier at Sofia with 13% of seats. The leading foreign flag-carriers are all members of the Star Alliance; Lufthansa, Turkish Airlines, Austrian Airlines, LOT Polish Airlines and Aegean Airlines. Other flag-carriers present include Air France, Air Serbia, British Airways, El Al, ITA Airways, Qatar Airways, SWISS and TAROM. Notably absent are Aer Lingus, Iberia, KLM, SAS and TAP Air Portugal.
Other low-cost airlines offering service to Sofia are easyJet (with flights from London LGW and Manchester), flydubai (from Dubai), Norwegian (flights from Oslo starting in June) and Pegasus Airlines (Antalya service began last November). Vueling served Sofia from Barcelona during the summer between 2013 and 2016. Before the pandemic, Transavia served Sofia from Amsterdam with up to three weekly flights.
Germany is leading country market in Q2
Cirium data shows that seat capacity from Sofia between April and June is set to be around 2% down compared with the same period in 2019. The leading country market from Sofia this summer is Germany, followed by a close battle between the UK and Italy. The latter has seen the biggest increase in capacity of over 37,000 seats, representing growth of 35%.
Lufthansa accounts for almost half of the German flights with 2-daily service to Munich and 3-daily service to Frankfurt. Ryanair serves five German airports and Wizz Air four, though they only compete on Memmingen. In addition, Bulgaria Air serves Berlin and Frankfurt with 3-weekly service.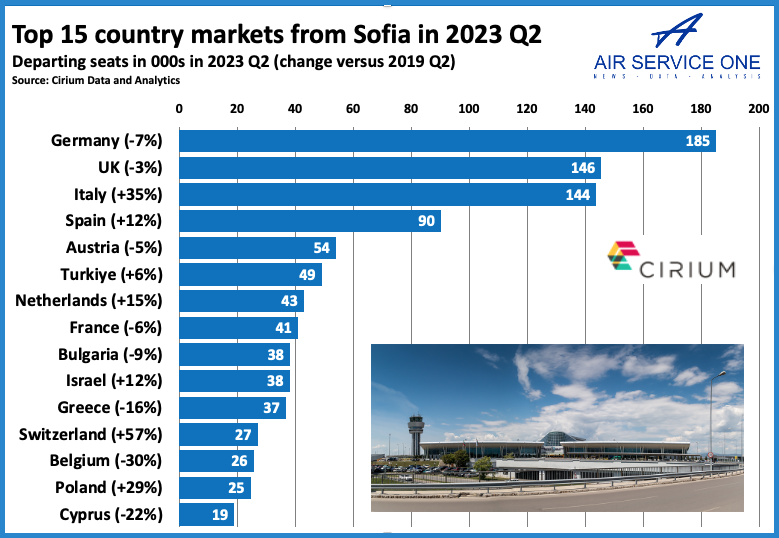 Since 2019, Armenia (Wizz Air to Yerevan), Croatia (Ryanair serving Zadar and Zagreb), Norway (Norwegian to Oslo) and Saudi Arabia (Wizz Air serving Riyadh) have all become new country markets for Sofia. For various reasons airports in Azerbaijan, Lebanon, Morocco, North Macedonia, Russia, Slovenia, Tunisia and Ukraine are not currently served, although they were in 2019 Q2.
Rail link to city centre
Sofia Airport lies around 10 kilometres east of the centre of the city. The main Terminal 2 was built in 2006 and a new control tower was completed in 2012. A metro station close to Terminal 2 was opened in 2015. For visitors to Sofia, the highlight is probably the Alexander Nevsky Cathedral, built in the late 19th century and early 20th century, which can apparently hold up to 5,000 people.