Southampton gains runway expansion; Loganair largest carrier; Edinburgh top route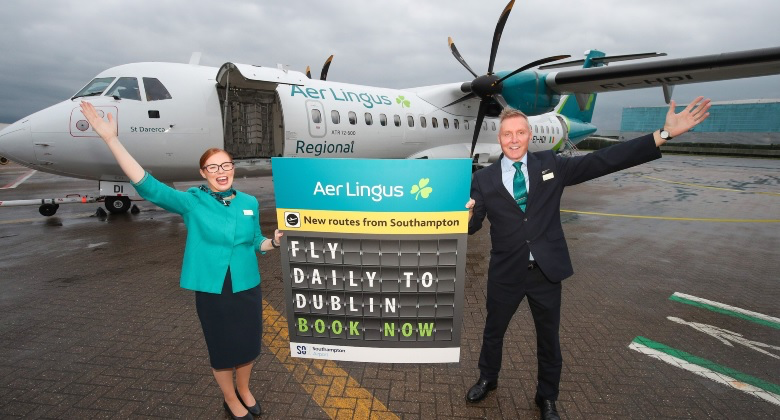 Located on England's South Coast, Southampton has a catchment area of 1.4 million people within a 30-minute drive and 3.5 million within an hour. In the first seven months of 2023, European Airport Traffic Statistics (EATS) data shows that it welcomed 427,000 passengers, down by 61% (a loss of 688,000) versus the same period in 2019. This is because of the end of Flybe Mk1, which had around nine in ten of the airport's passengers. It was also helped by the second iteration failing.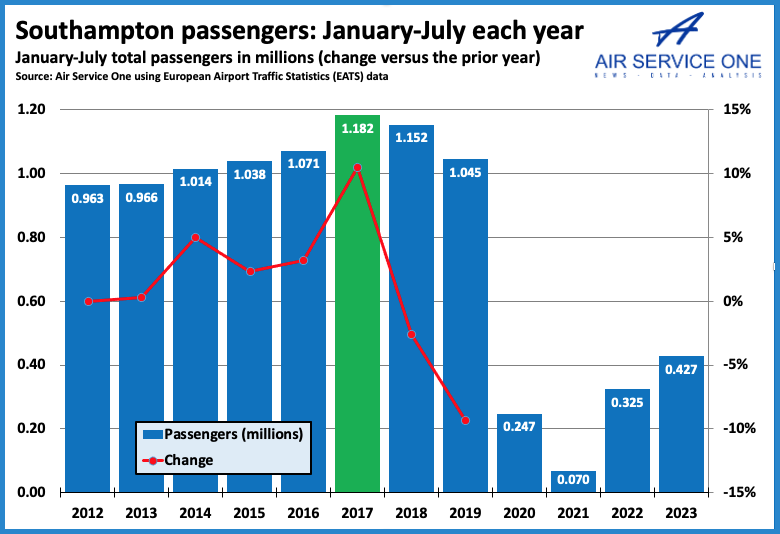 Southampton's runway extension has arrived
Long plagued by a short runway, Southampton hopes its extension – by 538 feet (164 metres) to 6,191 feet (1,887m) – will appeal to new carriers. While it was first used in August 2023, the airport says the official launch will be on 21 September. Southampton is especially aiming for 737 and A320 family operators, with the extension hopefully enabling full payloads. The airport's virtual sea-level elevation and mild weather will help take-off performance.
Analysis of July-December 2023 schedules using Cirium tells that just 1.3% of departing flights are by large narrowbodies. None are in the peak summer, which Southampton will be keen to remedy. easyJet continues to serve Geneva winter-seasonally and will introduce new routes from Belfast BFS (starts 29 October; 3-weekly) and Glasgow (begins 2 November; 2-weekly). For now, Southampton's longest route – to Faro – uses BA CityFlyer's relatively light 98-seat Embraer E190s.
Loganair is Southampton's leading carrier
Loganair, so-called 'Scotland's Airline', has more Southampton seats, flights and ASKs between July and December than any other carrier. Looking at departing flights, it has scheduled 1,839 or about 39% of the airport's total.
Loganair has three routes – Edinburgh (28-weekly in September), Glasgow (24) and Newcastle (16) – all of which almost always use the 49-seat ERJ-145. Aside from the new easyJet route from Glasgow, the only direct competition is BA to Edinburgh (weekly). This is not really about the domestic market but more about positioning an aircraft to/from Southampton – to the airport on Fridays, back on Sundays – for BA's weekend Europe leisure flying. Most of these routes are summer seasonal, along with skiing-based flights to Chambery and Christmas/New Year flights to Bergerac.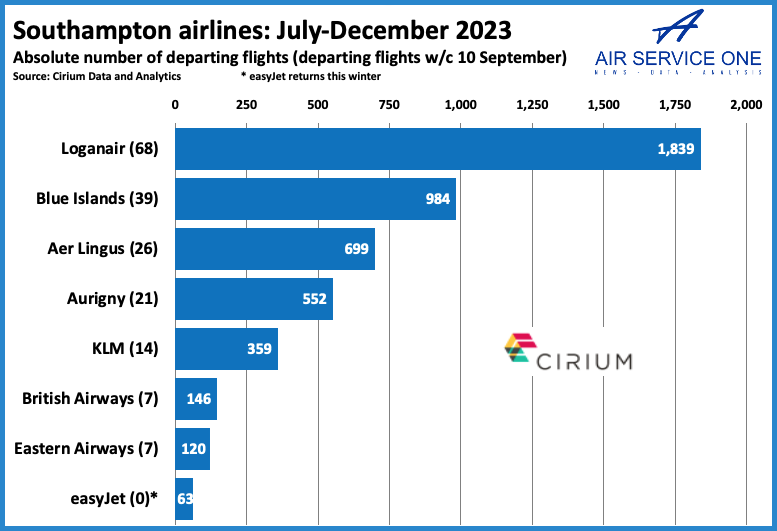 19 destinations have non-stop flights
Examining July-December schedules reveals that Southampton has non-stop flights to 19 destinations. Some seven are in the UK and Channel Islands, which are, of course, by far the most served markets. Nearly one in three flights is to Edinburgh and Glasgow.
As holiday hotspots – including Alicante, Faro, Malaga – only have weekly flights, Southampton's leading international market is Amsterdam (14-weekly by KLM). More interesting is Paris ORY. Last served by Flybe in 2017, after which it consolidated at CDG, Eastern Airways launched the route on 14 April 2023. It is now the carrier's sole offering from Southampton.
15 destinations lost vs. 2019
Comparing Southampton's July-December 2023 network with the same months in 2019 – when Flybe operated – shows that 15 destinations are no longer served. Four of these – Manchester, Leeds Bradford, Avignon, Toulon – have been operated by another carrier since then but are again unserved. Ordered by 2019 flights, the 15 are:
Manchester
Paris CDG
Leeds Bradford
Dusseldorf
La Rochelle
Nantes
Rennes
Bordeaux
Verona
Avignon
Pergninan
Toulon
Brest
Bastia
Biarritz
In addition, 17 of the 19 destinations served now were also served in 2019. However, flights remain down by 19% on average. Summer sun destinations are particularly badly affected. Among the most affected larger markets are Amsterdam (-50%), Guernsey (-43%) and Jersey (-28%). Interestingly, Southampton's two largest markets – Edinburgh (+9%) and Glasgow (+5%) – have exceeded pre-pandemic and post-Flybe flight levels.