Southwest begins first ever flights to Montana; now serving Bozeman from five airports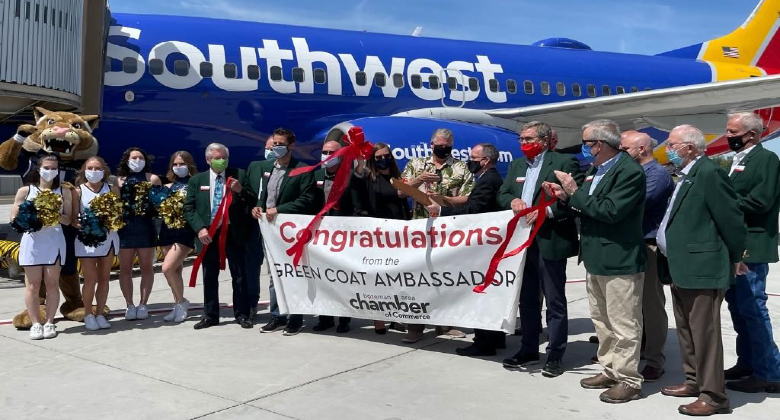 Montana became the latest state to welcome Southwest service, when Bozeman Yellowstone International Airport (IATA code BZN) welcomed the airline's first flight from Denver on 27 May, just in time for the Memorial Day weekend. On the same day, the airline also began service from its base in Las Vegas. The 845-kilometre Denver route is now operating 4-daily with competition coming from United Airlines (6-daily) and Frontier Airlines (3-weekly). On the 1,130-kilometre route to Las Vegas, Allegiant offers a 2-weekly service (on Thursdays and Sundays).
Weekend only flights Chicago, Dallas and Phoenix
On Sunday 6 June, Southwest added three more routes to Bozeman; 2-weekly (Saturday and Sunday) services from its bases at Chicago MDW, Dallas DAL and Phoenix PHX. The only direct competition on these three routes is from American who operate a daily service from Phoenix PHX. Additional indirect competition comes from American and United, who both offer daily flights to Bozeman from Chicago ORD, American's 2-daily service from Dallas DFW and Allegiant's 2-weekly service from Phoenix AZA.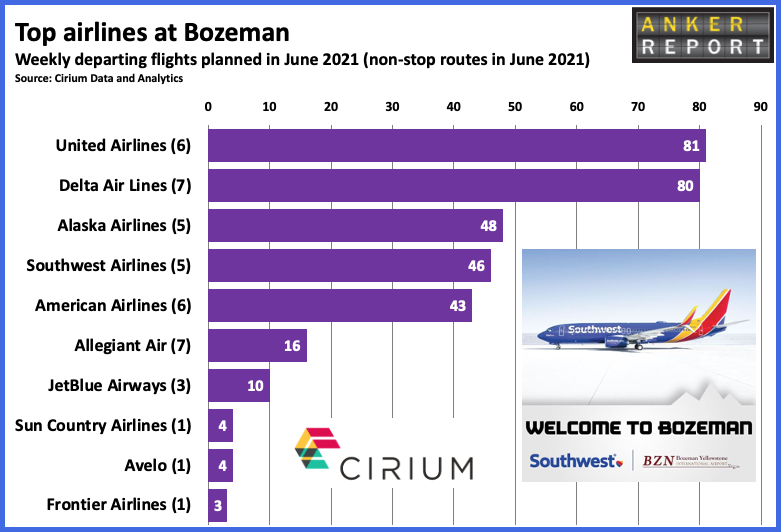 With these new services, Southwest will be the fourth biggest carrier by flights (and third biggest by seats) after United and Delta in Bozeman in June. Bozeman has been successful at attracting several new services this year as people increasingly consider holiday destinations that keep them well separated from other people. As the gateway to Yellowstone National Park, Big Sky Ski Resort and Custer Gallatin National Forest, demand for flights to Bozeman appears to be growing strongly. Since the beginning of 2021, apart from Southwest's new routes, there have also been new services from Alaska Airlines (from San Diego), Allegiant (from Austin, Oakland and San Diego), American (from New York LGA, Philadelphia and Phoenix), Avelo (from Burbank) and Delta (from New York JFK). Further new service to San Francisco (with Alaska Airlines) and Washington IAD (with United) are set to start in the coming weeks.