Southwest Florida International Airport is fastest-growing US airport in May, as Florida's airports again lead the way for growth in flights
Analysis of Cirium Data and Analytics schedule information for May 2021 and May 2019 shows that six of the top 12 airports with the biggest increase in the number of flights compared with two years ago are all in Florida. Whereas Sarasota/Bradenton led the way in April, it has slipped to second in May, as Fort Myers has taken over the top spot.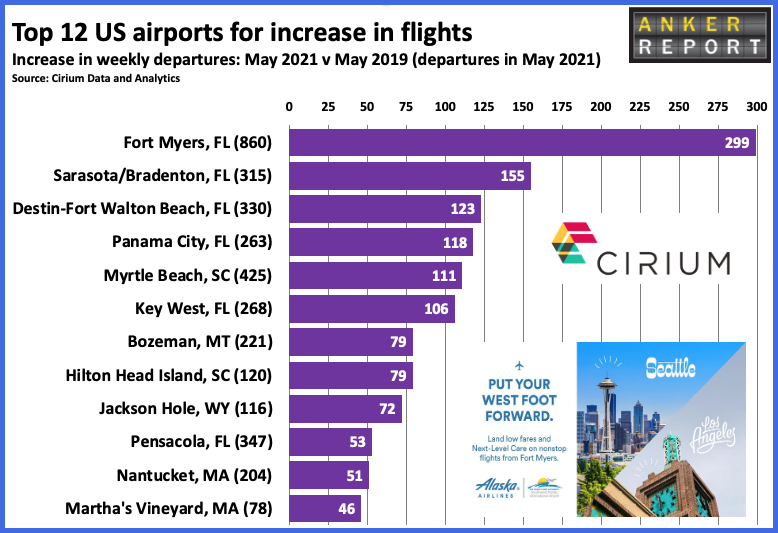 Fort Myers has gained 300 more departures
Opened in 1983 and initially branded as Southwest Florida Regional Airport (IATA code RSW for Regional South-West), the airport is located a few kilometres southeast of Fort Myers. Compared with May 2019, the airport is offering almost 300 more departures this May, an increase of 53%. The gain has come from all airlines serving the airport, with Southwest (86 additional flights) leading the way, followed by Spirit Airlines (56), Delta (42), United (41), American (36) and Frontier (29). The airport now has non-stop service to nine airports it was not connected to in May 2019, including Buffalo, Dallas DAL, Grand Rapids, Houston HOU, Orlando and Washington IAD.
Compared with April, the top 12 in May has seen 'new entries' _for Bozeman in Montana, Jackson Hole in Wyoming, Pensacola in Florida and Nantucket in Massachusetts. The first two are gateways to wilderness and wide open spaces, which are proving popular options during the pandemic, as people are looking for healthy holiday options. The increase of 79 more weekly departures at Bozeman is again spread across several carriers with Delta (25) ahead of American (24), Alaska Airlines (19) and Southwest (15). Similarly, the increase of 72 weekly flights at Jackson Hole has been shared out between American (27), Delta (18), United (14) and Alaska Airlines (10).
Avelo's second base will be in Connecticut
Having successfully launched operations from Hollywood Burbank Airport in California on 28 April, Avelo Airlines has already announced the location of its second base, which is set to open in the third quarter of 2021. Tweed New Haven Airport (IATA code HVN, Tweed is the name of the airport's first manager) promotes itself as Southern Connecticut's Airport and its only commercial service at present is to Philadelphia with American Airlines. Nearby New Haven is home to Yale University. The main airport serving Connecticut is in Hartford, the state capital.
Mexico domestic traffic at 73.5% of 2019 figure
Analysis of the latest passenger figures from Mexico shows that the country's airlines carried 3.17 million passengers on domestic routes in March. This was up 1% on March 2020, but, more significantly, down 26.5% compared with March 2019, or at 73.5% of 2019 figures. Volaris continued to be the leading domestic airline with 1.21 million passengers in March, representing just over 38% of the total market. Next came Vivaaerobus with 29.4%, ahead of Aeromexico (16.7%) and Aeromexico Connect (12.8%).
International passenger numbers were 2.14 million in March, which is down 66.5% compared with two years earlier. The leading carriers for international passengers in March were American (446k), United (293k) and Delta (231k) followed by Aeromexico (219k).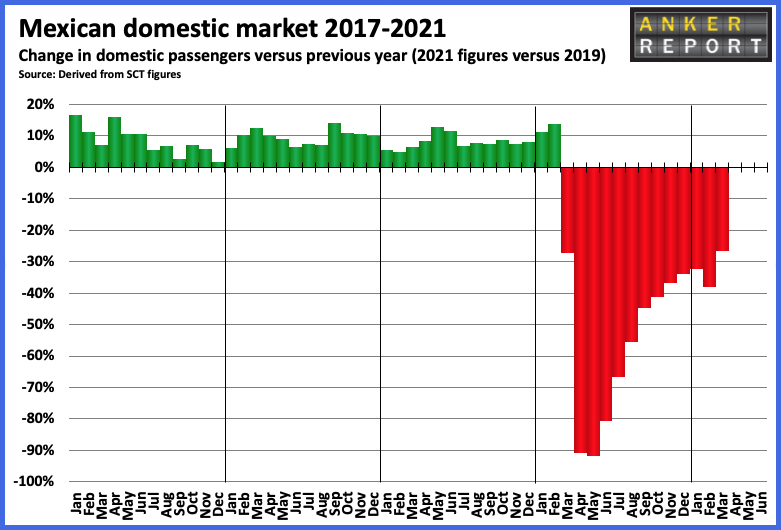 Little sign of traffic recovery in Canada so far
North of the US border in Canada, things are not looking so good. The latest monthly traffic data for Canada's eight busiest airports suggests that even a partial recovery would still appear to be some way off. None of the airports have reported traffic levels above 16% of two years ago in either February, March or April.
One clear pattern since the pandemic struck is that the capital, Ottawa, is at the bottom of the rankings with its traffic down 95% in each of the last three months. The airport doing least worst is Calgary (which saw traffic levels at over 20% of 2019 for four months in 2020) followed by Edmonton.
In its 2021 Q1 results, Air Canada reported that it carried 1.12 million passengers (down 89% compared with 2020 Q1) at an average load factor of 43.5%. For Q2 the airline is predicting that ASKs (Available Seat Kilometres) will be down 84% compared with the same period in 2019.