Southwest is now #1 US domestic airline; Denver is now its busiest airport; 21 airports added since 2019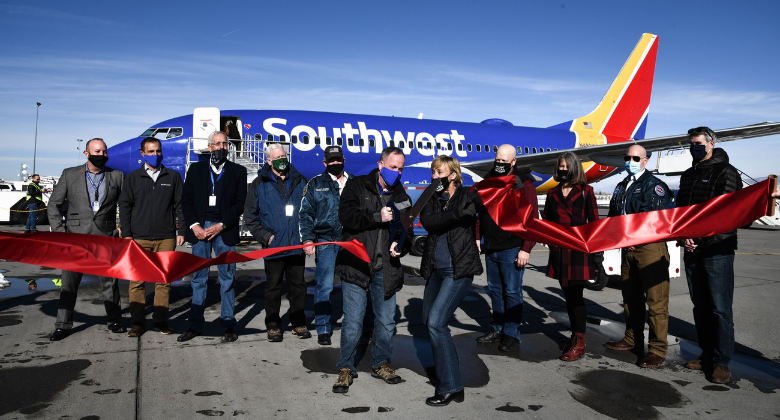 This April-June, Southwest is the USA's second-biggest airline – and number one if only domestic is considered. According to Cirium schedules information data, it has 57.8 million total seats available, relegating Delta, with 54.9 million, to third place.
Southwest's Q2 2023 total capacity has increased by 8.7% versus Q2 2019. It is because domestic seats have grown by 4.6 million (+8.8%). Considered alongside negative recoveries by American and Delta, Southwest has jumped from the country's third-biggest domestic operator to first. In contrast, the LCC's Q2 international capacity has grown rather more modestly: by just 7,700 seats (+1.1%).
Denver replaces Chicago MDW as Southwest's top airport
Denver is Southwest's leading airport this April-June, up from third in Q2 2019. It has added a million seats at the Colorado airport in this period (+35%), the result of having 93 routes, up from 69. Despite this, only two of Southwest's leading routes are from Denver (see the figure later in the article).
Southwest now has a third of Denver's capacity, the lowest share at its top 10 airports (see below) except for Orlando MCO (20%). The LCC has an average of 59% of the seats at its leading 10 airports. Predictably, it is enormously dominant at Dallas DAL (97%) – one of its three airports when it started in 1971 – and Houston HOU (91%).
In Q2 2019, Chicago MDW was Southwest's top airport but now it is third. Its fall isn't because it has not grown: the airline's capacity there is +3%. It has simply grown far slower than at Denver and the top 10 airports generally (an average of +10%). It is part of multiple other changes in its top 10 list. For example, Oakland and Los Angeles no longer feature, while Nashville and St Louis have entered – despite St Louis' experiencing a 1.1% drop in capacity. The top 10 now account for 45% of Southwest's Q2 seats.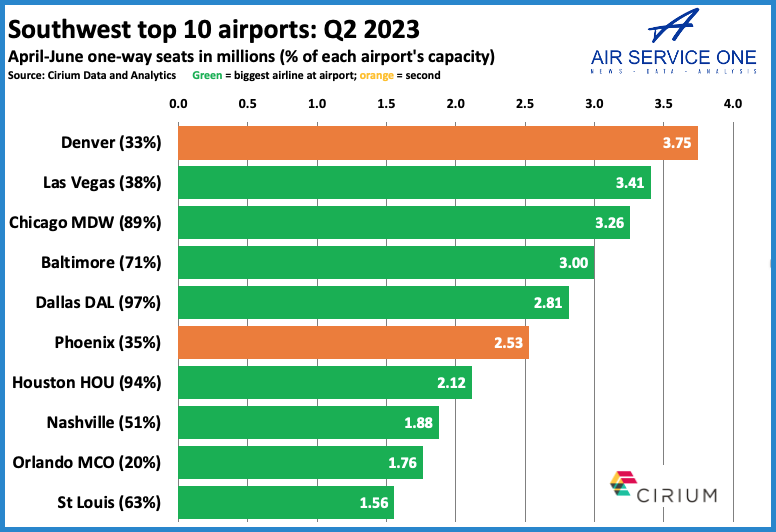 21 airports have been added; just one cut
Southwest's network comprises 121 airports in Q2 2023, up from 101 in Q2 2019. Of the 121, 107 are in the US, spanning 44 states and territories (Puerto Rico). Inevitably, it serves more airports in California (13) than anywhere else, closely followed by Florida and Texas (11 each). Then it is New York (six) and Hawaii (five).
It has introduced 21 airports since 2019, with a big emphasis on both outdoor destinations – a consequence of the pandemic – and some very busy airports: Bellingham; Bozeman; Chicago ORD; Colorado Springs; Cozumel; Destin-Fort Walton Beach; Eugene; Fresno; Hilo; Houston IAH; Jackson; Lihue; Miami; Montrose; Myrtle Beach; Palm Springs; Sarasota; Santa Barbara; Savannah; Steamboat Springs; and Syracuse. Only two – Houston IAH and Jackson – had seen Southwest before. Houston IAH was one of its original airports in 1971 and last had the airline in 2005, while Mississippi's capital was served until 2014.
Only Newark no longer sees Southwest. The LCC launched it in 2011, and while it barely grew, it had just over a million annual one-way seats at its peak. It decided to consolidate its Greater New York service on LaGuardia and ceased serving Newark in November 2019. It had a total of 16 routes from the airport.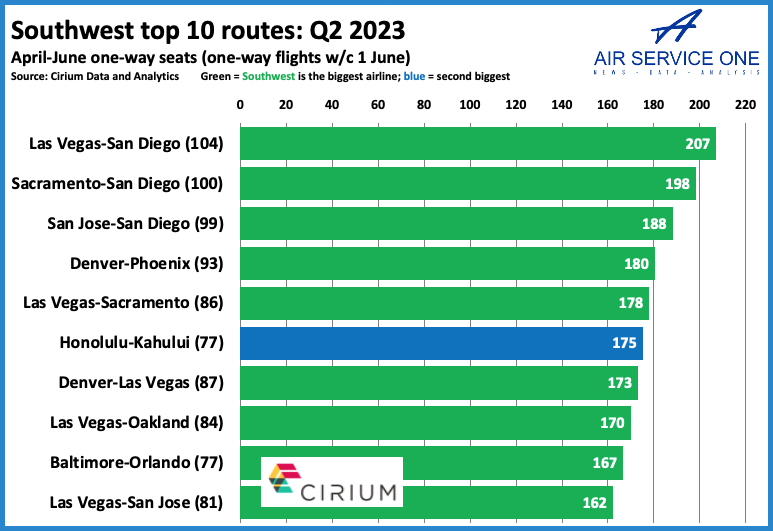 What about international?
Southwest has had international service since 2014, a year in which it had 22 routes to the Caribbean and Mexico, including Mexico City. Given the enormity of its domestic operation, international has always been a small part of the picture. This April-June, it accounts for just 1.2% of its available seats on a network of 64 routes. This involves 23 US airports, of which Houston HOU has the most capacity and nine routes, including to Havana – Southwest's leading international route. Some 14 non-US airports are served, all leisure-driven markets in the Caribbean, Mexico and Costa Rica. Invariably, Cancun has the most capacity, with flights from 17 airports. Southwest still does not serve anywhere in Canada.