Spirit is the USA's largest ULCC; 27 airports added since 2019; has 301 routes in September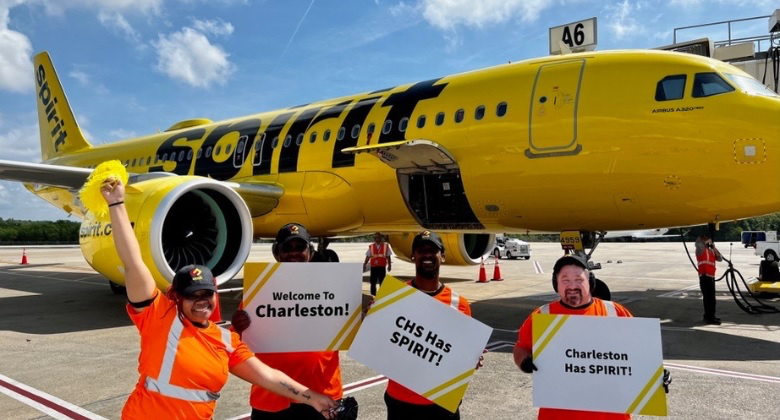 Spirit is the seventh largest airline serving the USA by flights in September. With a fleet of 199 A319s, A320s and A321s, it has 5,554 weekly services making it the country's largest ULCC ahead of Frontier (4,040). Yet Spirit has just 3.2% of the domestic market, rising to 6.4% of the short-haul international market. While Spirit's growth since 2019 has been considerable, it is much more modest year-on-year. This calmer approach is sensible given its operating margin in Q2 2023 (April-June) was a poor 3%, lower than many other carriers. It has largely put this down to significant competition – around 79% of its routes have at least one other airline.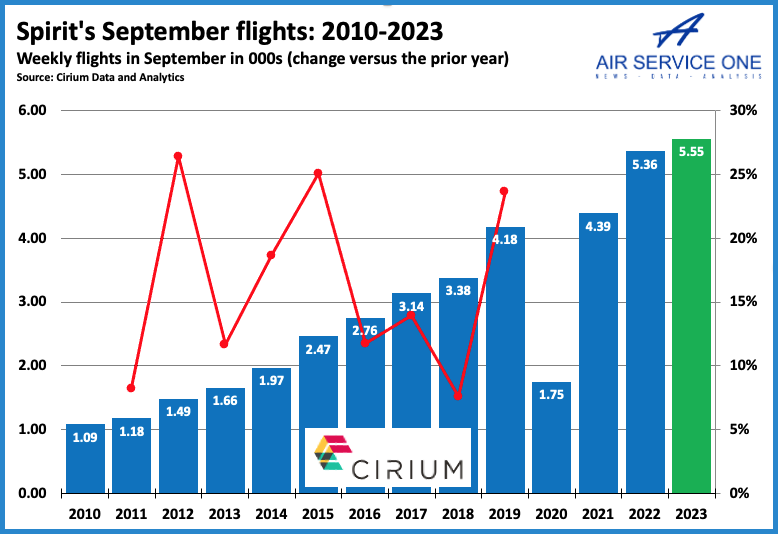 Fort Lauderdale remains Spirit's leading airport
According to Cirium schedules data, Spirit's September network comprises 91 airports. Some 63 are in the US in 34 states/territories. Elsewhere, seven airports are served in Colombia, four in Mexico, three in the Dominican Republic, two in Haiti, Honduras and Jamaica, and one each in Aruba, Costa Rica, Ecuador, El Salvador, Guatemala, Nicaragua, Peru, and St. Maarten.
With 657 weekly departing flights, Fort Lauderdale is Spirit's leading airport, just has it has been for many years. Only in the 2004/2005 period did Detroit rank a close second, but it is now sixth.
Despite Miami joining Spirit's network in 2021, Fort Lauderdale has grown strongly and at a faster rate than the carrier's network average. Spirit is Fort Lauderdale's chief airline with just under a third of services, overtaking JetBlue which was first as recently as 2019. Spirit has 61 Fort Lauderdale routes in September, with the airport accounting for 60% of its international flights.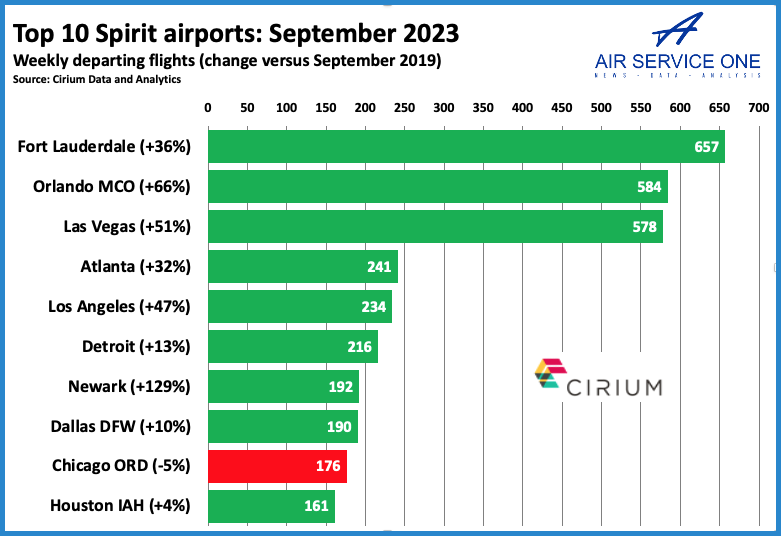 301 routes in September
Breaking down its network shows that 248 routes are domestic (including Puerto Rico) and 53 are international. Cirium shows that, despite the big rise in flights versus 2019, Spirit's network has only risen by a net of 24 routes, which of course hides the numerous routes added and cut in this period. About 70% of its entire network is served at least daily.
Fort Lauderdale accounts for just two of Spirit's leading 10 routes, although they are the busiest two. The 935-kilometre link to Atlanta is the most served. The ULCC is one of five carriers on it. Obviously, Delta has the most service (71-weekly), then Spirit (35), Southwest (23), Frontier (14) and JetBlue (7). In 2019, Fort Lauderdale-New York LGA was Spirit's foremost route – now it is not in the top 10.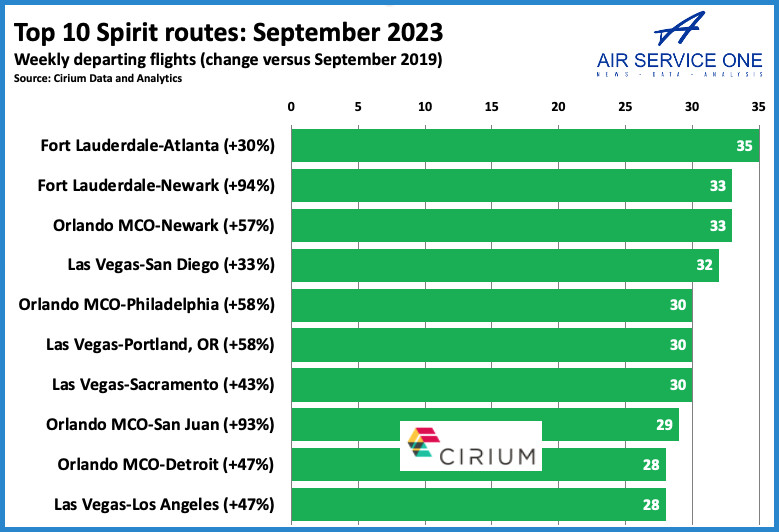 Eight airports cut, 27 added
Using Cirium to compare Spirit's airports in September 2023 versus 2019 shows that eight are no longer served: Jacksonville (last served in 2020); Plattsburgh (2020); Greensboro (2021); Akron/Canton (served until 2022); Asheville (2022); Niagara Falls (2022); Panama City (Panama; 2022); and Charleston (WY; 2023). However, 27 are now served that were not in September 2019, most entirely new to its network:
2019 (October+): Nashville, West Palm Beach (served until May 2019, then from November)
2020: Barranquilla (previously served until 2011), Cap-Haïtien (previously served until June 2019), Orange County, Bucaramanga
2021: Louisville, Manchester, Miami, Milwaukee, Palmerola (Tegucigalpa), Pensacola, Puerto Vallarta, St Louis
2022: Albuquerque, Boise, Charleston (SC), Memphis, Monterrey, Ponce (previously served until 2008), Reno, Rochester (NY), Salt Lake City, San Antonio (previously served until 2009)
2023: Charleston, Norfolk, San Jose (CA)