Spirit latest airline to serve New Mexico; Albuquerque is leading airport, Southwest is leading airline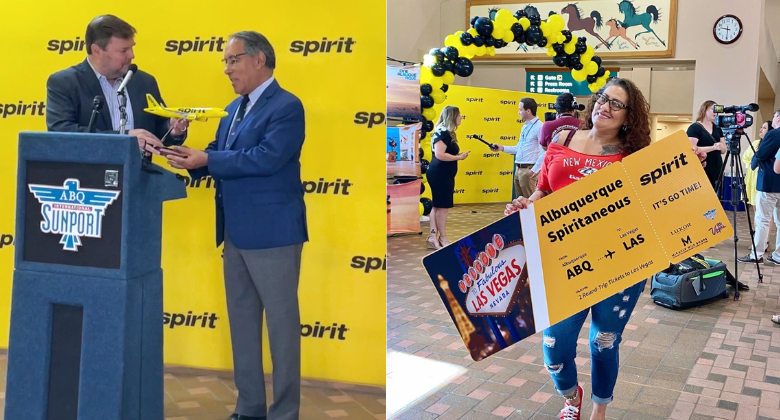 New Mexico is the fifth largest state in the US, behind only Alaska, Texas, California and Montana. It is roughly the same size as Poland. However, with a total population of only just over two million people, it has one of the lowest population density values of any US state, beaten only by Alaska, Montana, Wyoming and both Dakotas.
Although New Mexico has nine airports which currently offer scheduled services, just under 90% of all seat capacity in the state is being offered from Albuquerque International Sunport (IATA code ABQ). The airport serving the largest city in New Mexico was, prior to the pandemic, welcoming between five and 6.5 million passengers per annum. The airport's busiest year was 2007 when 6.67 million passengers passed through the facility. In 2019, ABQ handled 5.41 million passengers. Demand had fallen to as low as 4.75 million passengers in 2015.
Albuquerque traffic down 17% in June versus 2019
This year has seen ABQ welcome a few new services. On 4 January, American began daily service to Austin, competing directly with Southwest. A fortnight later, on 17 January, Southwest introduced daily service to Burbank in California, a new destination for the airport. Frontier then added 2-weekly service to Las Vegas on 12 May competing with Southwest's daily offering. Finally, Spirit began service on the same route earlier this month.
In June, ABQ welcomed 419k passengers, which is 17% below the figure for June 2019. In previous months the traffic reduction versus 2019 has been less; 12% down in March, 10% down in April and just 2% down in May. Southwest accounted for 45% of traffic in June, ahead of American (20%), United (16%) and Delta (13%).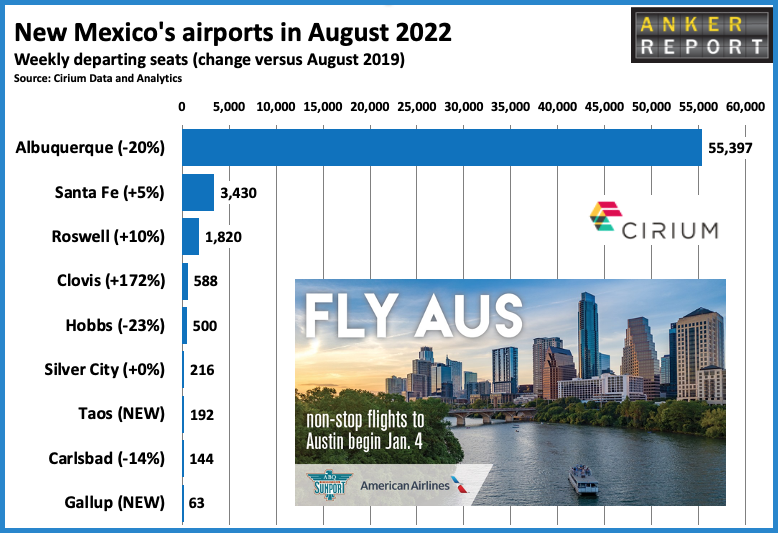 New Mexico's eight other commercial airports share 11% of the state's airline capacity. Santa Fe has multiple daily flights with American to Dallas/Fort Worth and Phoenix, while United serves Denver twice-daily. American also offers daily service from Roswell to both Dallas/Fort Worth and Phoenix. Gallup Municipal Airport recently saw the start of Advanced Air flights to Phoenix.
Southwest is leading carrier
Not surprisingly, given its leading position at Albuquerque, Southwest is the leading airline in New Mexico. It currently offers at least daily service to 11 destinations, including Dallas DAL, Denver, Las Vegas and Phoenix. It also flies weekly to Baltimore/Washington and San Antonio. American comes second operating from three airports in New Mexico. However, Advanced Air flies from four airports in New Mexico; Albuquerque, Gallup, Silver City and Taos.
Spirit became the newest carrier to serve New Mexico when it began daily service to Albuquerque from Las Vegas on 3 August. This single service already makes the ULCC the sixth biggest carrier in the state by seat capacity.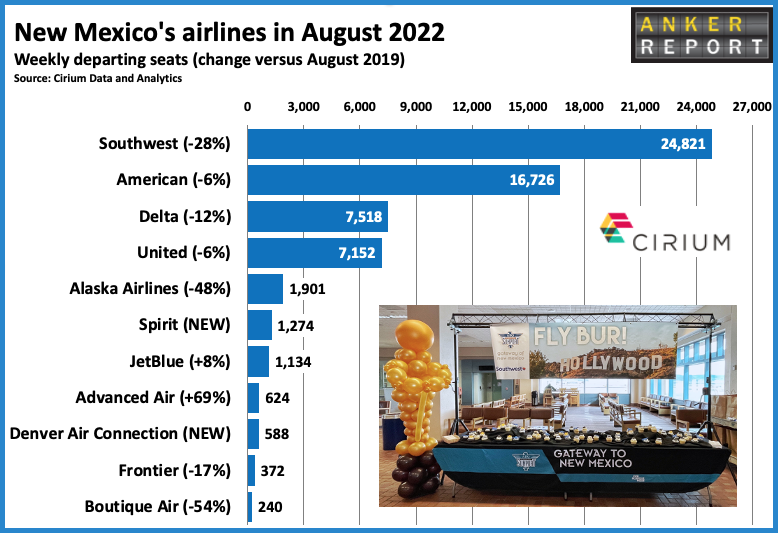 There are currently no international services to/from Albuquerque. According to Cirium data, Volaris offered 2-weekly service from both Chihuahua and Guadalajara at various points in 2019. The longest non-stop route currently available from New Mexico is JetBlue's daily service to New York JFK, which clocks in at 2,940 kilometres.