Stuttgart traffic still down 45% versus 2019; Eurowings dominates after withdrawal of easyJet and Ryanair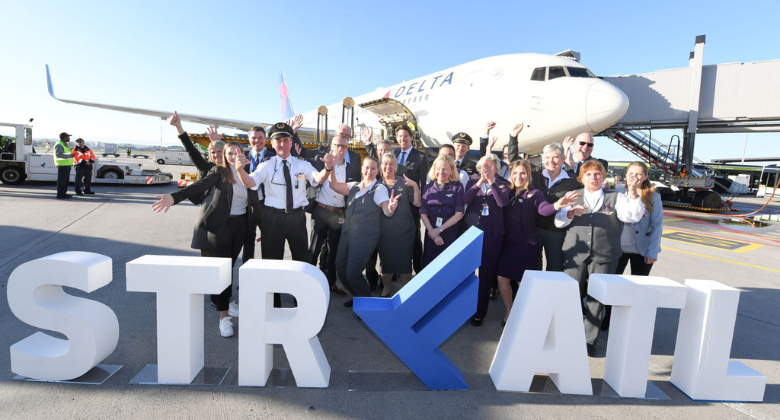 The recent resumption of Delta's non-stop transatlantic service from Atlanta to Stuttgart was some much-needed good news for the German airport. Ranked as the country's sixth busiest in 2019 with 12.7 million passengers, it has struggled (along with several other medium-sized airports in the country) to get traffic back to anywhere near pre-pandemic levels. Passenger numbers in the fourth quarter of 2022 were over 40% below the figures achieved in 2019. In the first two months of 2023 demand is still down 45% versus four years earlier.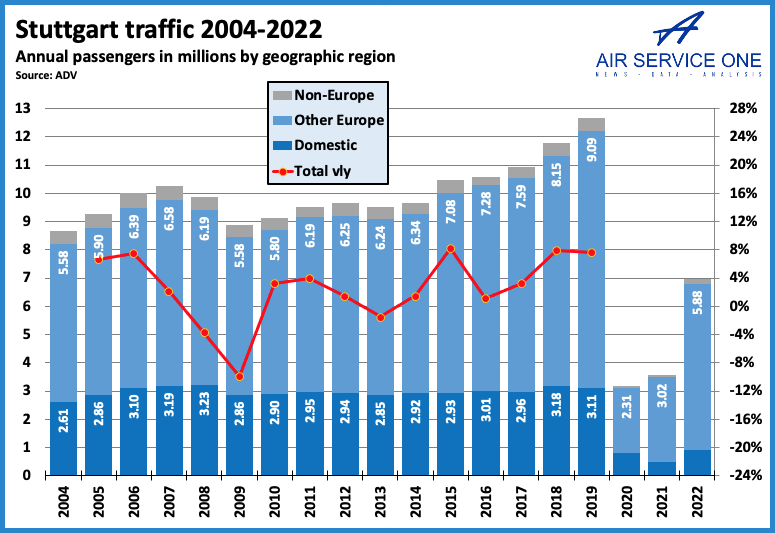 The airport had seen little growth between 2005 and 2014. However, the following five years saw traffic grow by 30% thanks to the arrival of easyJet, Laudamotion (owned by Ryanair) and the growth of Eurowings, offsetting the demise of airberlin. While domestic traffic increased by a modest 7%, international traffic grew by 43% according to ADV data.
easyJet and Ryanair gone
Sadly, post-pandemic, having fully absorbed Laudamotion, Ryanair no longer serves Stuttgart. At its peak the airline offered over 20 routes from Stuttgart. However, it does have significant bases at Karlsruhe/Baden-Baden (85 kilometres away) and Memmingen (110 kilometres away).
Similarly, easyJet has pulled out of Stuttgart as well. In 2019 it was operating flights to one domestic destination (Berlin TXL) and six international destinations; Edinburgh and London LGW in the UK, Milan MXP and Venice VCE in Italy, Porto in Portugal and Palma de Mallorca in Spain.
As a result, Eurowings is now by far Stuttgart's busiest airline, accounting for 45% of the airport's seat capacity in Q2 (according to analysis of Cirium data) and offering flights to 78 destinations this summer. However, only 71 of these operate during the peak summer period. New destinations added since last summer are Agadir, Bremen, Monastir, Krakow, Kutahya, Stockholm ARN, Timisoara and Volos. Of these, Bremen, Krakow and Timisoara were previously served by the carrier from Stuttgart.
SunExpress is now the second busiest carrier at Stuttgart with just over 7% of seats. It has almost doubled capacity at the airport since 2019. Four other carriers all have at least 5% of capacity in Q2; TUI fly Deutschland, Lufthansa, Turkish Airlines and Pegasus Airlines. Carriers serving Stuttgart this summer that were not present in 2019 include Air Cairo, Freebird Airlines and ITA Airways.
Another newcomer, launching flights in May in conjunction with Eurowings, is Volotea. It will begin Bordeaux service in May followed by Nantes in October. As well as easyJet and Ryanair, none of Norwegian, Transavia or Wizz Air currently serve Stuttgart, leaving Vueling as the only other pan-European LCC to serve Stuttgart.
Apart from Lufthansa (serving both Frankfurt and Munich), other flag-carriers present in Stuttgart this summer are Aegean Airlines, Air France, Air Serbia, airBaltic, Austrian Airlines, British Airways, Iberia, ITA Airways, KLM, LOT Polish Airlines, SAS, SWISS and Turkish Airlines.
Antalya challenging Palma as top route
Looking at schedule data for 2023 Q2 (versus 2019 Q2) reveals that Palma de Mallorca has overtaken Berlin as the leading route for seat capacity. Antalya, which had been fifth in 2019 behind also Hamburg and Vienna, has jumped to second.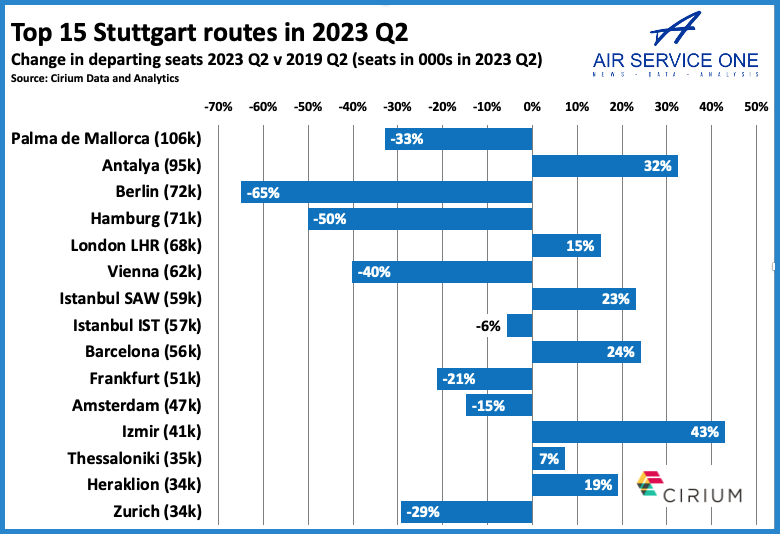 While many of the leading routes have seen significant capacity reductions, seven of the top 15 routes have seen an increase in capacity. Of these, three are in Turkiye and two are in Greece, with London LHR and Barcelona the other major routes seeing an increase in available seats.
Turkiye passes Germany and Spain
At a country level, Turkiye is now the leading country market, up from third place in 2019 Q2. Of the top 15 country markets, just three have seen an increase in capacity; Turkiye, Greece and Egypt. This suggests that the lower-cost holiday market is still performing well in Germany this spring.