Sun Country still revolves around Minneapolis; 19 routes from MSP have been added in 18 months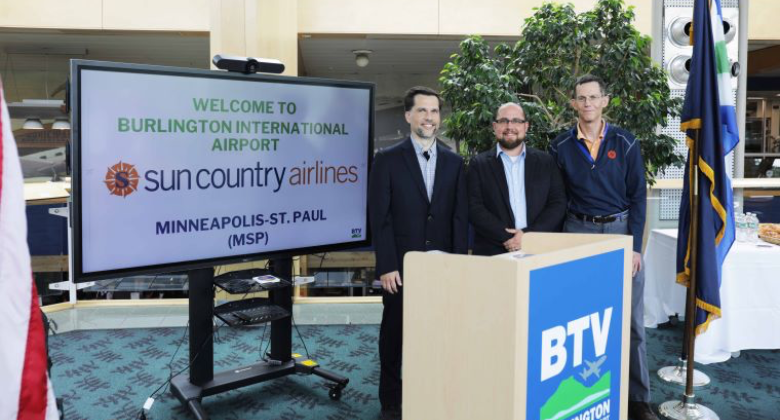 Scheduled passenger operations is just one revenue stream for unashamedly leisure-focused Sun Country, alongside large numbers of charter flights and freight services for Amazon. According to Cirium schedules information data, Sun Country's departing seats in Q1 2023 total 1.1 million. That is down by 4% versus Q1 2022, but higher than the first three months of any previous year.
Over 9 in 10 seats are to/from Minneapolis
Befitting the nickname Minnesota's Hometown Airline, 92% of Sun Country's total capacity is to/from Minneapolis this first quarter. It has risen by 14 percentage points versus Q1 2019, its lowest proportion of any January-March, when it had nearly three times as many seats dedicated to its non-Minneapolis operation. And it is up by a fifth over its nadir (72%), held in Q3 2019. It is not hard to see why.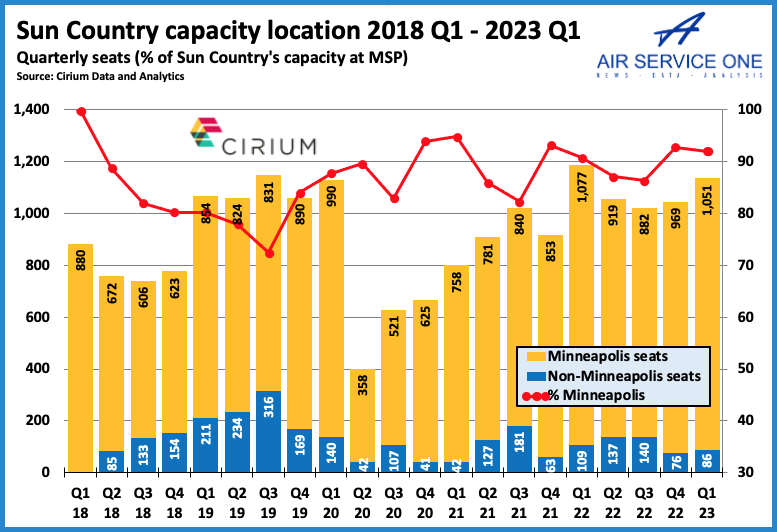 Many routes added, mainly from Minneapolis
Examining Cirium data reveals that while Sun Country introduced various non-Minneapolis routes, with examples shown below, the vast majority were, and remain, from Minnesota's largest city. They include an array of mid-sized cities – such as Pittsburgh, Columbus, Louisville – away from the airline's sun-focused core:
4 February 2022: Rochester (Minnesota)-Phoenix PHX (2-weekly)
7 April 2022: Minneapolis-Charleston (2)
15 April 2022: Minneapolis-Jacksonville (2)
1 June 2022: Harlingen-Cancun (2)
2 June 2022: Minneapolis-Pittsburgh (4)
9 June 2022: Minneapolis-Buffalo (2)
9 June 2022: Minneapolis-Spokane (2)
16 June 2022: Minneapolis-Burlington (2)
22 June 2022: Minneapolis-Vancouver (2)
1 September 2022: Minneapolis-Reno (2)
17 December 2022: Minneapolis-Grand Cayman (1)
2 February 2023: Minneapolis-Destin Fort Walton Beach (2 to 4)
3 February 2023: Minneapolis-Melbourne (Florida) (2)
13 April 2023: Minneapolis-Charlotte (2)
20 April 2023: Green Bay-Orlando MCO (2)
21 April 2023: Eau Claire-Orlando MCO (2)
1 May 2023: Minneapolis-Atlantic City (2)
4 May 2023: Minneapolis-Columbus (2)
4 May 2023: Minneapolis-Louisville (2)
19 May 2023: Minneapolis-Richmond (2)
29 May 2023: Minneapolis-Kansas City (2)
1 June 2023: Minneapolis-Wilmington (North Carolina) (2)
16 June 2023: Minneapolis-Traverse City (2)
11 August 2023: Eau Claire-Las Vegas (2)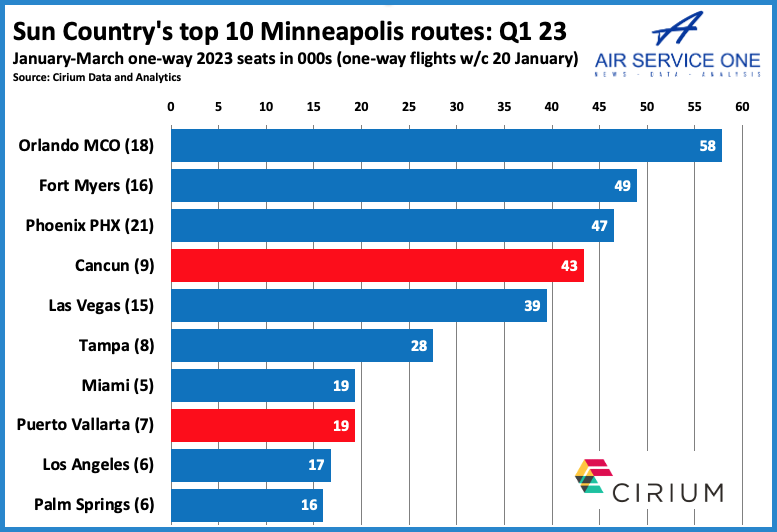 40 Minneapolis routes in Q1 2023
Sun Country has 40 Minneapolis routes in the first three months of 2023, of which 26 are within the US. These include Eau Claire, 140 kilometres away, effectively for positioning to enable sun routes to operate from the Wisconsin city. To attempt to bring in some revenue, Minneapolis-Eau Claire is bookable.
Some 21 of the 26 US routes compete directly with another operator. The sole exceptions this quarter are Eau Claire, Melbourne (the one in Florida), Myrtle Beach, St Thomas (US Virgin Islands, a territory of the US) and Tampa St Pete. Of the 21 that have direct competition, it is obviously primarily with Minneapolis-hubbed Delta (18 routes), then Southwest (eight), Allegiant (six), Spirit (four) and Frontier (three).
The 26 US routes are supplemented by 14 international routes to Aruba, Belize, Cayman Islands, Costa Rica, Dominican Republic, Honduras, Jamaica, Mexico and Turks and Caicos. Influenced by huge snowbird demand in Q1, Mexico has more Sun Country capacity than any non-Florida US state.