Tampa celebrates Virgin Atlantic service to Heathrow; Florida now has 35 European routes this winter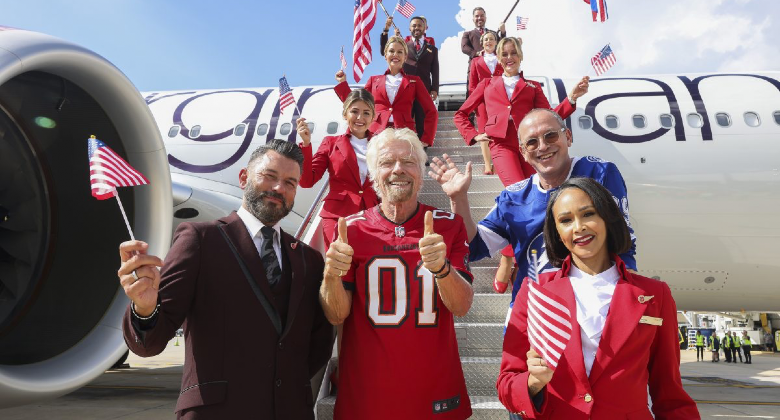 Some 25 US states have non-stop service to Europe this winter, according to Cirium schedule data. New York has more seat capacity than any other, followed by California, Florida, New Jersey and Illinois. Florida has 2.9 million two-way non-stop European seats, down by 16% versus W19. That is despite the launch of Virgin Atlantic's new London LHR-Tampa service, bringing the airport regular non-stop Heathrow flights for the first time.
Tampa welcomes Virgin Atlantic
While London LGW has long had non-stop flights to Tampa, Heathrow has not. Not only was the UK's busiest airport Tampa's largest unserved long-haul market, but Tampa was Heathrow' biggest unserved US market. Now Virgin has 5-weekly A330neo flights, increasing to daily at the end of November.
Heathrow is Tampa's fourth European route this winter, joining Gatwick (5-weekly by BA's 777-200ERs), Frankfurt (4- to 5-weekly by Eurowings Discover's A330s) and Zurich (just five winter flights in February/March by Edelweiss' A340-300s).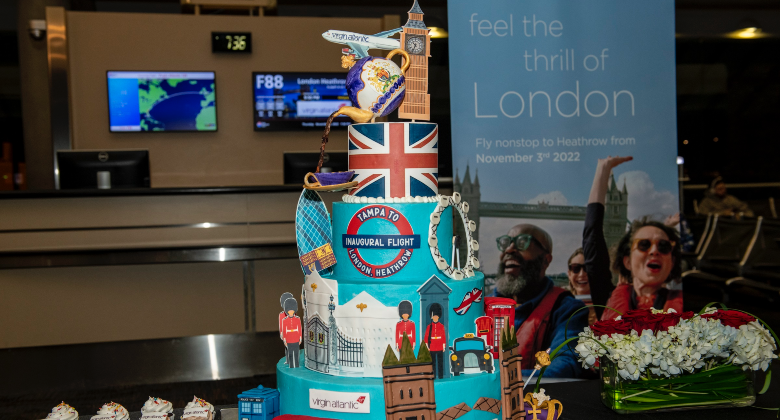 Six Florida airports have European flights
Among Florida airports, Miami, Orlando, Fort Lauderdale, Fort Myers, Melbourne and Tampa all have European flights. The only real difference in this sense versus W19 is that Orlando SFB is no longer served, as TUI Airways changed to Melbourne in March this year.
Miami is responsible for more than seven in every ten European seats from Florida airports. The entry of Virgin at Tampa contributed to its virtually flat performance. But notice Fort Myers, whose capacity has fallen by 71%. This isn't to do with Hurricane Ian but rather losing its 3-weekly Eurowings Düsseldorf service. Eurowings Discover's weekly service from Frankfurt only partly compensates. There's also Fort Lauderdale. While it has never been significant to Europe, capacity has fallen by 30% from the exit of Norwegian. No longer is Stockholm ARN or Paris CDG served, while Oslo service was replaced by the arrival of Norse Atlantic.
Miami: 2.1 million European seats this winter (-15% over W19)
Orlando: 612,700 (-16%)
Tampa: 192,000 (-1%)
Fort Lauderdale: 60,200 (-30%)
Melbourne: 14,300 (new)
Fort Myers: 9,700 (-71%)
Florida-Europe capacity is still down 17% this winter compared with W19. However, several airlines, including Aer Lingus, Air France, British Airways, Delta, SAS and Turkish Airlines have all increased capacity compared with three years ago. In total, there are flights to Florida from 16 European countries this winter, with UK, Spain, Germany and France having the most seat capacity. Back in W19, 18 European countries had non-stop service to Florida. Since then Austria and Russia have seen the end of winter flights to the Sunshine State.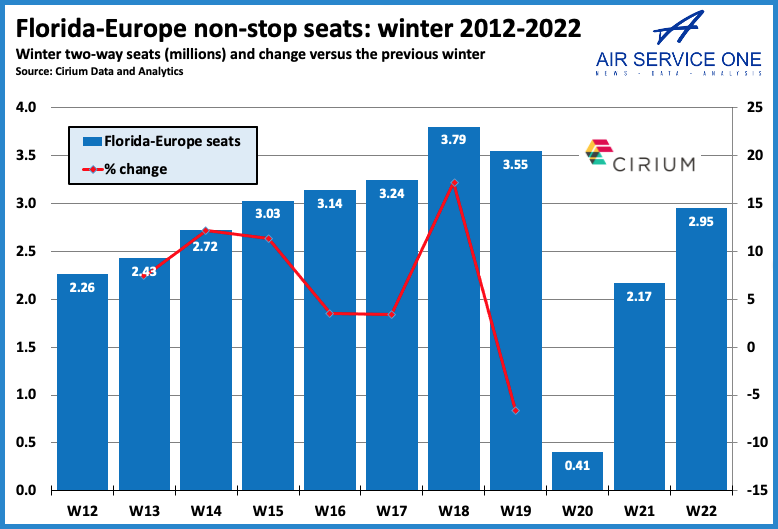 35 Florida-Europe routes
Florida airports have 35 Europe routes this winter, down from 43 in W19. TUI was to operate Melbourne from Doncaster, but the UK airport has now sadly been closed. As the figure shows, Miami-London LHR retains the crown as the busiest route. It is served by American, British Airways and Virgin, normally with 6-daily flights.
While Virgin has introduced Heathrow-Tampa, Norse Atlantic introduced Oslo-Fort Lauderdale on 18 June 2022, and is starting Berlin to Fort Lauderdale (3-weekly from 7 December), ten routes are no longer served versus W19:
Miami-Milan MXP (American and Air Italy)
Miami-London LGW (Norwegian)
Miami-Moscow SVO (Aeroflot)
Miami-Düsseldorf (Eurowings)
Fort Lauderdale-Paris CDG (Norwegian)
Fort Lauderdale-Stockholm ARN (Norwegian)
Fort Myers-Düsseldorf (Eurowings)
Orlando-Paris CDG (Norwegian)
Orlando-Glasgow (Virgin)
Miami-Vienna (Austrian Airlines)