Tampere welcomes eight route airBaltic base; Ice Hockey World Championships will also boost traffic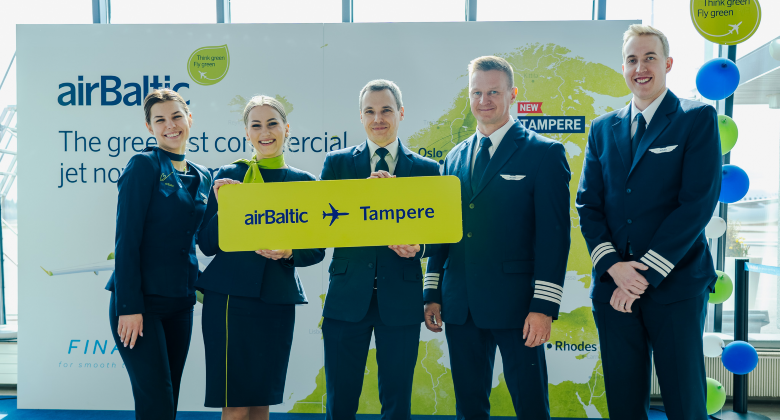 airBaltic has opened its first base outside of the Baltic nations with the introduction of additional services from Tampere in Finland. The airline first started serving the Finnish airport from Riga in October 2008, operating 2-daily flights using Fokker 50s. Service continued until October 2013 before being suspended. Flights resumed in April 2017 with Q400s connecting the two airports 6-weekly. The pandemic saw service again suspended in March 2020 before resuming once more in October 2021.
Seven new routes from Tampere
Now the airline has based a single 145-seat A220-300 at the airport. As a result, the following routes have now been launched/announced:
1 May: Malaga (2-weekly)
2 May: Frankfurt (3-weekly), Munich (3-weekly), Oslo (3-weekly)
3 May: Copenhagen (3-weekly), Rhodes (2-weekly)
1 June: Amsterdam (2-weekly)
To make room for the Amsterdam service (which will operate on Wednesdays and Sundays), Frankfurt's weekly frequency will reduce from three to two at the beginning of June, with the withdrawal of the Wednesday service. None of the routes face any direct competition.
Tampere traffic peaked in 2008
Tampere is the second-largest urban area in Finland after Helsinki with a population of some 330,000 people, of which 230,000 live in the city itself. A picturesque city wedged between two lakes (Näsijärvi and Pyhäjärvi), the difference in the level of the two lakes has been utilised for many years as a means of generating power, leading to the development of significant industry in the town. Located around 160 kilometres north-north-west of downtown Helsinki, the Finnish capital can be reached in around 90 minutes by train and two hours by car.
Tampere-Pirkkala Airport is located 13 kilometres south-west of Tampere. Before the arrival of Ryanair in 2003, annual passenger numbers were typically around 250,000. The Irish ULCC launched its first flights at the airport in April 2003 to Stockholm NYO, followed by London STN service in October of that year. The Swedish route was terminated in early 2004, but new routes to Frankfurt HHN (January) and Riga (October) followed in 2004. Dublin and Liverpool flights were added in 2006 with Bremen and Milan BGY joining the airport's route network in 2007.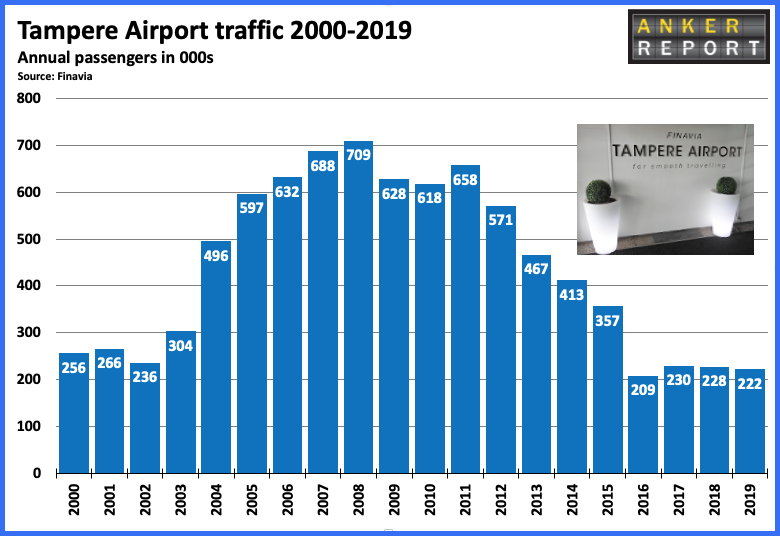 In 2008 passenger numbers peaked at just over 700,000. Ryanair continued to add more new routes:
2010: Edinburgh, Kaunas, Malaga and Oslo RYG;
2011: Alicante, Pisa, Rome CIA and Trapani;
2012: Budapest and Palma de Mallorca;
2013: Girona.
This meant that Ryanair had launched a total of 19 routes to Tampere between 2003 and 2013. However, existing routes were dropped or had their frequency cut, resulting in passenger numbers falling from 2012 through to 2016. In August 2015 seven routes still remained, to Alicante, Bremen, Budapest, Frankfurt HHN, London STN, Malaga and Milan BGY, all of which were served 2-weekly, apart from the 3-weekly Milan route. After dropping all flights for W15/16, Ryanair resumed just two routes for S16, to Bremen and Budapest with only Budapest operating in S19. This summer, Ryanair's only route is to London STN which resumed in November 2021.
Apart from airBaltic and Ryanair, Finnair is operating a 6-weekly service (daily except Sunday) on the 145-kilometre link from Tampere to Helsinki. These services are flown using 68-seat ATR 72s operated by Nordic Regional Airlines. Flights depart Tampere at 06:05 to enable connections with many of Finnair's international destinations from Helsinki. Prior to the pandemic, Finnair was operating up to 4-daily flights to Helsinki.
IIHF Ice Hockey World Championship will see brief return of Stockholm service
In addition, in S19 SAS was operating 12-weekly to Stockholm using ATR 72s flown on the airline's behalf by Flybe. After the collapse of Flybe, Regional Jet of Estonia operated the route for SAS in early 2020 until the pandemic struck. SAS will operate a few flights to Tampere from Stockholm this month to bring spectators to the Ice Hockey World Championship, which start on Friday (13 May) and continues until 29 May, with all matches taking place in either Helsinki or Tampere. The 13,000-seat Nokia Arena in Tampere was only opened last December and was designed by the famous architect Daniel Libeskind. It will host both semi-finals and the final.