TAP Portugal has 37% of nation's ASKs; Brazil top country and not US; Lisbon-Sao Paulo leading route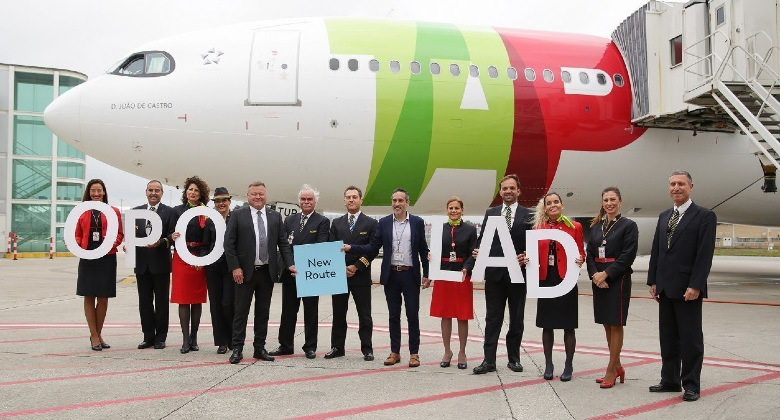 The part-privatisation of TAP Portugal continues, with the government keen to sell 51% of the Star Alliance carrier. Part of the appeal may come from TAP's geographic position on the edge of Europe in relation to key point-to-point and transfer markets. The airline's Lisbon hub is close to sea level, improving equipment performance, including of increasingly important long-haul narrowbodies.
In 2022, TAP was forced to relinquish Lisbon slots in return for restructuring aid. Agadir, Djerba, Fuerteventura, Monastir, Punta Cana, and Zagreb – all served from the capital in 2022 – were not this year. It is unclear if it was due to giving up slots or underperformance or if, due to their high leisure component, they intended to be short-term anyway due to the pandemic (they all began in 2021). Or perhaps some combination of these factors.
Has 37% of Portugal's ASKs
According to Cirium schedules information, TAP has about 37% of ASKs from its homeland in these three months. It rises to 60% when only long-haul capacity is considered. Departing ASKs are up by around 9% year-on-year but down by just over 1% versus 2019.
TAP's network involves 87 airports in Q4, of which its Lisbon hub accounts for nine in ten ASKs. Interestingly, Porto – Portugal's second most populous city – has less capacity than the all-important destination market of Sao Paulo GRU.
Despite Lisbon's renowned slot shortage and TAP giving up slots, the capital's ASKs have risen by 1% versus 2019. This is not because of more flights (-6%) or seats (-5%) but because of longer average sector lengths (+10%) and more seats per flight (+2%).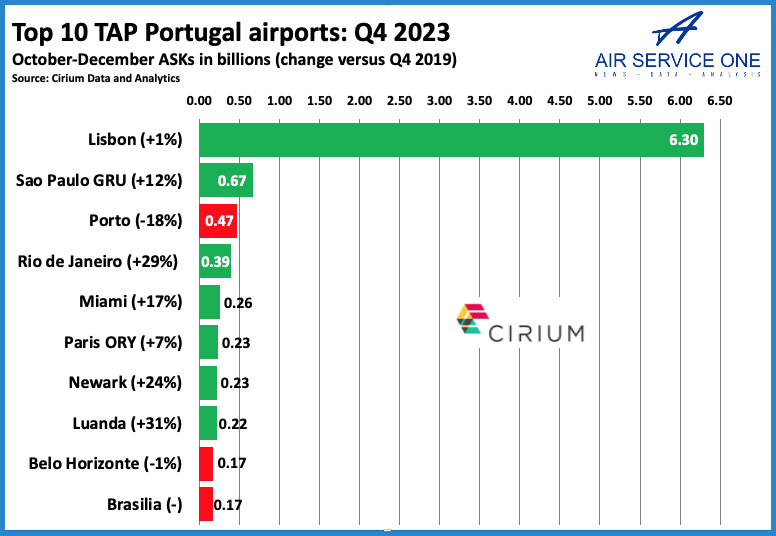 Brazil is TAP's top country market
Unlike virtually all other European long-haul carriers – including Iberia – which have the US as their top country by ASKs, this is not the case for TAP. Instead, Brazil is first. One of 32 countries served this quarter, it is influenced by the carrier's extensive aircraft, high frequencies, distance and aircraft size.
While unsurprising given its colonial history in Brazil, TAP's long-haul network is disproportionately reliant on that one country. In contrast, Iberia, for example, is spread much more widely across Latin America and beyond. The high ranking of Brazil would be somewhat lower if flights or available seats were considered instead
Notice how fast ASKs in already-large Brazil and the US have grown. These two nations account for almost a quarter of TAP's total capacity. While most growth has come from higher frequencies from lower-capacity aircraft (more A321LR flying), it introduced Lisbon-Maceio – its 11th destination in Brazil – in October 2020 (now 3-weekly via Natal).
While a considerably smaller market, Portuguese-speaking Angola has also grown considerably. This is from TAP introducing Porto-Luanda on 28 May 2023 (2-weekly).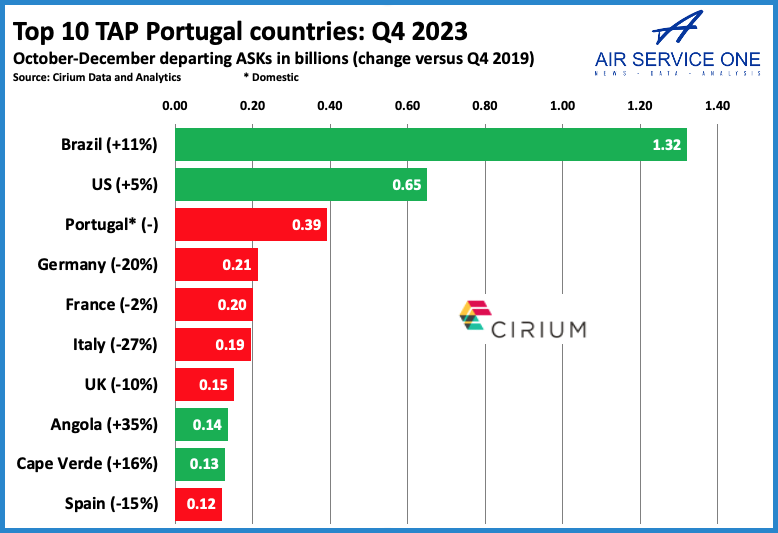 Lisbon-Sao Paulo GRU is the top route by ASKs
As ASKs reflect distance, it is not surprising that almost all of TAP's leading routes by this measure are long-haul. Only two – Paris ORY and London LHR – are short-haul, the result of high frequencies and relatively high-capacity narrowbodies.
Lisbon-Sao Paulo GRU is TAP's top market, with this one route responsible for one in six long-haul ASKs. There are 18-weekly flights in the first seven days of November, four more than in 2019. TAP is one of two airlines on the airport pair, alongside LATAM (11-weekly). They compete indirectly with Azul to Sao Paulo VCP (10-weekly).