Tel Aviv gets 27 new European routes in 2022; (U)LCCs reach 34% of seats with Ryanair leading the charge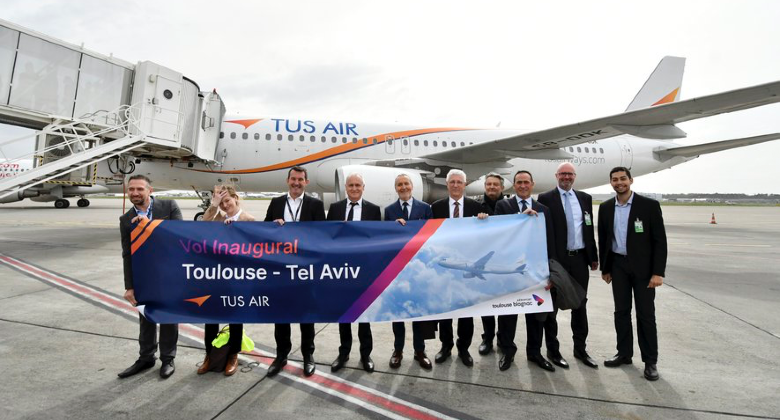 There are 174,000 departures from the Middle East to Europe this year, of which Tel Aviv has over 41,000 – more than any other airport. However, Tel Aviv's European recovery has a long way to go, with 2022 flights at 71% of the 59,000 available in 2019, the highest number thus far. But it's getting better. In winter 2022, the recovery rate is at 91% of W19.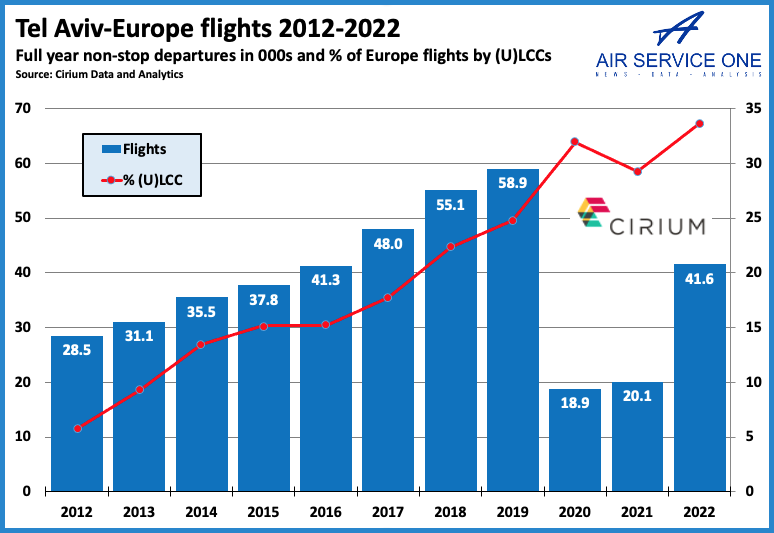 (U)LCCs have 34% of flights as El Al's share continues to fall
Analysis of Cirium schedules information reveals that over 50 airlines have flights between Tel Aviv and Europe this year. With a fifth of departures, El Al remains the leader, although its share has fallen by 14 percentage points in the past decade.
El Al's dominance is even down by two points since 2019, not helped by its slow recovery – it has 8,600 European departures this year, 65% of the 13,200 in 2019. It is also because of the growing domination of (U)LCCs, which now have more than a third of all Tel Aviv-Europe flights, helped in part by other carriers' sluggish recoveries.
Ryanair, which has served Tel Aviv since 2017, is now the second biggest airline to Europe, up from seventh pre-pandemic, overtaking Wizz Air and easyJet. Ryanair added 84% more flights, although curiously its network has only increased from 22 to 26. Kaunas, Nuremberg and Wroclaw are no longer served, while Bari, Corfu, Chania, Malta, Naples, Turin and Venice TSF started.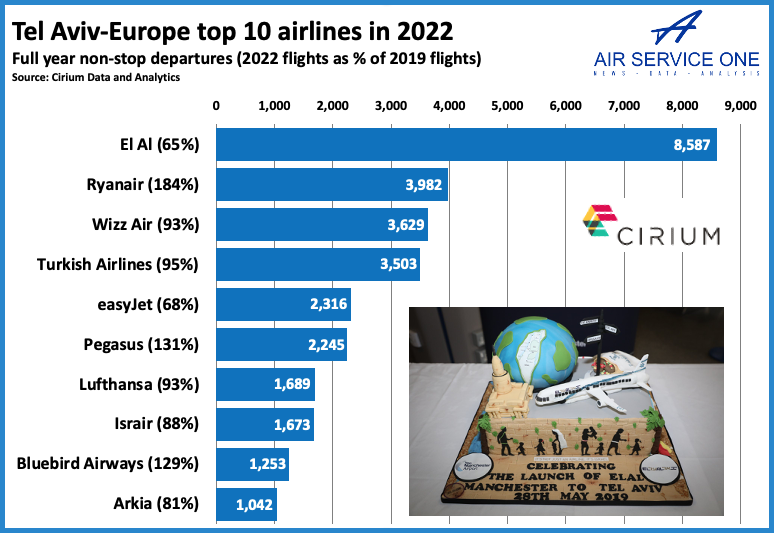 Over 100 European routes
Tel Aviv's European network comprised 100+ routes this year with flights to 33 European countries. Greece had 13 routes, more than any other nation, then Italy (11), France, Germany, Russia (seven) and Poland and Turkey (five). However, it was Turkey that had the most departures because of Tel Aviv's top two routes were Istanbul IST (a maximum of 9-daily) and Istanbul SAW (8-daily).
New routes this year
Tel Aviv welcomed these Europe and Caucasus routes this year, none of which were operated by the carriers before. Some were only for the peak summer, while others launched recently. Numbers in brackets denote the maximum weekly frequency.
Armenia: Israir Yerevan (1)
France: TUS Airways Toulouse (1)
Germany: TUS Airways Düsseldorf (2)
Greece: Bluebird Santorini (3) and Zakynthos (1), TUS Airways Corfu (2),Heraklion (1) and Kos (2)
Iceland: Israir Reykjavik (2)
Italy: Wizz Air Venice VCE (3) and Naples (3), TUS Airways Verona (1)
Moldova: HiSky Chișinău (3)
Romania: HiSky Europe Bucharest (3)
Russia: Aeroflot Sochi (7), Azimuth Sochi (2) and Mineralnye Vody (3), Red Wings Mineralnye Vody (4)
UK: Wizz Air UK London LGW (7)

More routes are coming
These seven services will begin this winter. It will be the first time that Tel Aviv has had flights from the Romanian city of Suceava. El Al had expected to begin Dublin in 2020, but it was postponed.
13 December: Wizz Air to Athens (3)
14 December: TUS Airways to Athens (3)
15 December: TUS Airways to Thessaloniki (2)
22 December: HiSky to Cluj-Napoca (2)
9 January: Wizz Air to Barcelona (4)
9 January: Wizz Air to Suceava (2)
16 March: El Al to Dublin (3)