Thailand gets SAS & Norse Atlantic; Istanbul-Bangkok beats London LHR as top European market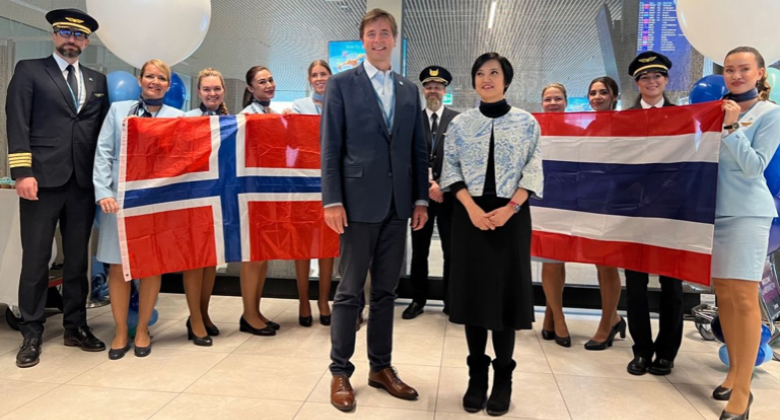 Thailand is Europe's seventh-largest non-stop long-haul country market by seats this winter, behind the US, UAE, China, Canada, India and Brazil. According to Cirium data, there are 1.64 million departing seats, down by a quarter versus W19. Of course, this does not tell the full story or even most of it.
A vast number of people – an estimated 40% – fly via Middle East hubs, with carriers providing large numbers of frequencies, much choice and often good products and lower fares. When all indirect passengers are considered, only about 30% flew non-stop. It means new or returning non-stop routes and airlines are even more noteworthy.
SAS returns to Bangkok; Norse Atlantic begins first Thai flight
After last serving Copenhagen-Bangkok, 8,640 kilometres apart, in 2014, SAS relaunched it on 30 October 2023. It marked its return to the Thai capital after nine years. Operating 3-weekly, it uses the A350-900, much better and more efficient than the A340-300 flown previously.
Given the popularity of Thailand for Scandinavians, it is not surprising that it competes directly with fellow Star Alliance carrier Thai Airways (daily). Cirium indicates that the latter codeshares with SAS to 14 destinations behind the Danish capital, but SAS does not yet appear to codeshare beyond Bangkok.
Long-haul LCC Norse Atlantic commenced Oslo-Bangkok on 2 November, with the up to 3-weekly service being winter-seasonal. It is the first time the market has been served since Norwegian (Norse Atlantic's predecessor) and Thai Airways ended it in 2020.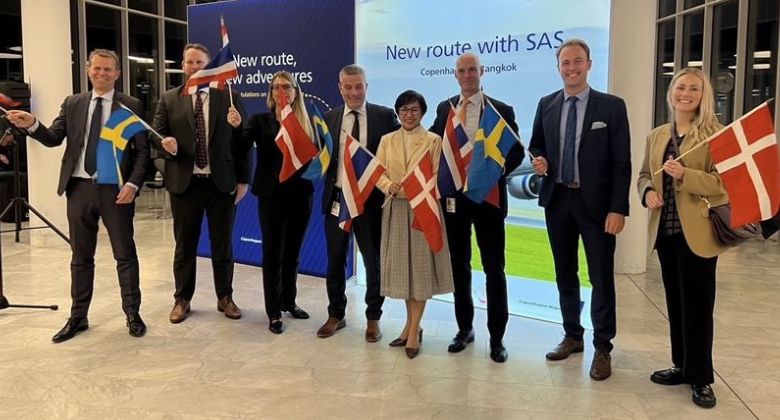 Thai Airways has 30% of non-stop capacity; Istanbul is coming
Cirium tells that 17 airlines operate between Europe and Thailand this winter. The biggest changes since 2019 include the exit of British Airways, Eurowings, Norwegian (the fifth-largest non-stop airline in W19), Scoot and Ukraine International.
Inevitably, Thai Airways – with its Bangkok hub – remains the leading operator. But while it has three in 10 non-stop seats, a considerable seven are provided by foreign carriers. When added to the number of passengers who fly indirectly, the Thai carrier has only a relatively small – and diminishing – presence.
Thai Airways, which is in bankruptcy protection, has eight Europe routes consisting of major cities and Star hubs: Copenhagen, Frankfurt, Istanbul IST, London Heathrow, Munich, Paris CDG, Stockholm ARN and Zurich. It will begin Bangkok-Istanbul on 1 December (daily) having last served it 25 years ago in 1998.
Analysis of the Thai flag carrier's schedule since January 2020 shows that Brussels, Milan MXP, Moscow DME, Oslo and Rome FCO have been cut. Moreover, it has ended all Europe-Phuket flights, funnelling passengers through its Bangkok hub instead – a much more economic idea.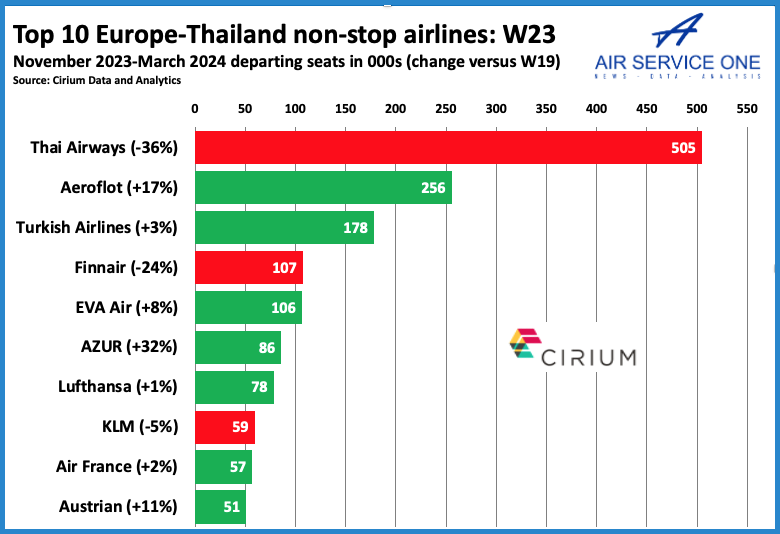 Istanbul-Bangkok overtakes Heathrow as the leading airport pair
Cirium tells that 23 European airports have 34 non-stop scheduled routes to Thailand this winter, based on having 1,000+ departing seats. They are to Bangkok, Krabi, Phuket and U-Tapao/Pattaya.
Three-quarters of available seats are to the Thai capital, with nine of the top 10 routes there. Istanbul-Bangkok is now the leading airport pair, up five places versus W19 due to strong growth (+34% in capacity) and the slow recovery of others. While driven by Thai Airways' entry (daily), Turkish Airlines has a 3-daily operation.