The ANKER Report partners with Air Service One to bring you the best of both worlds for route analysis in Europe and North America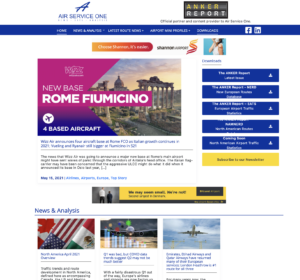 When The ANKER Report launched in September 2017 I made the decision to make my content available purely as a free, downloadable pdf that could be easily printed off or viewed on-line. Although it would have been nice to have all the stories available as separate stories on my website (www.anker-report.com), I did not have the skills, time or resources to achieve this.
However, thanks to the launch of Air Service One, all that has changed. Set up by Jon Lassetter, my former colleague at anna.aero, the Air Service One website will now host the individual stories (and downloadable spreadsheets) that you have read in The ANKER Report newsletter.
In addition, the Air Service One website (www.jonathanl227.sg-host.com) will host other content of interest to airline and airport route analysts, airline and airport executives, consultants, government bodies, media outlets and students. All content is free, with no registration required. So whether you prefer to read the stories individually on-line and follow links to material from the most recent issues of The ANKER Report, or download the whole newsletter in one go as a pdf, you now have the freedom to choose.