The challenges the revived Flybe will face at its new Birmingham base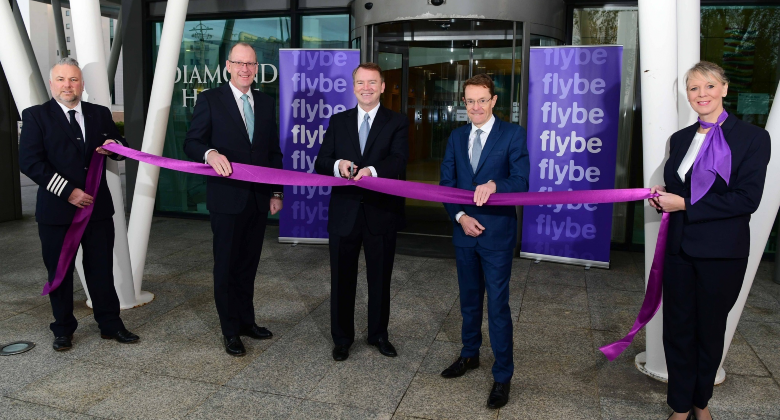 Earlier this week it was announced that a new airline, using the Flybe name, would be launching operations next summer from its new base in Birmingham. The old Flybe had its headquarters in Exeter. Details on the airline's planned route network were decidedly vague, although the Mayor of West Midlands spoke of 'better domestic and international connectivity for our region'. However, it was confirmed that the airline would be using Q400 turboprops, which were the mainstay of the old Flybe's fleet.
What happened to Flybe's old routes at Birmingham?
When trying to predict possible routes for the new airline, an obvious place to start is to look at where Flybe was flying from Birmingham before it suspended operations in early March 2020, and to examine who is now operating those routes and with what frequency. In November 2019 Flybe was operating 12 routes from Birmingham, seven domestic routes and five international routes.

It is worth noting that the only other domestic route offered from Birmingham this winter is easyJet's 3-daily service to Belfast BFS. Compared with November 2018, Flybe had dropped five international routes to Berlin TXL, Hamburg, Hannover, Lyon and Milan MXP. Among those destinations the only comparable service being operated this winter is a 2-weekly service to Milan BGY by Ryanair.
In summer 2019 Flybe also offered seasonal, less than daily flights to a range of French destinations comprising Avignon, Bastia, Bergerac, Biarritz, Bordeaux, Brest, La Rochelle and Nantes. There were also seasonal routes to Newquay (daily) and Guernsey (5-weekly). This summer easyJet operated the Newquay route (2-weekly with A319s), while Aurigny Air Services flew to Guernsey (5-weekly with ATR 72s)
What can Flybe do?
Since the original Flybe collapsed, we have, of course, had the pandemic, which has hit business traffic harder than the leisure market. Arguably, the now incumbent carriers have found a more appropriate way, in terms of aircraft size and frequency, to serve the markets that Flybe left abandoned. As a result, there are few obvious gaps for the new Flybe to exploit.
There seems no obvious reason why Air France or KLM would want to co-operate with the new Flybe in serving their Paris CDG and Amsterdam hubs, and while business travellers would ideally like higher frequency on the Scottish and Belfast routes, offering that now in a depressed market, and against easyJet and Loganair who were not present in the market two years ago, would appear to make little sense.
One route that stands out is Stuttgart. The link between the two regions is driven by the automotive industry and is an almost pure business market. It has not been taken up by any other carrier post-pandemic. Of course, the automotive industry has its own issues right now and the route may not be as profitable as it was 20 years ago.
It will be fascinating to see what the new Flybe's network planning team come up with. Assuming that it plans to launch at the start of the S22 season (at the end of March), it would ideally need to announce its planned routes early in the new year, to allow sufficient time for the promotion of the new services and generate bookings for when the airline launches. Assuming it plans to launch domestic routes, it is unfortunate that the UK government's recent decision to reduce its Air Passenger Duty (APD) tax, will not come into effect until April 2023.
Note: Author Ralph Anker was Head of Business Development at Maersk Air Ltd in 2000-01 when the airline operated franchise flights out of Birmingham on behalf of British Airways using a mix of 737-500s and CRJs.