Euro Trends Roundup
Turkey's LCC Pegasus Airlines also doing well:  Supporting Turkish Airlines in keeping the Turkish market relatively healthy, is low-cost carrier Pegasus Airlines. It reported carrying 1.05 million passengers in January (down 59%) at a load factor of 74.6%. There were 700,000 passengers on domestic flights (down 51%) at a load factor of 82.7%, while international services transported 350,000 customers (down 69%) at a load factor of 62.6%.
Ryanair traffic down 88%: Among Western European airlines reporting figures for January, Ryanair carried 1.3 million passengers (down 88%) at a load factor of 69%, while Wizz Air welcomed 574,000 passengers (down 82%) at a load factor of 61%. Sadly, IAG is only reporting quarterly figures for its member airlines, while Lufthansa Group is still reporting monthly data, but only at the end of each quarter. Air France KLM's website last reported monthly traffic in March 2020 and has since also started only reporting on a quarterly basis.
However, IAG's Q4 figures showed that passenger numbers were down 84.5%, with domestic (UK & Spain) performing best at minus 73.3%. North America and Asia & Pacific were both down around 94%. In terms of load factor, across the group it average 45%, with domestic again leading the way (at 60.5%) and North American routes reporting just 26% passenger load factor. Looking at the individual carriers, traffic was down 80% at Iberia, 82% at Vueling, 86% at British Airways and 94% at Aer Lingus. In terms of load factor, Vueling was best at 60.4%, followed by Iberia (50.7%), British Airways (41.8%) and Aer Lingus (20.9%). The last three will have been operating many long-haul services primarily for freight purposes, thus compromising their passenger loads. In particular, British Airways's cargo was down just 29% in Q4, despite a reduction of 72% in Available Seat Kilometres (ASKs).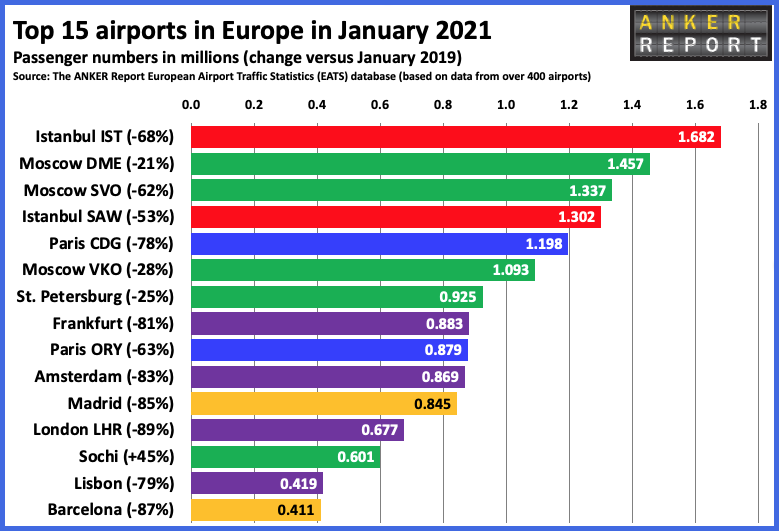 KLM sees cargo growth in Q4:  Since the last issue of The ANKER Report four weeks ago, Europe's leading airlines have seen only relatively small changes in their levels of operation. Among the basket of 12 of Europe's largest pre-COVID airlines, Turkish Airlines continues to lead the way in terms of level of recovery, followed by KLM, Air France, Iberia and then Wizz Air.
Air France's Q4 load factor was 48.4%, split between short and medium-haul at 62.6% and long-haul at 45.7%. KLM reported a 34.7% load factor in Q4, with long-haul routes seeing a 31% load factor. However, in cargo activity, RTKs (Revenue Tonne Kilometres) were up 2.4% on a 20.6% reduction in ATKs (Available Tonne Kilometres), resulting in a cargo load factor improvement of 19 percentage points to almost 85%.
Among Europe's major LCCs, the latest figures for the week ending Saturday 13 March show Pegasus Airlines at 66.0% of flights compared with the same period in 2019, Wizz Air at 24%, Vueling 9.5%, easyJet 8.0%, Eurowings 7.8%, Ryanair 6.8%, Volotea 6.5% and Norwegian 5.8%. Although the assumption is that when demand starts to recover it will be the low-cost carriers that stand to benefit most, right now they appear to be in virtual hibernation.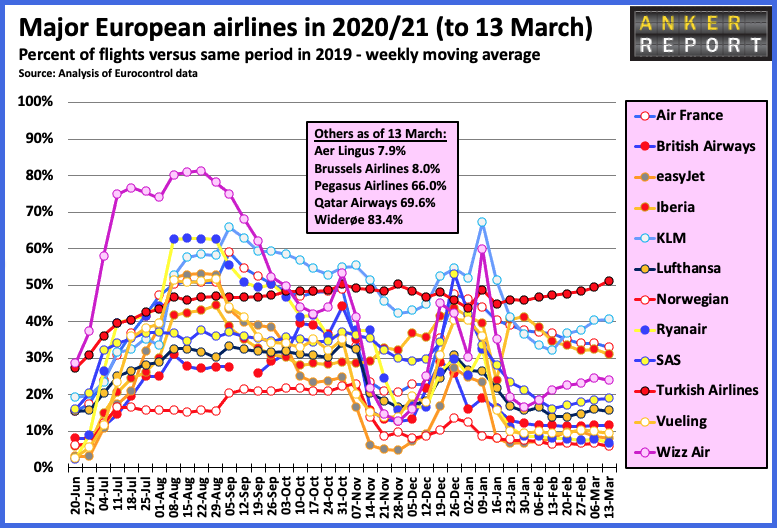 Global update:  The graphs below have been updated for our basket of 12 countries to show the latest available monthly passenger data. Note that on the international graph the y axis only goes up to 40%, rather than 120% on the domestic graph. However, this enables us to differentiate more clearly between the various countries
Curiously, on the international graph, Italy's green line has been 'hiding' behind Norway's pink line with near identical figures for November, December and January. Domestically, China and Russia continue to lead the way, followed by India and Turkey. For international travel, the recovery has been strongest in the US and Turkey, followed by India, France and Russia.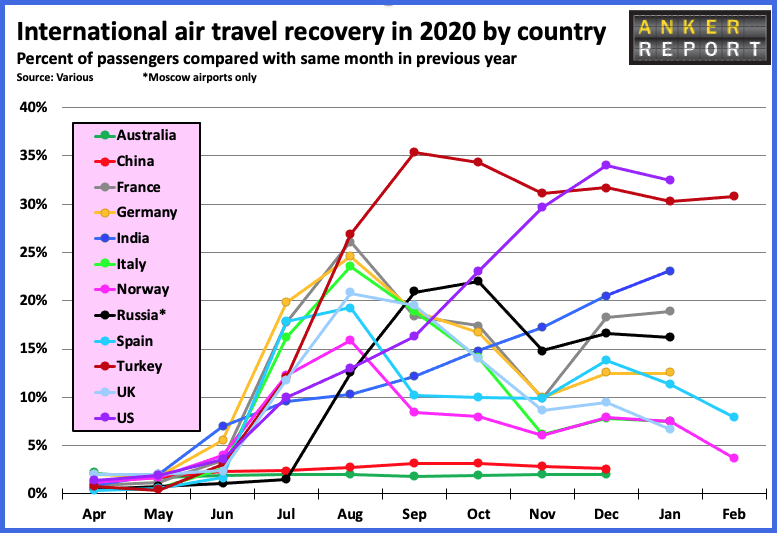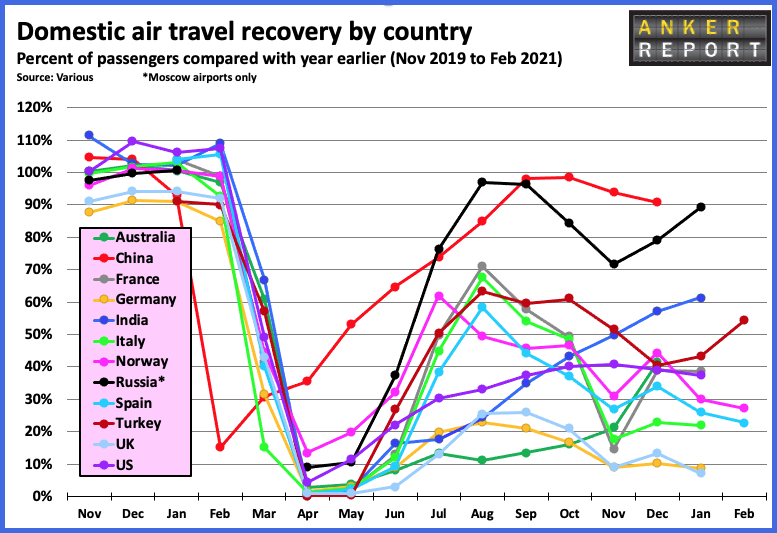 In December, both Australia and China continued to report international traffic down well over 95%. These countries are currently reporting very low new infection rates, but despite this (or maybe because of this) they seem uninterested in welcoming potentially infected foreign tourists into their country.