The four (U)LCCs of Naples; Wizz Air joins easyJet, Ryanair and Volotea in opening a base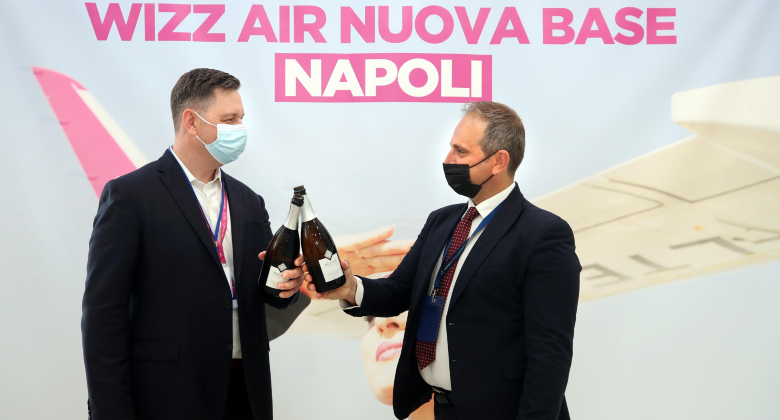 The Naples urban area is apparently the seventh largest in Europe and yet in 2000 its airport handled just four million passengers. By 2015 this had increased to just over six million. However, during the next four years passenger numbers increased by a massive 76% and reached almost 11 million in 2019, making it one of western Europe's fastest-growing airports during that period. In 2015, easyJet was Naples' biggest carrier ahead of Alitalia and Meridiana. The UK-headquartered carrier had made Naples its 25
th
base in March 2014.
Ryanair arrives in 2017
The 27% increase in traffic in 2017 can be attributed primarily to the arrival of Ryanair, which began serving the airport in the summer of that year and also made the airport a base, its 86
th
. The airport's growth between 2015 and 2019 is primarily down to Ryanair, easyJet's continued expansion and Volotea's growth at the airport. In 2019, Alitalia ranked only fourth at the airport while Meridiana had become Air Italy and had slipped to seventh, behind Lufthansa and Eurowings. At that point Wizz Air ranked just 13
th
with regular flights to Bucharest, Budapest, Katowice, Sofia and Warsaw WAW. Flights from its Vienna base had started a week before Christmas.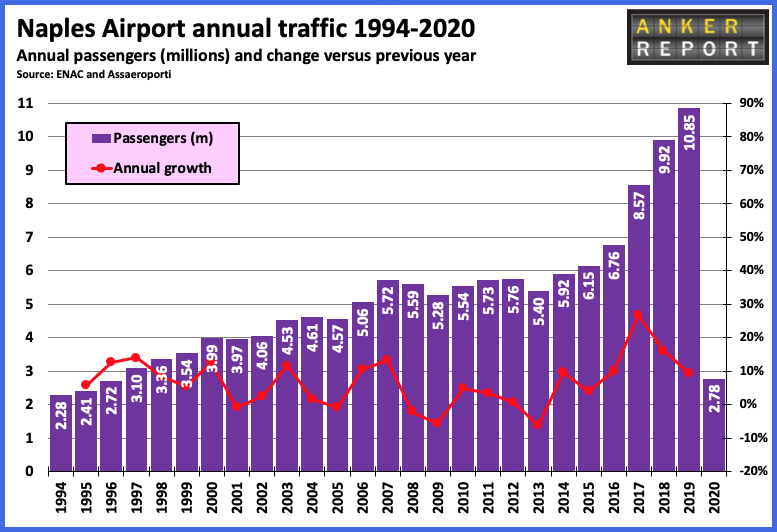 Naples' traffic peaks in August with almost 1.2 million passengers using the airport that month in 2019. That compared with just under 600,000 in January and February of that year. The first two months of 2020 had seen record passenger numbers for those months, but then the pandemic hit. Last August saw the airport welcome over 440,000 passengers (down 63% compared with August 2019), helped by Volotea officially making Naples its sixth Italian base in July. Across the whole of 2020 traffic was down 74%. The airport's latest passenger figures (for June 2021) show that demand is still down 70% compared with June 2019, but well up on June 2020.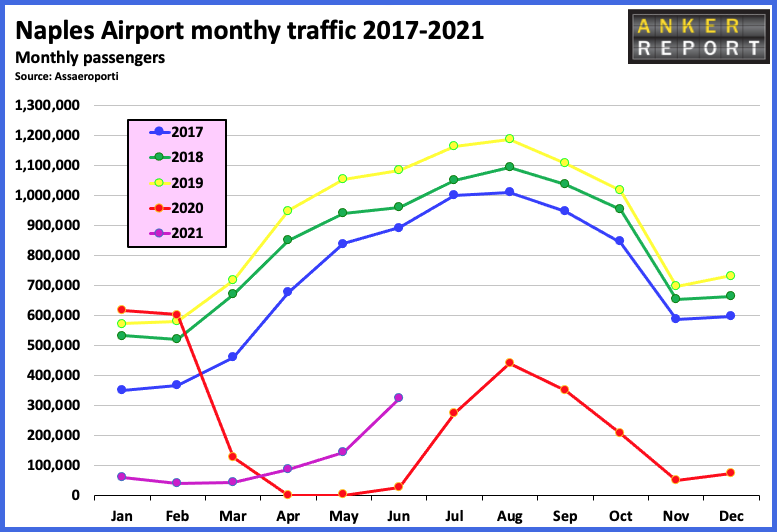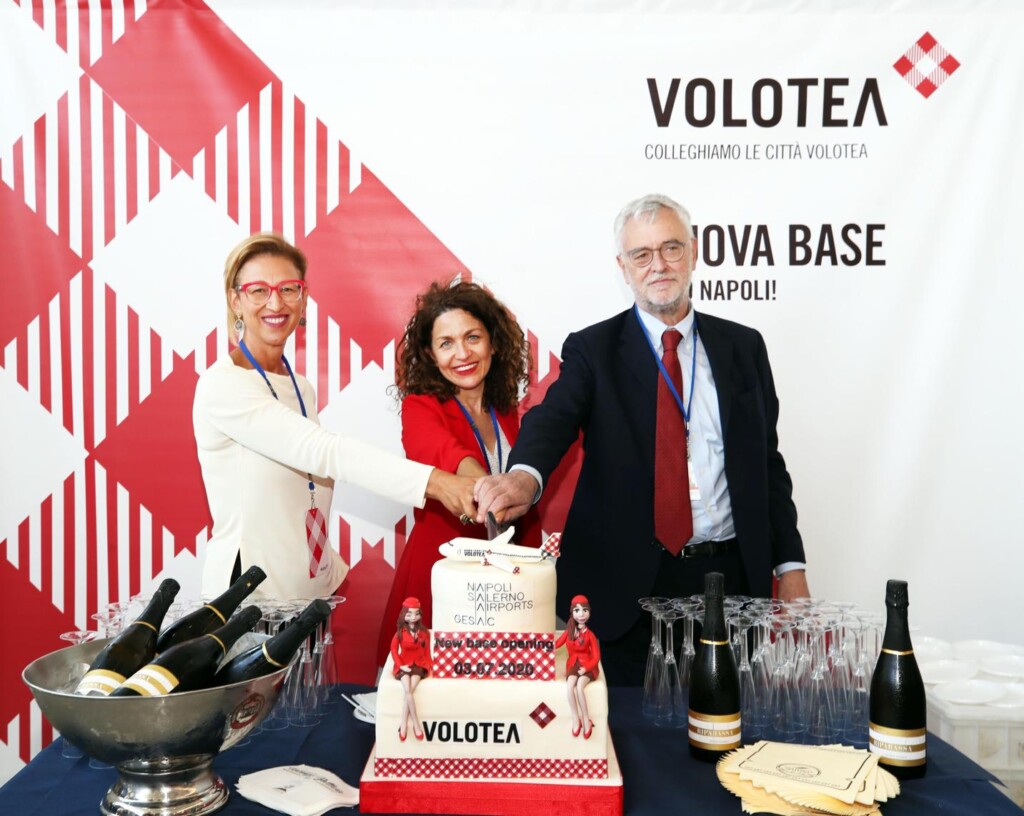 Wizz Air offering 26 destinations this summer
Wizz Air officially began based operations at Naples on 30 July 2021. It had been serving the airport since 2009 when it launched flights from Budapest. The basing of an aircraft has enabled the ULCC to launch new domestic routes to Lampedusa, Milan Linate and Olbia, three leisure routes to Greece (Chania, Mykonos and Santorin) and one to Spain (Ibiza). In mid-September, a second wave of new routes will launch with the arrival of a second based aircraft. According to the airline's booking tool the following 11 destinations will then be added; Casablanca, Fuerteventura, London LTN, Prague, Reykjavik KEF, Sharm El-Sheikh, Tallinn, Tel Aviv, Tenerife TFS, Turin and Verona. That will bring to 26 the number of destinations served by Wizz Air from Naples this summer.
Destinations served this summer by Naples' four biggest carriers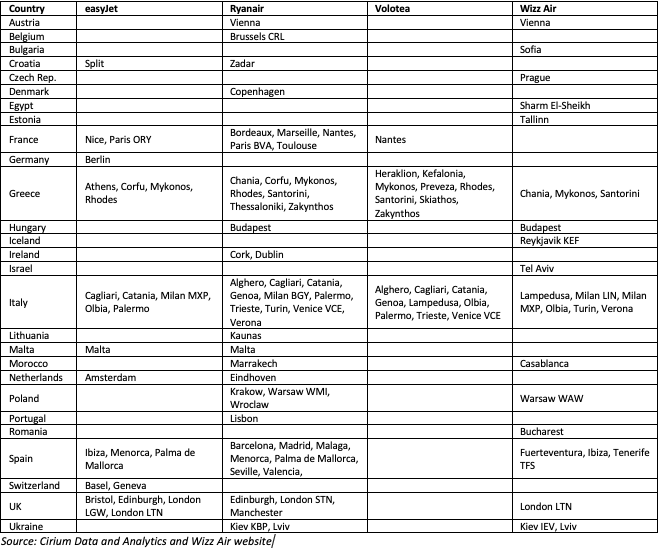 Not to be outshone, the day before Wizz Air launched its Naples base, Ryanair announced plans to add 12 new routes from Naples this winter. The new destinations for Ryanair are Agadir, Bucharest, Fuerteventura, Lanzarote, London LTN, Milan MXP, Prague, Sofia, Tallinn, Tel Aviv, Tenerife TFS and Zagreb. Three of these destinations (Agadir, Lanzarote and Zagreb) are new for Naples. However, the other nine are all served by Wizz Air, which seems to be sending a fairly clear message to its ULCC rival.
Most European flag-carriers present
At present, Alitalia's only flights from Naples are to Rome FCO (2-daily) and Milan LIN (3-daily). Most of Europe's flag-carriers are serving Naples this summer according to Cirium Data and Analytics schedule information for August. These include Aegean Airlines, Aer Lingus, Aeroflot, Air France, airBaltic, Austrian Airlines, British Airways, Brussels Airlines, Iberia, KLM, Lufthansa, Luxair, SAS, SWISS, TAP Portugal and Turkish Airlines. Despite the imposing presence of easyJet, Ryanair and Wizz Air, other LCCs also offer flights to Naples. These include Air Arabia Maroc, Blue Air, Eurowings, flydubai, Jet2.com, Norwegian, SkyUp, Transavia and Vueling. The 4,160-kilometre service to Dubai with flydubai is the only scheduled service at present of over 2,500-kilometres.
US services have existed
Non-stop service to the US has been offered in the past by Eurofly (between 2005 and 2009 to New York JFK) and Meridiana (from 2010 to 2017, also to New York JFK). In May 2019, United Airlines began a seasonal, daily service to Naples from its New York EWR base, but this route has yet to be resumed post-pandemic.