The Future of RNO is More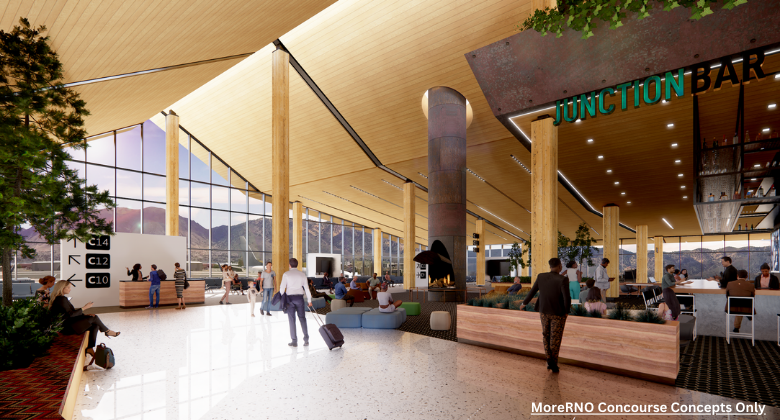 The Reno-Tahoe Airport Authority celebrated a historic day as it reached key milestones that will redefine air travel in the region for generations to come. Reno-Tahoe International Airport (RNO) broke ground on the largest infrastructure program in the airport's history, called MoreRNO, and announced that the centerpiece of this construction program will be the replacement of both 1970's era concourses.
After record passenger enplanements in the first quarter of 2023, this almost $1 billion investment in infrastructure is coming at the perfect time to bring RNO into the future. It will provide decades of capacity to meet the needs of the growing region, which is now the home to tech giants like Panasonic and Tesla, boutique hotels, craft breweries, a thriving local art scene and year-round outdoor adventure, adding to the always thriving tourism and gaming scenes offered in Reno-Tahoe.
RNO had a strong return after the pandemic and the demand for travel at RNO and relocation to the region only continues to grow. In 2022, 27 companies relocated to Reno-Tahoe bringing thousands of high-paying jobs. Since 2019, more than 30,000 people have migrated to the region. Companies are also expanding their operations in northern Nevada. For example, Tesla recently announced it will be spending $3.6 million to enlarge its Nevada Gigafactory. The additional gates that RNO will be adding as part of the MoreRNO program will help accommodate this tremendous growth as the airport expects to serve five million passengers during the next 12 months, with future increases anticipated.
Even more than functioning as the region's transportation hub, RNO is a place that travelers love for its convenience, warmth and customer service. The one-of-a-kind investment in the Reno-Tahoe region to build two new concourses ensures that the airport is poised for the future growth that contributes to a healthy and thriving region.