The Power of iGA Istanbul Airport: A Gateway To Türkiye and the World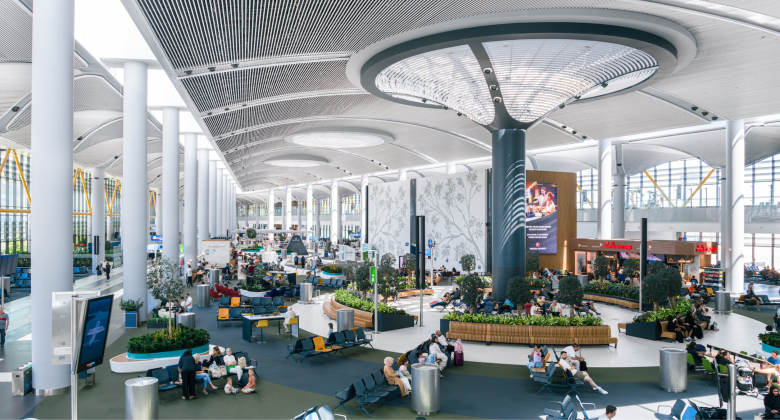 A global transfer hub set in the world's only city that lies between two continents - Europe and Asia - iGA Istanbul Airport offers a getaway not only to Türkiye, but to the rest of the world. From iGA you can reach all of Europe, half of Africa and the Middle East. This unique location showcases the power of iGA Istanbul Airport and its destination strength, connecting passengers with a variety of global destinations from its airport as well as the city itself offering a distinctively diverse plethora of cultures and experiences.
In 2019, iGA Istanbul airport had 61 carriers operating 260 destinations, and as of 2023, the ever-evolving airport now has 95 carriers (after 1st of December it will be 96 airlines with Thai Airways) and access to 311 direct destinations, many within just a three-to-five-hour flight time. This growth and success over the last few years showcases iGA's incredibly resilient and proactive approach to improving its services for its customers. Even during the pandemic, iGA always remained confident in its product and services and that they could overcome the inevitable challenges the aviation industry faced, and therefore chose to prepare for the post-pandemic era and look forward to the future.
iGA Istanbul Airport welcomed several new Low Cost Carriers (LCC's) during this time in the last three years, including several prominent names such as Wizz Air, easyJet and Flydubai. Now, the airport's main focus is on attracting Asian carriers. Most recently, China Eastern Airlines entered Istanbul from Shanghai which will grow inbound Chinese tourism to Türkiye, which is in perfect alignment with iGA "Chinese Friendly Airport" philosophy. As well as this, Thai Airways will enter Istanbul with daily flights from the 1st December, which is set to grow inbound traffic from domestic Thailand, South Asia and Australia. In addition, iGA has identified Sydney and Melbourne in Australia as high-potential destinations.
Looking beyond the world of aviation, the innovative iGA Istanbul Airport is also seeking other avenues to improve the power of its connections, by working closely with cruise port Galataport to encourage passengers to start and end their journey in the magnificent city of Istanbul. In turn, this is anticipated to help iGA attract its first North American carriers, despite already offering 12 direct destinations to the USA and 3 to Canada. As well as this, iGA Istanbul Airport has partners with Trip.com, Asia's largest Online Tour Operator (OTA) to further increase connectivity and allow passengers to fly from anywhere in the world via Istanbul.
Part of this drive to maintain iGA Istanbul Airport's status as a global transfer hub, sustain its routes and guarantee continued success includes essential product development. iGA understands that airports are no longer solely infrastructure providers, but experience providers, and therefore iGA is passionate about improving customer experience and understanding passenger profiles, travel behaviour and needs. In turn, iGA puts people at the heart of what they do and has developed a family-friendly, Generation Z-friendly and "Chinese Friendly Airport", as well as being the first mega hub in the world to develop a Virtual Interline product.
The potential of iGA and Istanbul as a destination in itself is paramount, with its diverse cultures, rich history and modern offerings amongst leisure opportunities for a variety of travellers, including those seeking gastronomic, wellness, historical, religious, or city tourism. iGA Istanbul Airport are industry leaders and innovators and endeavour to continue increasing connectivity and further establishing itself as a global transfer hub for years to come.