Tirana set passenger records in 2021; Wizz Air now dominant after Blue Panorama and Ernest collapse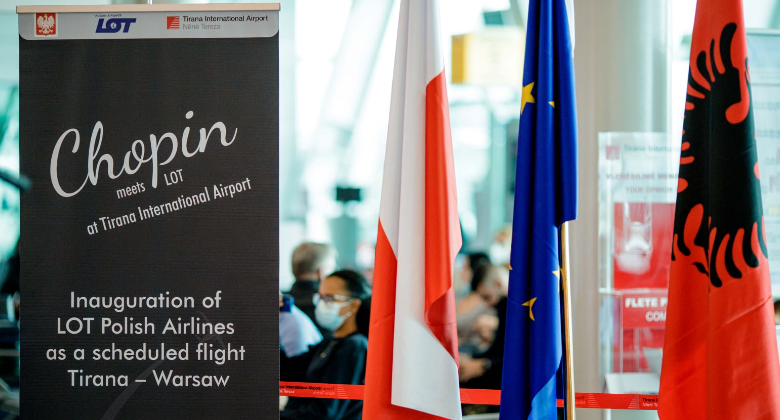 Not many European airports managed to set passenger records during the summer of 2021, but Tirana Airport, serving the Albanian capital, was one of them. Traffic at the airport had grown from under one million annual passengers in 2006 to over three million in 2019, having seen traffic growth in every year between those two dates with the exception of 2012. In 2020, traffic fell by 60% before growing impressively in 2021 by over 120%. As a result, the airport handled almost three million passengers last year.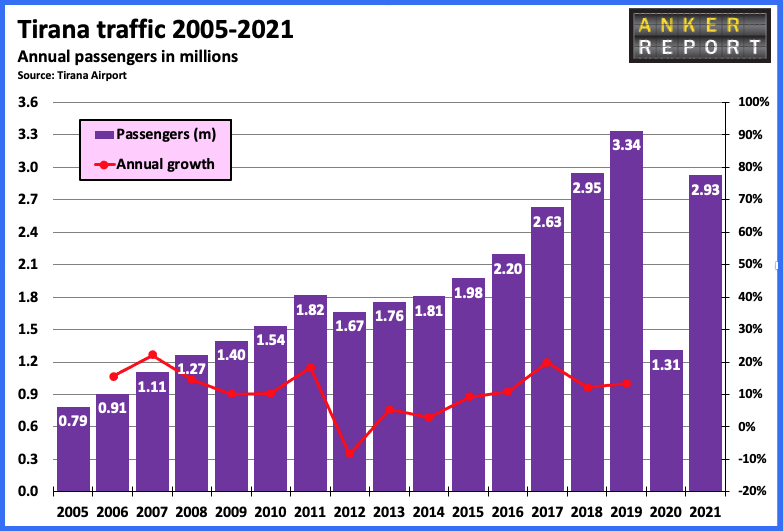 August 2021 was busiest ever month
Looking at monthly passenger data reveals that last August the airport handled over 550,000 passengers, an all-time record for the airport. In fact, monthly traffic records were set last year in July, August, September, October and November. This year has also started well, with January passenger figures beating the previous record set in 2020.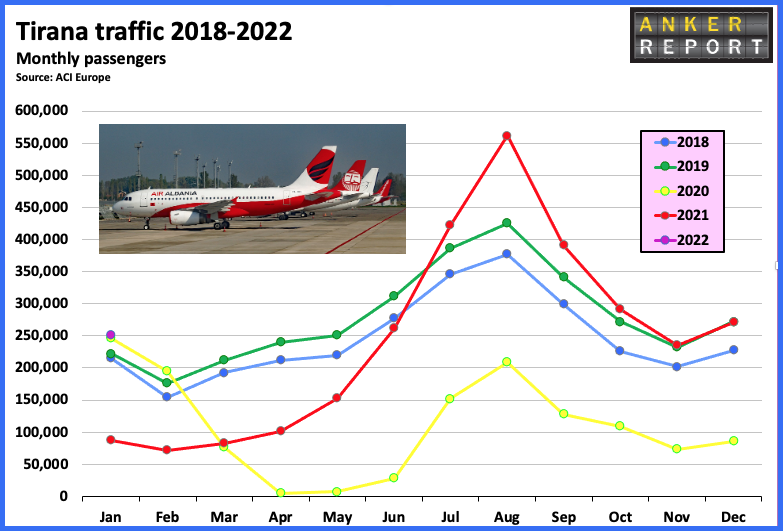 Wizz Air drives growth
So what explains this impressive recovery? Back in the summer of 2019, the airport's biggest airlines by seat capacity were Blue Panorama, Ernest Airlines, Albawings, Alitalia, Wizz Air and Air Adria. Shockingly, three of those carriers have completely ceased to exist, while Alitalia has morphed into ITA Airways. The airline that benefitted from all this was Wizz Air, which made Tirana a base in July 2020 and is now the dominant carrier at the airport.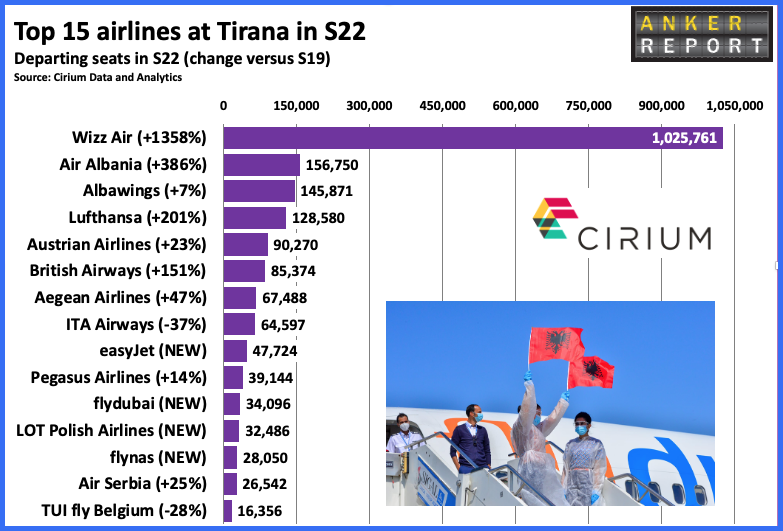 This summer, it is offering non-stop service from the Albanian capital to almost 40 airports across 12 countries in Europe as well as Abu Dhabi in the UAE. Prior to 2017 Wizz Air did not serve Tirana at all. As a result, it is now by far the biggest airline in Albania, dwarfing local rivals Air Albania and Albawings. According to Cirium data, Air Albania (which uses the old Monarch Airlines IATA code of ZB), uses an A319 and an A320 leased from Turkish Airlines to serve several destinations in Italy (plus Athens, Düsseldorf, Istanbul IST and London STN), while Albawings, with its three classic 737-400s, offers flights to several destinations in Italy as well as London STN (resuming on 5 June).
Since the start of the pandemic, Tirana has welcomed a number of new carriers. These include easyJet (offering service from its hubs in Geneva and London LGW), flydubai (from Dubai DXB since March 2021), flynas (from Jeddah and Riyadh), LOT Polish Airlines (from Warsaw since November 2021), SWISS (from Zurich since September 2021) and Ural Airlines (from Moscow ZIA and Samara). Notably still absent from the airport is Ryanair.
Among European flag-carriers Lufthansa leads the way with regular service to both Frankfurt and Munich (launched in March 2021), while Austrian has up to three daily flights to Vienna. British Airways transferred its Gatwick service to Heathrow in July 2020.
Italian routes most popular
Among the airport's most popular routes by seat capacity this summer, eight of the top 15 are to airports in Italy (shown in red). The leading non-Italian destinations are the Star Alliance hubs of Frankfurt, Munich and Vienna along with two London airports, Heathrow and Luton.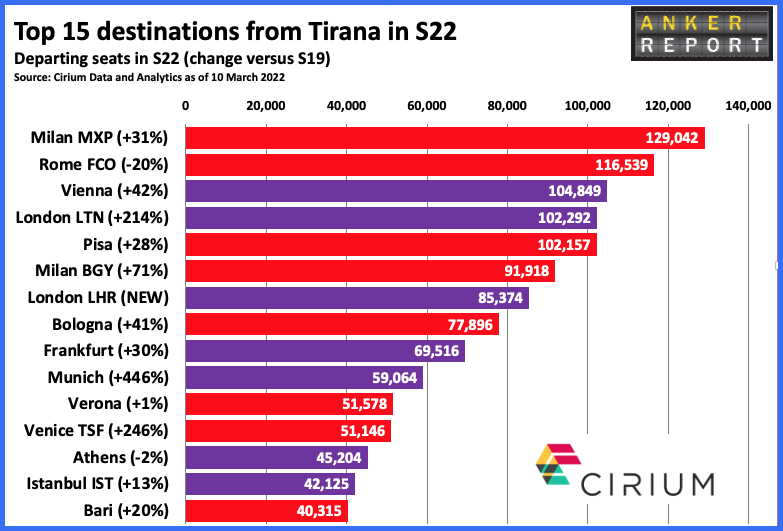 Over 30 new destinations have been added since S19 (mostly by Wizz Air), including Barcelona, Dubai, Eindhoven, Geneva, Hamburg, Liverpool, Madrid, London LHR, Thessaloniki, Warsaw WAW and Zurich. However, a number of destinations served three years ago are currently unserved. These include Amsterdam (previously served by Transavia), Antalya and Katowice.