Top 10 best/worst airports for route churn since 2004 at easyJet, Ryanair and Wizz Air revealed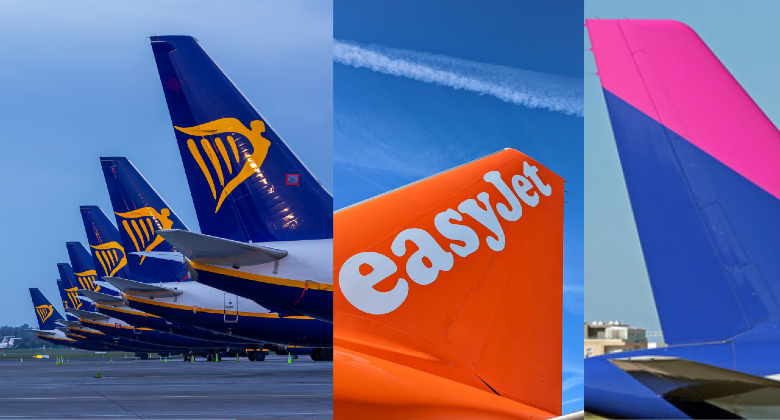 While announcing and launching new routes is what might be called the glamorous side of airline network planning, arguably a far more important role is to keep track of the profitability of all routes. When, for whatever reason, routes become consistently unprofitable, airlines will need to consider whether or not to continue to operate them. Suspending a route is never an easy decision and will invariably cause dismay for the airports involved, as well as issues for the airline in rebooking passengers who may have booked the service after the planned cancellation date. In addition, route cancellations are rarely advertised and made public in the same way that new routes are.
While all airlines drop routes, Europe's (U)LCCs have historically been particularly proactive in suspending poorly performing routes. Air Service One has used Cirium data to analyse how easyJet, Ryanair and Wizz Air compare over a 20-year period (2004-2023) with regard to what percentage of routes launched from an airport are still operating. We have looked at all airports at which these three carriers have operated at least five flights on at least 30 routes in the last 20 years. We then compare this with how many routes they operated in 2023 with at least five flights. Some of these routes operated in 2023 may have been dropped at some point during the year, but if they operated at least five times in 2023 then, for the purpose of this exercise, they are still counted as current routes.
Dividing the current routes by the total routes gives a percentage of routes that are still operated. A high percentage indicates a high level of consistently good route decision-making, a low percentage suggests significant volatility or some kind of change in strategy. For each airline we have identified the 10 best and 10 worst airports (with at least 30 historic routes) for this metric. Airports where flights are not currently possible (such as in Ukraine, or Berlin's old airports at Schönefeld and Tegel) are not included in the results.
Wizz Air: new bases in Albania and UAE lead the way
According to Cirium data, Wizz Air has offered flights to at least 30 destinations from 36 airports since its launch in May 2004. This includes a number of airports that are not designated bases such as Barcelona, Eindhoven, Memmingen and Paris BVA. Wizz Air's fast-growing base in the Albanian capital of Tirana currently has over 90% of all routes launched still operating. New bases are likely to come near the top of such rankings as there will have been less time to collect reliable data on route profitability. Similarly, Wizz Air's relatively new base in Abu Dhabi ranks second.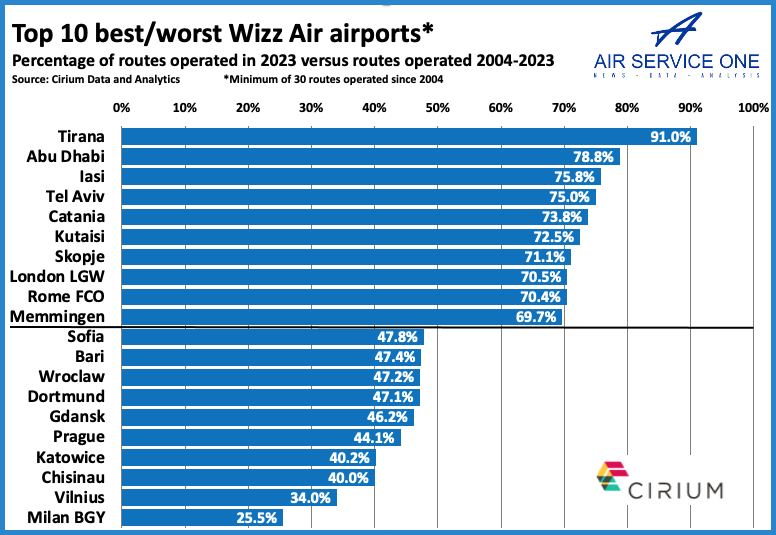 The average percentage among Wizz Air's top 10 most reliable major airports is 75%. At the other end of the spectrum, several airports have a reliability percentage of under 50%. Milan BGY has suffered significantly after Wizz Air decided to open a base at Milan MXP in July 2020 and transfer many routes to the bigger airport. In the Lithuanian capital of Vilnius, Wizz Air has dropped almost two-thirds of the routes it has ever started.
Budapest, which has seen more Wizz Air route launches than any other airport (over 120), only has half of them still operating in 2023. London LTN which has welcomed over 100 Wizz Air route launches has a 62% survival rate. To highlight the constantly evolving nature of airline networks, Wizz Air recently announced that it would be transferring all of its Edinburgh routes to Glasgow from the middle of November.
easyJet: Portuguese customers see network stability
A total of 35 airports across Europe have welcomed at least 30 easyJet routes in the last 20 years. This includes Berlin SXF and Berlin TXL which have now been closed and replaced by Berlin BER. Leading the way for easyJet are two airports in Portugal. Porto and Lisbon have both seen fewer than one in five routes dropped, which is also the case for one of the airline's oldest bases, Geneva. The top 10 airports have an average survival percentage of 78%.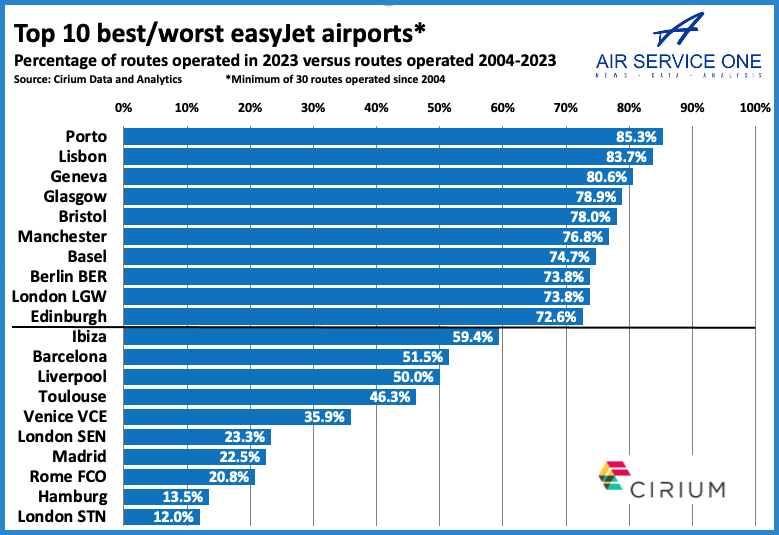 Five European airports have seen easyJet drop more than three-quarters of their routes. London STN, which was a base inherited when easyJet acquired Go in 2002, only has a handful of easyJet routes left after having offered flights to some 50 destinations in total. easyJet's Hamburg base, opened in 2014, closed in 2018. As a result, just a few routes remain. Former bases at London SEN and Madrid have also seen major route reductions after closure.
Ryanair: new Stockholm and Zagreb bases see fewest route droppings
Can you guess how many airports Ryanair has offered at least 30 routes from during the last 20 years? The answer is a staggering 105 using the criteria previously mentioned. This includes three outside of Europe in Morocco. As with Wizz Air, recently launched bases lead the way with Stockholm ARN (a base since W21/22) and Zagreb (a base since S21) each only registering one dropped route to date; Stockholm ARN to Aalborg in Denmark, and Zagreb to Rome CIA. In the latter case the airline switched the route to Rome FCO.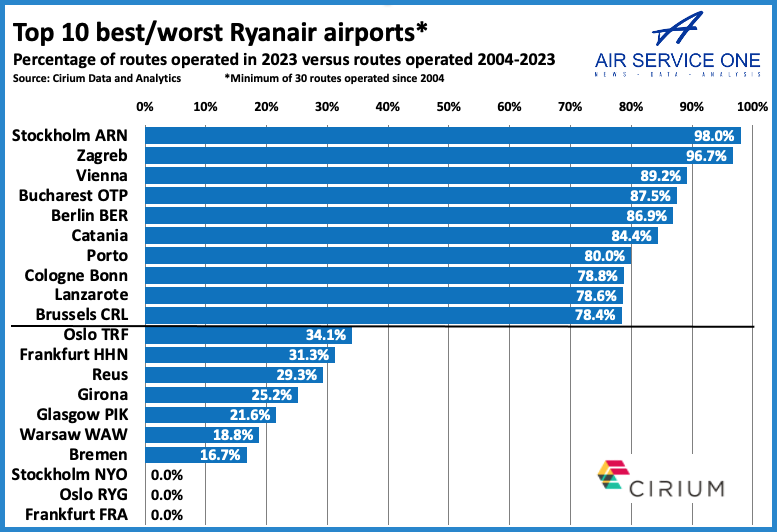 The fact that Ryanair is still flying to 91 of the 102 routes it has launched from Vienna, suggests the airline is determined to win its battle there against other (U)LCCs such as Wizz Air (which has dropped half its routes from the airport), easyJet (no longer present) and Eurowings (down from over 30 routes in S18 to just four German routes).
Three airports which used to welcome well over 30 Ryanair routes are no longer served at all; Stockholm NYO (flights were transferred to Stockholm ARN), Frankfurt FRA (Frankfurt HHN is still served) and Oslo RYG (Oslo TRF and Oslo OSL are currently served). When Ryanair stopped serving Oslo RYG (citing an increase in taxes), the airport in effect closed down to commercial services.
Both Girona and Reus, which Ryanair had initially promoted as secondary airports for Barcelona when it didn't have much of a presence at the main airport, have lost over 70% of their Ryanair routes.
Ryanair's three biggest airports for routes ever offered are London STN (over 220), Dublin (over 180) and Milan BGY (over 160). The percentage of routes still operating at these airports are 71%, 76% and 71% respectively.