Top 15 country markets for Ryanair, easyJet and Wizz Air revealed; not all have grown in the last 12 months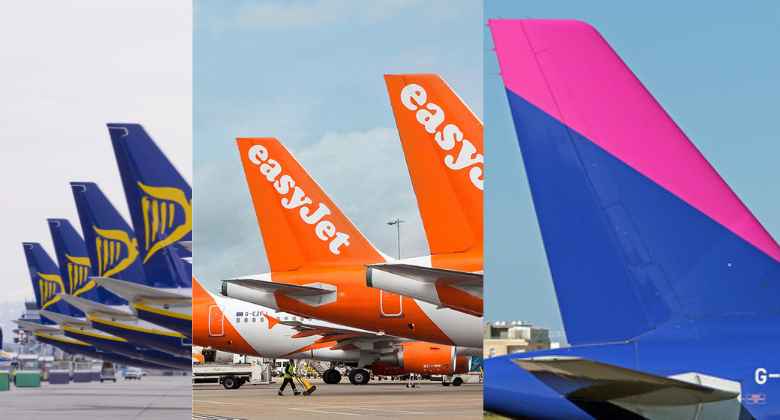 As we roll into September, the last month of Q3, it is worth reflecting on where Europe's three biggest (U)LCCs have been most active, and how this compares with a year ago. Analysing Cirium data for 2023 Q3 and 2022 Q3 reveals that Ryanair (with almost 57 million seats available in Q3) is still bigger than the combined might of easyJet (29.2 million seats) and Wizz Air (19.2 million seats). Ryanair is by far Europe's biggest airline as measured by seat capacity, with Turkish Airlines (29.3 million seats) vying with easyJet for second place. Lufthansa (20.2 million seats) just edges out Wizz Air for fourth place.
However, if we look at ASKs (Available Seat Kilometres) in Q3 Ryanair's lead over Turkish Airlines is much smaller. With 69.6bn ASKs Ryanair is not that far ahead of Turkish Airlines with 64.6bn. Both British Airways (46.7bn) and Lufthansa (44.5bn) are now bigger than easyJet (36.6bn). Due to the greater seasonality of low-cost travel, in Q4 Turkish Airlines is currently expected to be bigger than Ryanair by this metric.
Ryanair: capacity up 10% – Italy still #1
Italy remains Ryanair's leading country market in Q3, though Spain has closed the gap. Eight of the airline's top nine country markets (including Germany) have seen double-digit capacity growth, with Italy (at +5.4%) the exception. The highest growth in the top 15 was France (+17.1%) but in terms of additional seats the UK and Spain both registered an increase of 1.12 million seats. Among the top 15 country markets just two have not seen growth; Belgium (down 0.2%) and Austria (down 2.5%).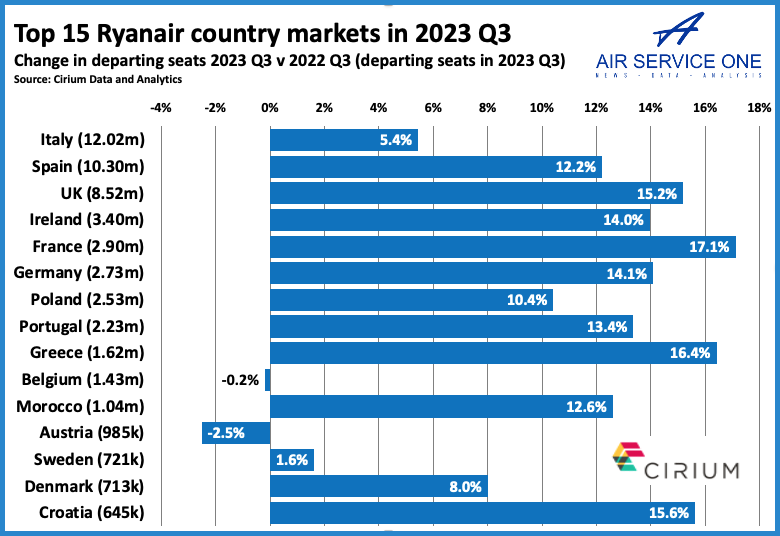 Ryanair serves the same 36 countries as it did in 2022 Q2. Outside of the top 15 country markets the biggest increase in seats was recorded in Malta, Bulgaria and the Czech Republic. The biggest reductions in seat capacity were in Romania, Hungary, Latvia, Estonia, Lithuania and Finland. The last four of these share a border with Russia and/or Belarus, while Romania and Hungary both share a border with Ukraine.
easyJet: capacity up 9% – UK still #1
The Luton-headquartered airline still has twice as much capacity operating from UK airports as it does from any other country. While its five biggest country markets have all seen capacity increases of at least 5%, the UK has seen available seats increase by 13%. Among the 19 UK airports served by the carrier in Q3, five saw an increase of at least 100,000 departing seats; Manchester (+198k), Bristol (+198k), London LGW (+181k), London LTN (+141k) and Edinburgh (+111k).
Thanks to the slots it gained in Lisbon, seat capacity from Portuguese airports is up almost 24%. Conversely, in Germany, capacity is down almost 17%, primarily due to the airline cutting capacity by that amount from its Berlin base. In Q3 easyJet was operating flights in 33 countries, one fewer than last year. Finland is no longer served following the termination of Berlin-Helsinki flights last September. The country will return to the airline's schedules this winter with the resumption of seasonal flights to Kittila and Rovaniemi.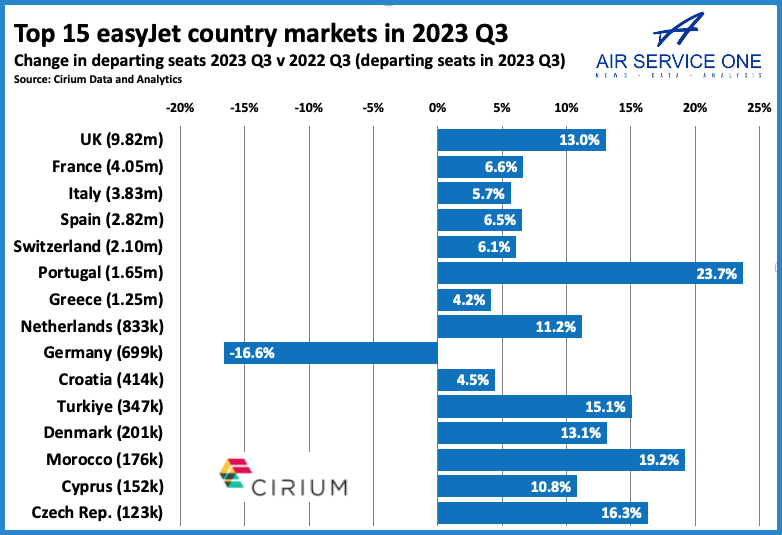 Outside of the top 15 country markets, easyJet has significantly increased available seats in Q3 to Tunisia (+20k seats, +103%), Egypt (+18k seats, +30%), Poland (+16k seats, +33%), Malta (+14k seats, +26%) and Serbia (+11k seats, +15%). Apart from Germany, the airline's biggest capacity cuts have been to Hungary (18k fewer seats, down 30%), Sweden (9k fewer seats, down 31%) and Luxembourg (7k fewer seats, down 15%).
Wizz Air: capacity up 17% – Italy #1 but seats reduced
As the smallest of the three carriers examined here, Wizz Air has seen the biggest capacity growth rate of 17%. It still has 50% more seats in Italy than any other country. However, after rapid recent growth the airline has consolidated in the country during the last 12 months with capacity cut by 1.5%. All of the airline's other top 15 country markets have seen growth since 2022 Q2 with UAE leading the way with capacity more than doubled, almost entirely thanks to the airline's growth in Abu Dhabi.
Albania continues to see rapid Wizz Air expansion with seats up almost 50%. It is now the airline's eighth biggest country market. While France ranks second for easyJet and fifth for Ryanair, it ranks only 12th for Wizz Air though growth of 20% during the last year was above the airline's average. Capacity growth of over 60% at Larnaca has seen Cyprus jump from 19th to 15th in the airline's country rankings.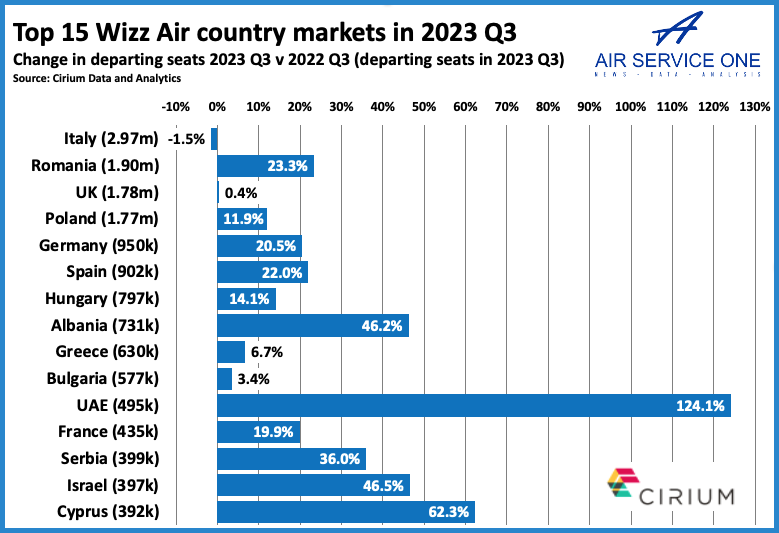 Wizz Air currently operates in 52 countries a net increase of four versus 2022 Q2. While services to Moldova (Chisinau) have been (temporarily?) suspended, the airline has added Kuwait, Kyrgyzstan, Luxembourg, Maldives and Uzbekistan to its increasingly global network.
Outside of the top 15 country markets, Wizz Air has significantly increased available seats in Q3 to Saudi Arabia (+175k seats), Turkiye (+138k seats), Georgia (+136k seats, +111%) and Armenia (+94k seats, +290%). Apart from Italy, the airline's biggest capacity cuts have been to Bosnia & Herzegovina (64k fewer seats, down 29%), Norway (49k fewer seats, down 17%) and Lithuania (28k fewer seats, down 16%).
UK replaces Italy as top market
While each airline has a different mix of leading country markets, it is worth noting that Italy and the UK are in the top three for all three carriers. Overall, when the three carriers are combined, UK, Italy and Spain are by far the three leading country markets. Since 2022 Q3 the UK (+12.7%) has overtaken Italy (+4.3%) to be the leading country market. Among the top 10 country markets, Portugal (+18%) has seen the biggest increase in percentage terms while the UK has seen the biggest volume increase (an additional 2.26m seats).
The biggest country market that has seen a decrease in seats is Sweden, which is ranked 19th. The three (U)LCCs combined have reduced capacity by 1.3% versus 2022 Q3. Bosnia & Herzegovina, Estonia, Finland, Latvia, Lithuania and Norway have also seen a net decrease in seats.