Top 20 fastest-growing airports in North America in Q2 revealed; Atlanta has added almost 2m more seats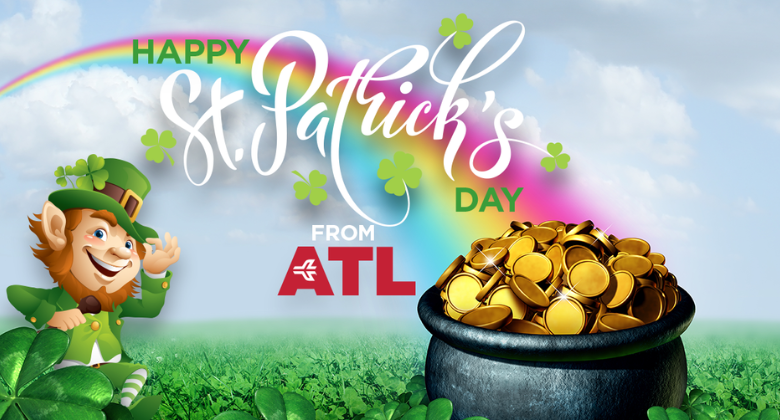 The North American market, especially in Mexico and the US, saw air passenger traffic recover far more quickly than in many other parts of the world. But how has the market developed more recently? Using Cirium schedules data we have determined the top 20 fastest-growing airports in North America (Canada, Mexico and the US) between 2022 Q2 and 2023 Q2. The metric used here is additional departing seats. This will tend to favour the bigger airports. If percentage growth were used different airports would make the top 20.
Atlanta capacity growth 50% higher than nearest rival
There is a very clear winner. Hartsfield-Jackson Atlanta International Airport has added almost two million more departing seats in Q2 (April to June) compared with the same period last year. That represents capacity growth of 14% at what is also still the busiest airport in the US. Only just over half of Atlanta's additional capacity has been generated by its dominant carrier, Delta. Other carriers have been much more aggressive with their growth at the Georgian airport. JetBlue has doubled capacity, while Spirit (+59%), United (+52%) and Frontier (+42%) have all contributed significantly to the airport's seat offering.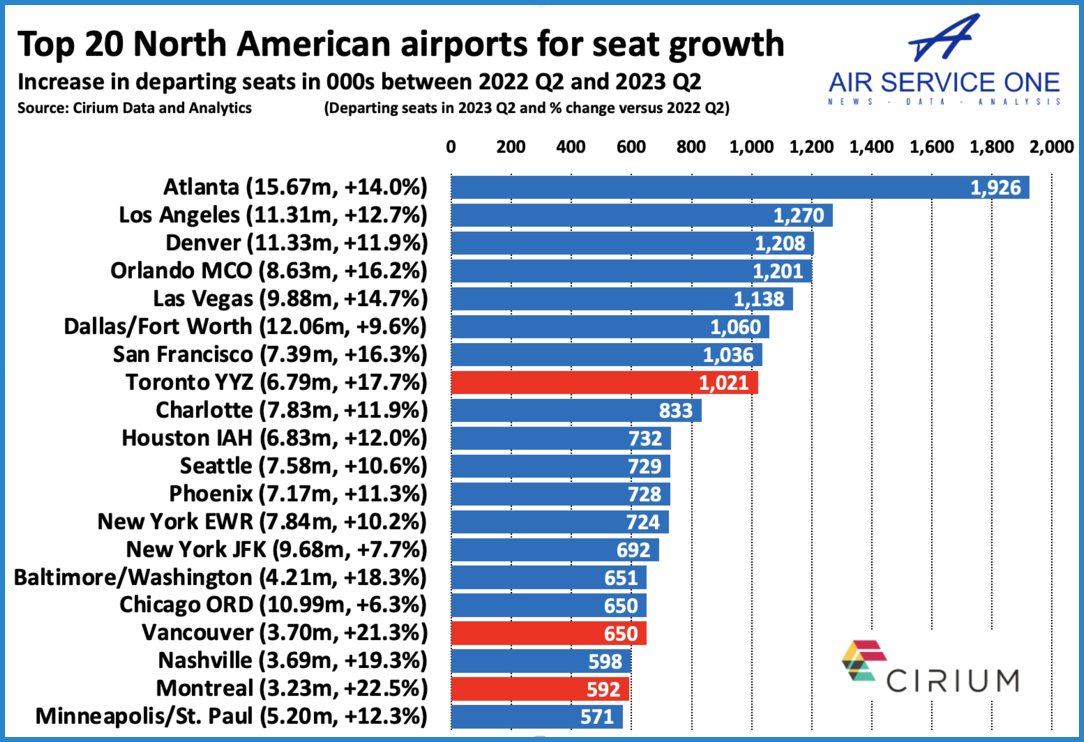 Seven other airports have added at least one million more departing seats during the last year. Six of these are in the US, with Canada's Toronto YYZ airport being the other airport. Two other Canadian airports (Vancouver and Montreal) also make the top 20, with the Quebec airport having the highest percentage growth rate among these airports at 22.5%.
At the other end of the rankings, the airports with the biggest capacity reductions are Mexico City MEX (down 631k, -8% as the new Mexico City NLU airport became operational), Fort Myers (down 170k, -11%) and Miami (down 151k, -2%).
Overall capacity up by 10% since last Q2
In total, Cirium has schedule data for just over 900 airports in North America. While the total number of scheduled flights is up just over 4% since 2022 Q2, seat capacity is up 10.5%. If we focus on the top 200 airports in 2023, then the ones with the highest percentage growth are:
Jackson Hole (JAC) in Wyoming: capacity up 591%. This is misleading as the airport was shut between 11 April 2022 and 27 June 2022 for runway reconstruction.
Mexico City (NLU): capacity up 419%. The new airport serving Mexico City only opened in March 2022 and was still establishing itself in Q2 last year.
Provo (PVU) in Utah: capacity up 155%. Allegiant has doubled capacity while Breeze has launched flights.
Mexicali (MXL) in Mexico: capacity up 51%. Growth in seats dominated by Volaris.
Queretaro (QRO) in Mexico: capacity up 50%. Significant capacity growth from Vivaaerobus, Aeromexico and Volaris.