Transavia France operated 21% of seats on domestic routes in 2021; will have 61 737-800s in summer 2022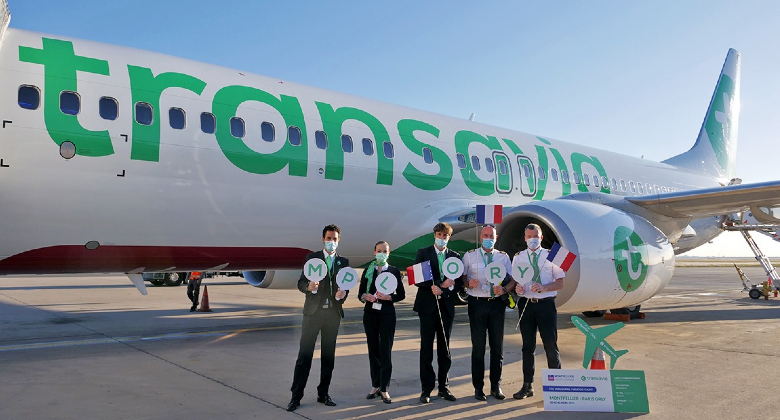 The Air France/KLM Group has its own in-house LCC, Transavia. Although it has just a single brand, there are actually two separate airlines, the Dutch-based carrier (IATA code HV) and the French-based carrier (IATA code TO). This analysis focuses on the French subsidiary, sometimes also referred to as Transavia France.
Launched from Paris ORY in 2007, Transavia France was set up initially to help protect Air France's position at Orly, primarily from easyJet. The airline grew only modestly in its first few years, primarily by adding international flights from much smaller bases at Nantes and Lyon. However, between 2013 and 2019 annual seat capacity grew almost fourfold. As a consequence of the pandemic, Transavia added a further base from Montpellier in 2020.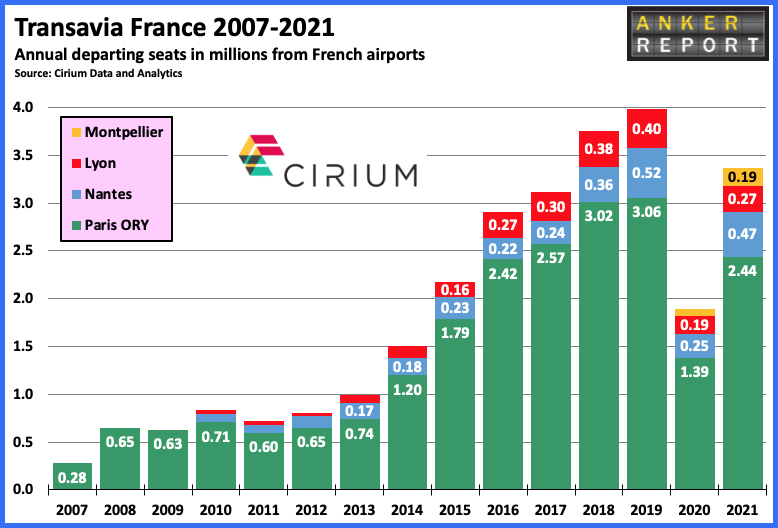 Domestic flights launched in November 2020
Prior to the pandemic, Transavia offered no domestic routes. However, as it became clear that domestic flights were less vulnerable to changes in pandemic travel restrictions, Transavia chose to launch services within France, starting with five routes in November 2020. These were Orly-Biarritz and four routes from Nantes; Marseille, Montpellier, Nice and Toulouse.
However, these were not the only new routes launched by Transavia from its French bases in 2020. International routes to Croatia, Greece, Iceland, Italy, Portugal, Spain and Tunisia were also added, as summarised below.
Montpellier: Athens, Djerba, Faro, Heraklion, Lisbon, Nantes, Palermo, Palma de Mallorca, Porto, Seville, Tunis
Nantes: Dubrovnik, Marseille, Montpellier, Nice, Reykjavik, Rhodes, Toulouse
Paris ORY: Bari, Biarritz, Gran Canaria, Kalamata
Over 50 new routes launched in 2021
In 2021, Transavia added more domestic routes, mostly focussed on Brest or airports on the French island of Corsica. However, all four bases also saw a significant growth in destinations served, with Greek and Spanish airports proving popular. In total, over 50 new routes were added by Transavia France in 2021, as summarised below.
Lyon: Alicante, Bari, Ibiza, Menorca, Olbia, Palma de Mallorca, Rhodes, Santorini
Montpellier: Ajaccio, Bastia, Berlin, Brest, Calvi, Figari, Paris ORY, Rennes, Stockholm ARN
Nantes: Ajaccio, Bari, Bastia, Calvi, Corfu, Lanzarote, Menorca, Palma de Mallorca, Toulon
Paris ORY: Algiers, Amman, Berlin, Boa Vista, Brest, Cagliari, Cairo, Constantine, Enfidha, Hurghada, Krakow, Montpellier, Oran, Preveza, Rome FCO, Sal Island, Santiago de Compostela, Sfax, Stockholm ARN, Toulon, Zadar (previously served in S17)
Other domestic routes: Brest-Ajaccio, Brest-Bastia, Brest-Calvi, Brest-Figari, Brest-Marseille, Brest-Nice, Brest-Toulon, Brest-Toulouse, Lille-Biarritz plus an international route Bastia-Fez
New international destinations in 2021, not served in 2020 were Berlin, Boa Vista, Cagliari, Cairo, Enfidha, Hurghada, Krakow, Preveza, Sal Island, Stockholm ARN and Zadar. New country markets in 2021 were Cape Verde, Egypt, Poland and Sweden though Egypt had been served previously.
France is now #1 country market for seats
As a result of all these new routes, the French domestic market became the airline's number one market in 2021, with 1.44 million seats offered between French airports. That represents 21% of all seat capacity offered by the airline in 2021. Transavia ranked fifth for seats in the French domestic market in 2021 with 6.8%. Way out in front was Air France with 10.64m seats (50.7% of total), followed by easyJet with 3.92m (18.7%), Air Corsica with 2.18m (10.4%) and Volotea with 1.82m (8.7%). Ryanair ranked sixth with 705k seats (3.4%).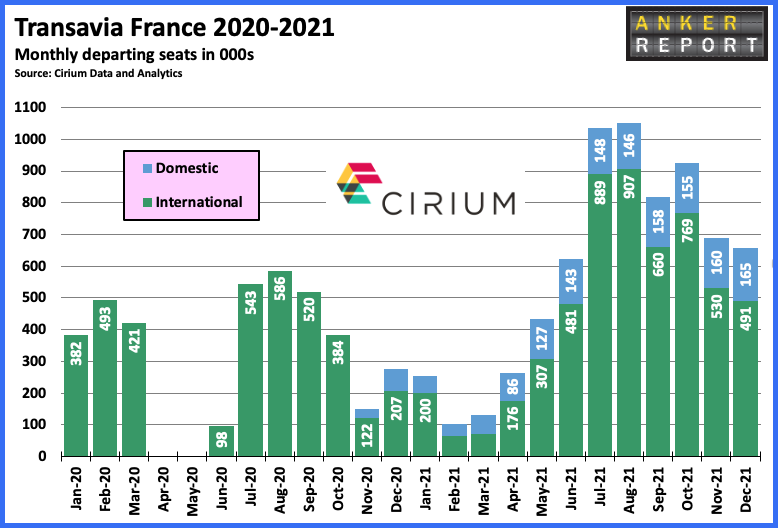 Portugal and Spain are leading international markets
The leading international market, Portugal, accounted for 1.10 million seats (both directions). Only just behind Portugal was Spain, with Greece a little further back. Tunisia and Morocco were the leading non-European markets (shown in red). Among the leading country markets, Greece showed the best recovery with capacity down just 2% compared with 2019. Seats to Spain were down 16%, while Italy, Portugal and Tunisia were all down between 20% and 30%.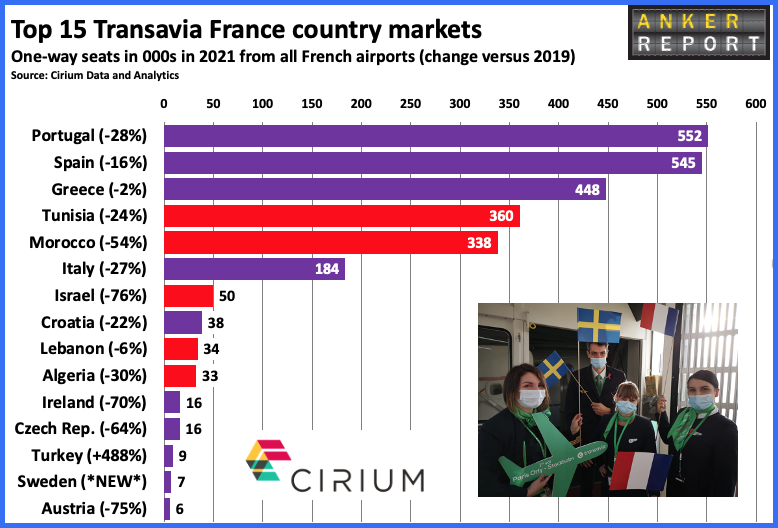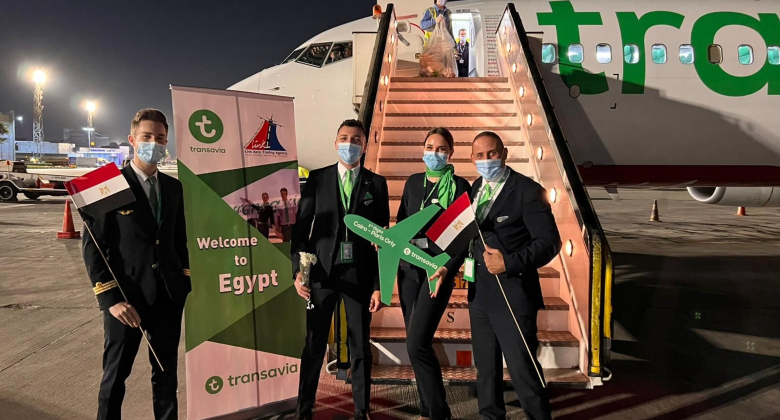 Almost 20 new routes already announced for 2022
Transavia has been busy planning further new routes that are scheduled to start this year. This includes nine new routes from Orly, at least one new international route from the other three bases, and two new domestic routes from Marseille. Details of the new routes are summarised below.
Lyon: Oran, Stockholm ARN
Montpellier: Mykonos
Nantes: Figari, Oujda
Paris ORY: Bilbao, Glasgow, Kefalonia, La Palma, Ljubljana, Podgorica, Ponta Delgada, Skiathos, Yerevan
Other domestic routes: Marseille-Lille, Marseille-Rennes
Fleet increasing to 61 aircraft in S22
Transavia France's fleet grew from 40 aircraft in 2020 to 48 in the summer of 2021. Two additional aircraft have been added this winter so that the airline now operates 50 737-800s. For next summer, a further 11 aircraft are set to join the fleet, resulting in a total of 61 aircraft.