Trendsetting green controlled growth plan for London Luton Airport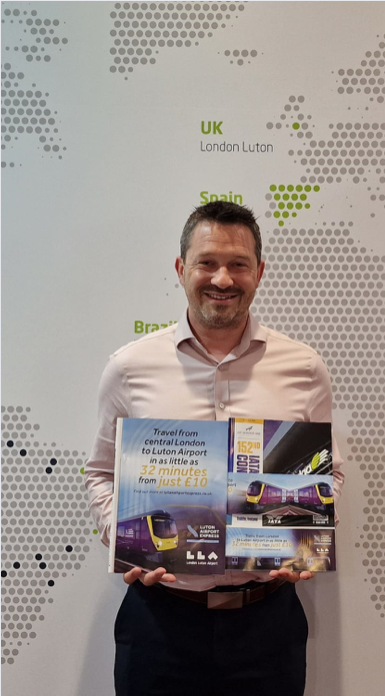 London's Luton Airport (LLA) wants to grow responsibly and sustainably. The airport's owner, Luton Rising, has developed a groundbreaking Green Controlled Growth (GCG) initiative, and the airport has already secured sustainability agreements with several of its major airline partners. Coupled with a brand new 32-minute rail link to central London, Luton Airport believes it has a recipe for success. Air Service One spoke with Jonathan Rayner, Chief Commercial Officer at London Luton Airport at the 152nd IATA Slot Conference
How do you plan to go about increasing London Luton Airport's annual passenger cap from 18 million to 32 million?
There are two concurrent planning permissions in place at the moment. As the airport operator, we have a short-term plan to increase capacity to 19 million passengers per annum, which would playing a key role in unlocking the airport's economic potential over the next few years. The airport owner, Luton Rising, has also applied for a three-phase Development Consent Order to increase capacity to 32m passengers per annum over the next two decades. The first stage would take the capacityup to 21.5 million, followed by a second and third phase, based on the enabling required with our existing infrastructure, that would take the capacity to 27 and 32 million respectively.
Can you tell us a bit more about Luton Rising's Green Controlled Growth framework?
One of the key enablers of our plans for responsible growth is sustainability. Luton Rising has developed a groundbreaking Green Controlled Growth (GCG) initiative, an environmentally focused approach designed to ensure that the airport's growth is sustainable and takes place within environmental limits aligned with the Government's Jet Zero strategy. This GCG framework introduces legally-binding limits for the airport's noise, carbon, air quality and surface access impacts – each identified as an area of impact that could increase in line with the airport's growth over time.
The GCG framework also includes a robust system of governance and independent oversight to ensure that performance against the environmental limits is properly monitored and managed. These commitments are designed to ensure there is no disproportionate impact on our neighbours and the environment and that the airport's plan for growth is responsible, sustainable and ethical.
Industry collaboration will also play a vital role in our plans and is why we are discussing sustainability agreements, as opposed to growth agreements with our airlines. The recent agreements that we have secured with our major airlines, such as easyJet, Wizz and Ryanair have focused on fleet modernisation. The next-generation aircraft are quieter and more fuel-efficient and will therefore have less impact on our local communities. We see this as vital to our plans for responsible growth and our airline partners have been forthcoming in that respect. For example, These agreements will mean that 50% of Ryanair's LLA based fleet will be MAX aircraft, Wizz Air's LLA fleet will be 100% Airbus neo by 2025 and 40% of easyJet's fleet will be next generation this year. Our airlines have really come to the table with this and it is a key enabler for the GCG framework.
easyJet and Wizz Air are almost tied in terms of market share at Luton. What have been the main factors for your successful relationship with both LCCs?
LLA was described recently as a bit of a birthplace of legends. If you delve into the history books there are many airlines who have spawned at the airport. I think the market is extremely strong and extremely wealthy. The airport's primary catchment area is west and north of London but also right up to the Midlands, so it is centrally positioned in the backbone of England. The airport's enhanced connectivity to London, but also the rest of the UK, is also very good, all of which makes LLA an attractive option for airlines.
Legacy carriers have a limited presence at LLA. Do you aim to attract more of the traditional network airlines?
All airports have an aspiration to be globally connected. Our runway is somewhat of a limiter in that sense. We can offer Middle East plus a bit, we can go to the eastern seaboard of the US plus a bit, so the only way we can get truly global connectivity is hub connectivity. It remains important and, being a London airport, we recognise that we are operating in the most competitive aviation market, but that is with good reason. There is significant demand and that demand outstrips supply. We think there is a good opportunity in this area as well.
Are there particular geographic markets which you see as having good potential for future growth?
Naturally, we are looking towards the east and the west. That's how we start and take it from there. We have great connectivity already throughout Europe, but we will always look at opportunities to extend our route network.
What are your expectations for the coming 23/24 winter season and next year in terms of recovery?
We see a full recovery. We are not far off pre-pandemic levels as it stands now. Our airlines are reporting strong forward bookings, with passenger loads looking very healthy.  In May, we welcomed over 1.5 million passengers, bringing our year-to-date passenger total to almost 6.2 million – an increase of almost 45% on the same period last year.
You operate in a highly competitive environment with a number of airports serving London. What do you see as London Luton Airport's advantage and best-selling point for your customers over others?
The launch of the Luton Airport Express service earlier this year has been transformational for the airport. Passengers arriving at LLA by rail now have access to a faster and more frequent service from central London and this service, alongside the recently launched DART people carrier at Luton Parkway station, means that LLA can now offer a rail connection as good as, if not better, than many other airports, with passengers travelling from central London now able to reach the terminal in around 30 minutes. We are advertising our 32-minute connectivity to London but in fact we have had feedback from passengers, including a very well-known travel journalist, who have done it in 27 minutes!
That's a huge selling point and the plaudits should go to Luton Rising who made a significant investment in the DART – a clear example of the way in which we collaborate with the airport owners for the benefit of the airport, our passengers and local communities.
On top of that, we have the benefit of a catchment area that encompasses much of London and includes areas that are among those with the highest disposable income in the UK. This, along with huge amounts of inbound traffic, very strong connectivity to eastern Europe and the diaspora coming to travel, all bodes well for an exciting future for LLA as we look to grow and to continue to deliver a simple and friendly passenger experience.