Tucson in Arizona welcomes international flights from Canada with Flair Airlines; American still #1 carrier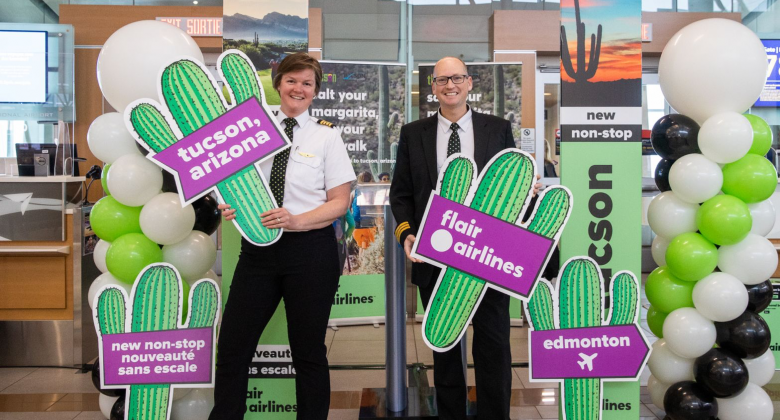 Located just 100 kilometres from the border with Mexico, Tucson is the second biggest city in Arizona (after Phoenix) with a population of over 500,000. The airport serving the city is located around 13 kilometres south of the city centre and is a joint civil-military facility. Between 2009 and 2019 annual passenger numbers had been between 3.2 and 3.8 million.
At the end of November the airport welcomed the arrival of Canadian ULCC Flair Airlines, which is offering five low-frequency routes from Canadian airports. At this time of year most of Canada is pretty cold and there is pent-up demand to escape to warmer climes. While Phoenix is usually the gateway for such services, the airport has clearly come to an arrangement with Flair to provide an alternative gateway to winter sun. According to Cirium data these are the airport's first scheduled international services since the summer of 2017 when Mexican regional carrier Aeromar was offering 5-weekly service to Hermosillo.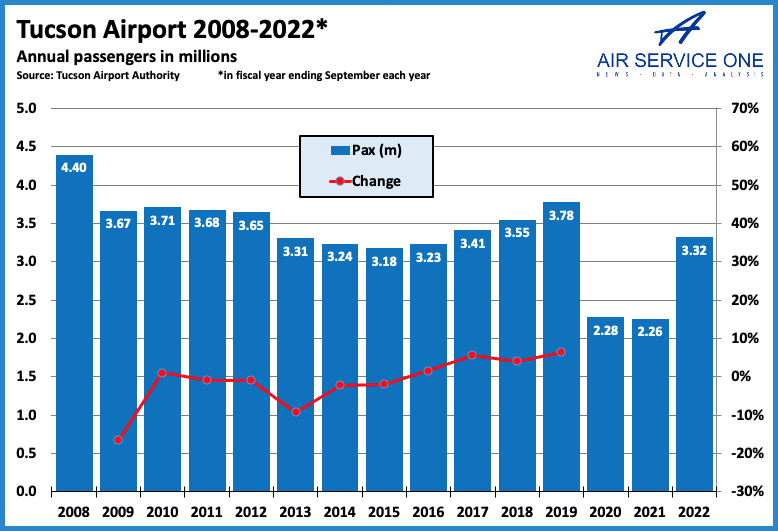 October demand above 2019
Latest passenger statistics from the airport reveal that demand in October 2022 exceeded that of 2019 for the first time since the pandemic started. Since March demand has been only about 10% below that seen in 2019. March is also the month which regularly sees the highest demand. Thanks to its year-round sunshine, the airport has a relatively flat seasonality profile.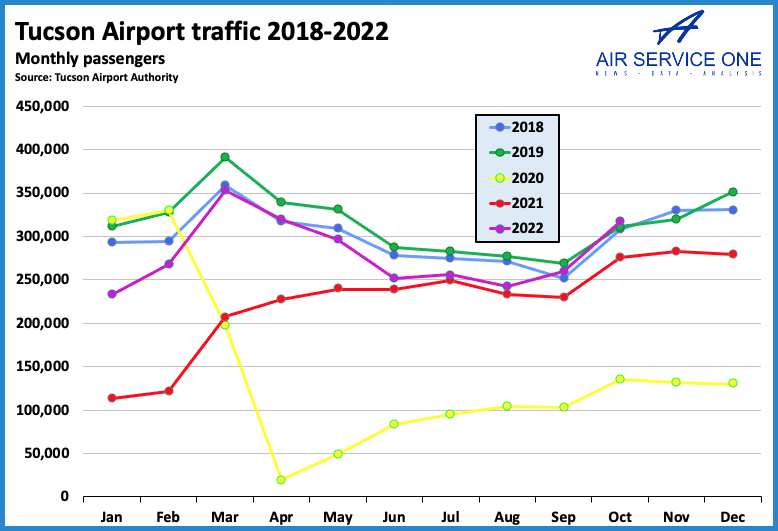 American leading airline, DFW leading route
Based on analysis of Cirium schedule data for all of 2022, the leading airlines at the airport are:
American: 37% of seats, four routes, capacity down 7% versus 2019
Southwest: 27% of seats, seven routes, capacity down 15% versus 2019
Delta: 17% of seats, five routes, capacity up 15% versus 2019
United: 13% of seats, four routes, capacity down 17% versus 2019
Alaska Airlines: 6% of seats, three routes, capacity down 19% versus 2019
The list of busiest routes is led by Dallas/Fort Worth which is served 6-daily by American in December using its 190-seat A321s. Capacity on this route in 2022 has been around 50% more than its nearest rival Denver. Although Los Angeles ranks only fourth for seats in 2022, in terms of daily flights in December it beats DFW as there are 7-daily flights; three with Delta and two each with American and Southwest.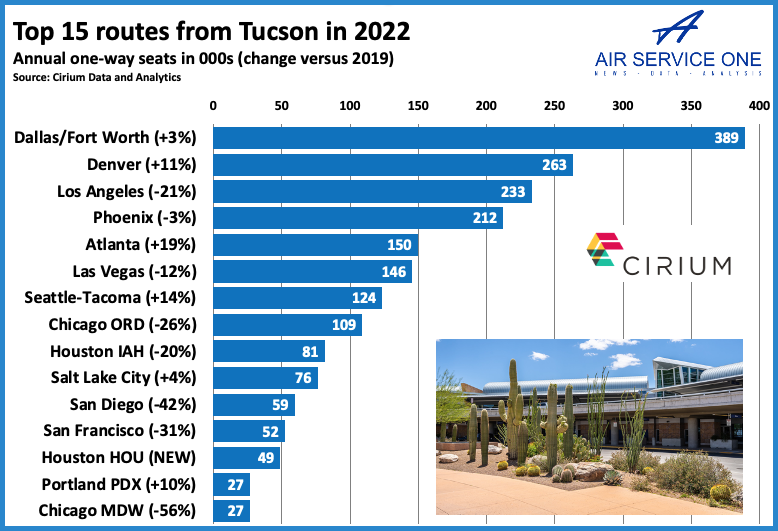 Routes with competition include Chicago ORD (American and United), Denver (Southwest and United), Los Angeles (American, Delta and Southwest) and Seattle (Alaska Airlines and Delta).
Six weekly flights to Canada
During the last fortnight, Flair has launched five routes from Canadian airports to Tucson. They are (weekly frequency in brackets):
30 November: Edmonton (2) and Fort McMurray (2)
1 December: Windsor (1)
2 December: Prince George (1)
5 December: London (1)
All flights are operated by the airline's fleet of 737 MAX 8s and 737-800s.