TUI serves 19 UK airports in S23 with 404 routes; #1 base is Manchester; Spain, Turkey are top getaways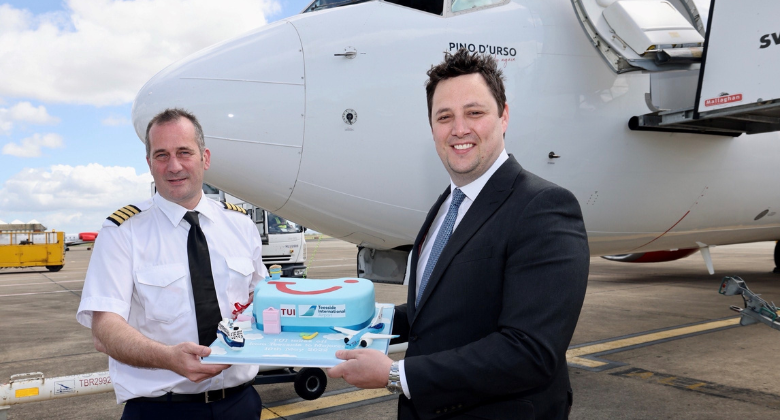 TUI welcomed 11.30 million passengers last year with an 89% load factor, according to the UK Civil Aviation Authority. While traffic was 4% lower than in 2019, it was still its third best year since 2008. To put the recovery into context, TUI had 1.73 million passengers last August, just 293,000 fewer than the whole of 2021. Looking ahead to S23, the UK's now second-largest tour operator (after Jet2.com) has 4.98 million one-way seats on a 404-strong route network, based on analysis of Cirium schedules data. Some 28 countries and 71 destination airports are served, with 87% of capacity deployed short-haul.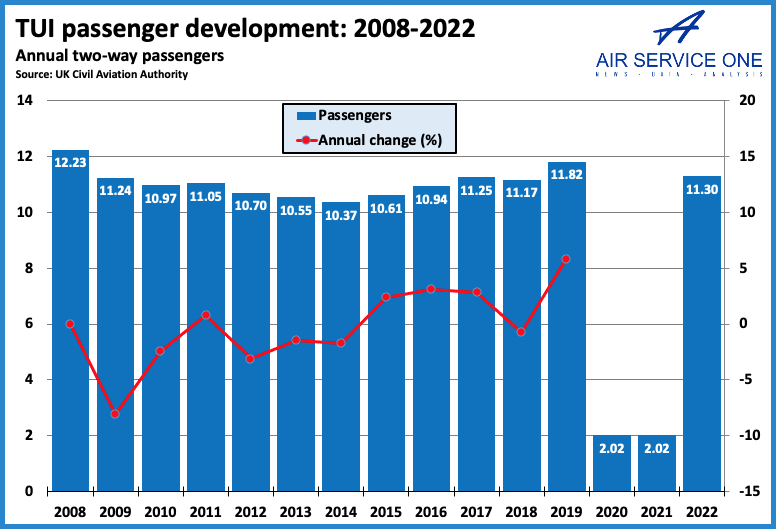 Manchester is TUI's top airport
TUI will serve 19 UK airports this summer. They include Teesside – which returned to its network last year – but no longer features Doncaster Sheffield, which has shut. With a quarter of available seats, Manchester is TUI's number one airport, just as it has been ever since it overtook London LGW in S18. It has 65 Manchester routes, of which 49 – three quarters – compete with at least one other carrier. If TUI's 55-strong short-haul network is considered, contested routes rise to 89%. Naturally, it vies most comprehensively with Jet2.com at Manchester, both network-wise and by overlapping capacity.
TUI's top three airports – Manchester, London LGW and Birmingham – collectively have 61% of its S23 seats. It was helped by all three growing strongly versus the pre-pandemic period. Clearly, they have far more capacity than the carrier's other UK airports put together, such is the concentration of capacity despite its network breadth.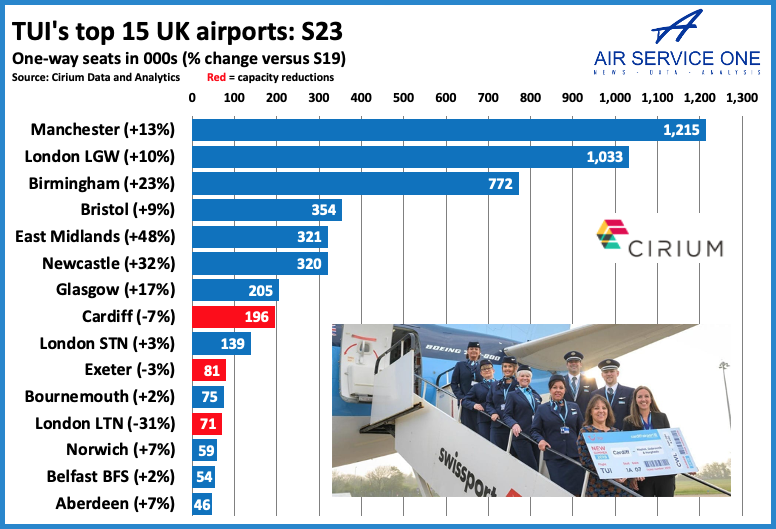 TUI is dominant at Cardiff, Norwich and Exeter
The tour operator has an average of 14% of the capacity at the 19 UK airports that it serves. On average, it is the fourth biggest operator at them. Of course, this hides much variation. Despite Manchester being its number one airport, it has only 11% of the airport's seats, five percentage points less than Jet2.com.
Analysis of Cirium data shows that TUI is about 60% smaller than Jet2.com at the 10 UK airports they jointly serve. The smallest difference is at Bristol, where TUI has 23% fewer seats. The biggest gap is at Edinburgh, where TUI is now half of the size of Jet2, heavily impacted by its considerable capacity reduction.
TUI is especially strong at Cardiff (51%; ranks first), Norwich (41%; ranks second behind KLM) and Exeter (39%; ranks first). Its seat share at Cardiff is especially notable. It has doubled since S19 – but only because others have exited the market, most recently Wizz Air. TUI's own available capacity has reduced to 196,000, down by 7% versus S19 and its lowest level since S18. It is notable that, of the 19 UK airports that it serves, two of its most dominant are among the three to have seen capacity cuts.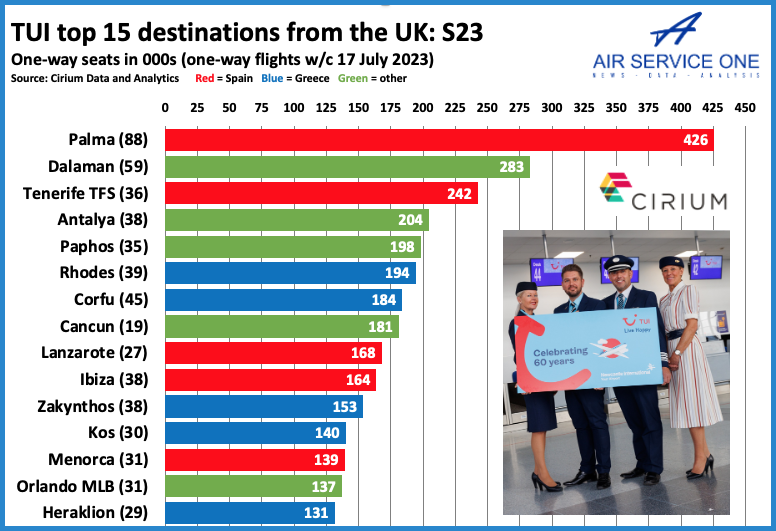 15 routes are coming
The following services are all due to start in the coming months. Eight have not been served before, while the rest are returning. Ohrid, North Macedonia, is brand-new to TUI, while the growing importance of Turkey, especially Antalya, is clear to see.
4 May: Leeds Bradford-Dubrovnik (1-weekly)
5 May: East Midlands-Hurghada (2)
15 May: Belfast BFS-Heraklion (1)
24 May: Leeds Bradford-Antalya (1 to 2)
24 May: Leeds Bradford-Dalaman (1 to 2); last served in 2018
27 May: Edinburgh-Ibiza (1); last served in 2016
29 May: Bristol-Enfidha (1); last served in 2018
30 May: Exeter-Antalya (2); last served in 2011
31 May: East Midlands-Antalya (2); last served in 2018
31 May: London LGW-Ohrid (1)
31 May: Manchester-Ohrid (1)
1 June: Teesside-Antalya (1)
22 June: Belfast BFS-Orlando MLB (just four flights in total)
21 August: Belfast BFS-Heraklion (monthly)
2 October: East Midlands-Gran Canaria (2); last served in 2019