Tulsa International Airport finally welcomes New York service; American begins daily LaGuardia route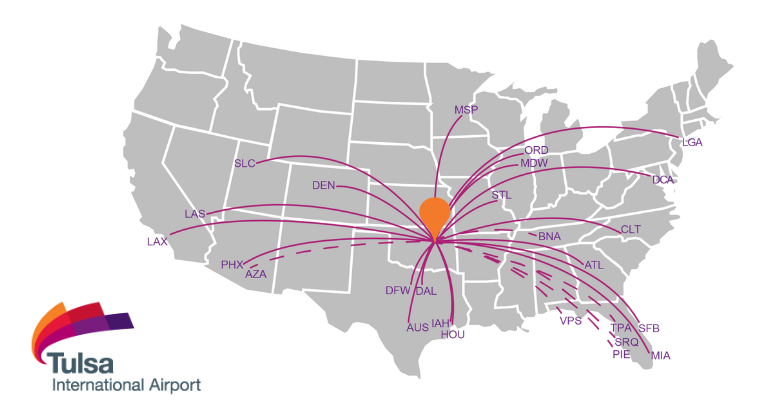 On Friday 4 November, Tulsa International Airport celebrated the first departure of an American Airlines flight to New York LGA. The new, daily service means that the Oklahoma airport is now connected to what was its biggest unserved market. The 1,980-kilometre route is flown on American's behalf by Republic Airlines using its E170s. This became the 13th new airline service to launch from Tulsa since the beginning of 2021.
Three million passengers per year pre-pandemic
Pre-pandemic Tulsa had welcomed between 2.7 million and 3.3 million passengers as far back as 2007. In 2018, the airport had seen its highest growth rate for over a decade, with demand increasing by 6.4% to 3.05 million. In 2019, total traffic for the year was again 3.05 million.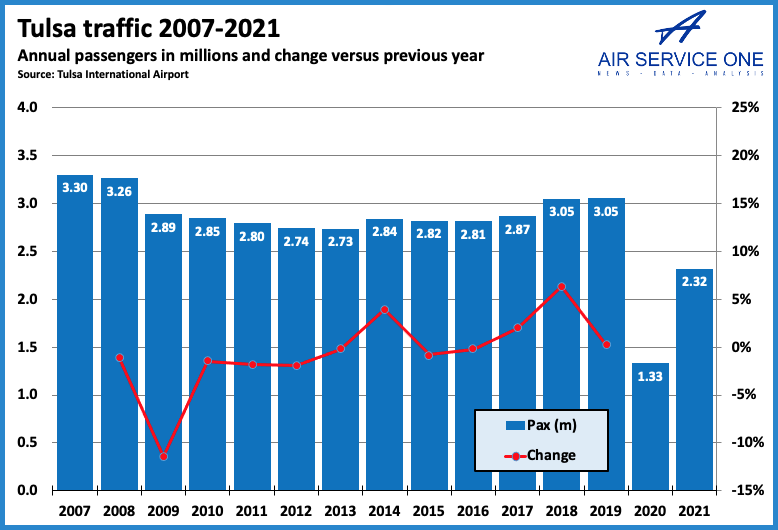 Since March of this year, traffic has been only just below 2019 traffic levels. However, the latest figures for September show that demand exceeded 2019 levels for the first time (by just over 4%). Seasonality is less of an issue at Tulsa than at many other US airports, with demand fairly flat between March and December.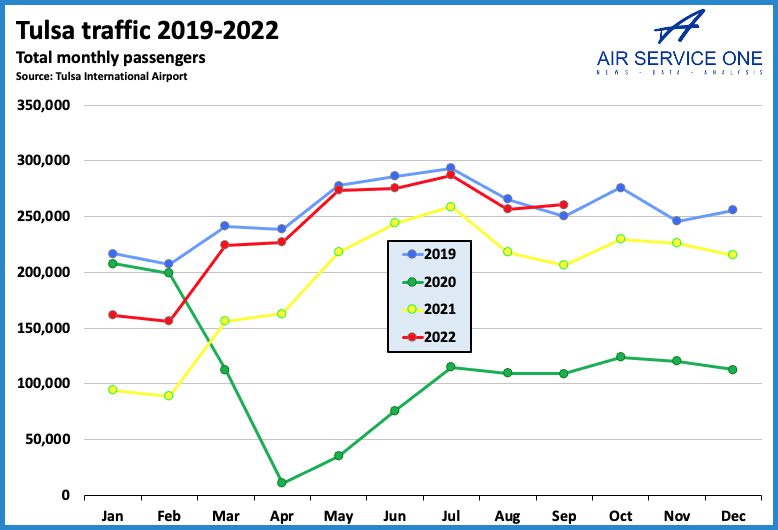 Six airlines currently serve Tulsa
The leading airline this year at Tulsa has been Southwest, which accounts for around 38% of seat capacity, up from 34% in 2019. Second is American with 32%. Then come United (14%) and Delta (10%). The remaining capacity belongs mostly to Allegiant, ahead of newcomer Breeze. Since the start of the year Frontier has withdrawn from the airport. Back in 2019 it had served Denver and Orlando MCO.
Denver now top route for flights
In November 2019, the leading routes for weekly flights were Dallas/Fort Worth, Houston IAH and Chicago ORD. However, those three routes have all seen significant frequency cuts. As a result, Denver is now the leading route with 48 weekly flights; United offering 28 and Southwest 20.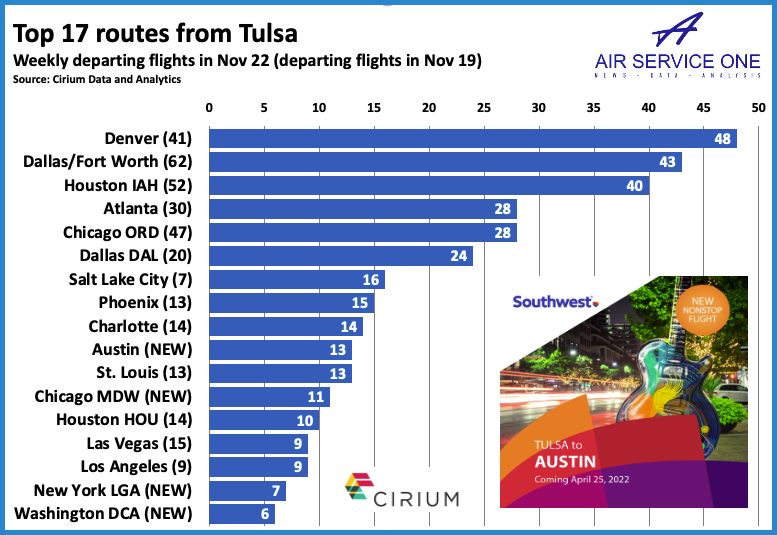 Compared with November 2019, only one significant route has been lost. Delta has terminated its 2-daily service to Minneapolis/St. Paul, flown back then by SkyWest Airlines using CRJ 900s.
13 new services in two years
Since the beginning of 2021, analysing Cirium data, Air Service One has identified 13 new routes launched by airlines. These are (weekly frequency at launch in brackets):
4 June 2021: Breeze to Tampa (3)
16 July 2021: Breeze to New Orleans (4) and San Antonio (4) [both no longer served]
2 November 2021: American to Austin (7) and Washington DCA (6)
6 November 2021: American to Miami (1)
18 November 2021: Allegiant to Austin (2, no longer served) and Phoenix AZA (2)
15 December 2021: Allegiant to Sarasota/Bradenton (2)
3 April 2022: Southwest to Austin (7)
2 June 2022: Breeze to Nashville (2) [service set to end on 28 November 2022]
5 June 2022: Southwest to Chicago MDW (13)
3 November 2022: American to New York LGA (7)
Launching on 1 March 2023: Breeze to Orlando MCO (2)
Amazingly, three carriers launched service to Austin during the last 12 months. However, while American and Southwest continue to offer non-stop flights, Allegiant has suspended its service which is no longer bookable on its website.
Looking ahead to next year, Breeze will be launching 2-weekly service on 1 March to Orlando MCO. Indirect competition will come from Allegiant's service to Orlando SFB.