Tunisia has record Europe seats this summer; 30+ brand-new routes; yet Tunisair still largest airline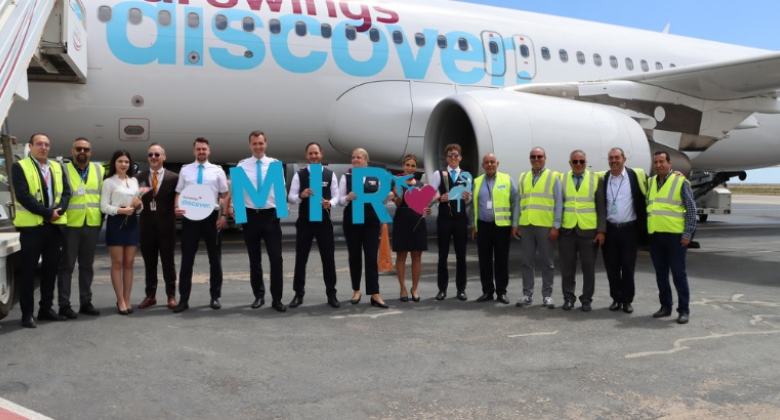 After Morocco and Egypt, Tunisia has more capacity to Europe than any other African country. According to Cirium data, there are 3.54 million departing seats this April-October – the highest yet from Tunisia. Up by a strong 14.6% over S19, it is only the fourth time in 20 years that it has exceeded three million. Capacity has overcome the consequences of the 2015 terrorist attack and, like all countries, coronavirus; each took Tunisia three years to recover.
While seats are at a record level, development has been limited because of the delay in the very widely expected EU open skies. Like Morocco, Tunisia would see significant foreign (U)LCC presence, further boosting tourism and VFR traffic. However, Tunisia's leisure operator Nouvelair has undertaken considerable growth recently.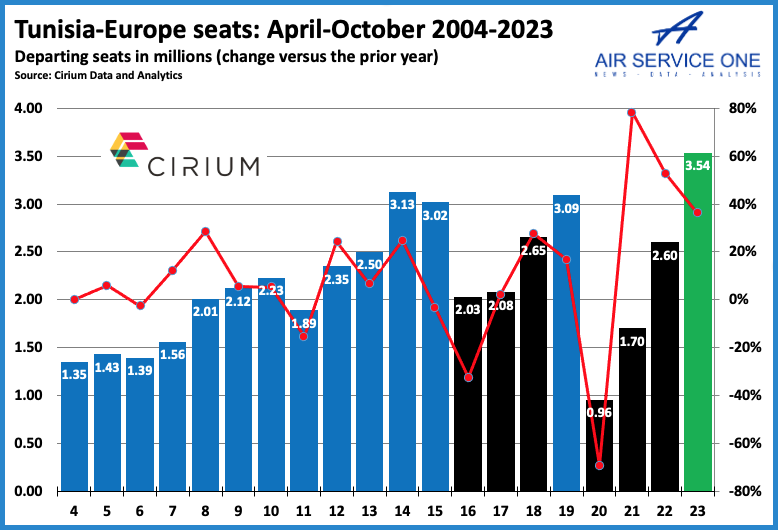 A record summer, helped by many new Europe routes
More than 30 new routes have been added this summer. All are brand-new or at least have not been operated by the stated carrier in the past decade. All are 2-weekly, except those with an *, which are weekly, and **, which are 3-weekly. The additions build on various relaunches, which – for brevity – are not included here.
14 March: Nouvelair, Tunis-Basel
27 March: easyJet, Bristol-Enfidha
31 May: Eurowings, Stuttgart-Monastir*
31 May: TUI fly Deutschland, Stuttgart-Djerba*
3 April: Nouvelair, Tunis-Berlin
5 April: Eurowings, Dusseldorf-Monastir
7 April: Nouvelair, Tunis-Bordeaux
19 April: Nouvelair, Sfax-Paris CDG
3 May: Eurowings Discover, Frankfurt-Monastir
6 May: Bulgaria Air, Sofia-Djerba*
26 May: Nouvelair, Tunis-Munich
1 June: Nouvelair, Djerba-Poznan*
1 June: Nouvelair, Sfax-Istanbul IST
12 June: Neos, Milan MXP-Djerba
12 June: Neos, Verona-Djerba*
12 June: Nouvelair, Monastir-Lublin/Katowice*
19 June: Neos, Bologna-Djerba/Monastir*
19 June: Neos, Rome FCO-Djerba/Monastir*
28 June: Nouvelair, Monastir-Bratislava*
19 June: Nouvelair, Tunis-Stockholm ARN*
2 July: Brussels Airlines, Brussels-Monastir
4 July: Eurowings, Hamburg-Tunis*
7 July: Nouvelair, Monastir-Banja Luka*
17 July: Nouvelair, Tunis-Milan MXP
10 September: Nouvelair, Tunis-Frankfurt**
11 September: Nouvelair, Tunis-Copenhagen*
14 September: Nouvelair, Tunis-St Petersburg
17 September: Nouvelair, Tunis-Bologna
29 October: easyJet, Basel-Enfidha
30 October: easyJet, London LTN-Enfidha**
30 October: Transavia France, Paris ORY-Tozeur
Transavia France's 30 October launch of Paris ORY to Tozeur is significant. The airport, located near the Algerian border, has not had European flights since Tunisair ended them in 2020. Now they return, meaning six Tunisian airports – Djerba, Enfidha, Monastir, Sfax, Tozeur, Tunis – have European routes.
Tunisair remains the largest carrier to Europe
The country's flag carrier and Nouvelair collectively provide 54.2% of all Europe seats this April-October. Significant change among the top 10 carriers includes the entry of easyJet, now the sixth largest airline. The LCC ended Monastir service in 2015 but returned in 2022 with routes to Enfidha. It plans six routes this April-October, all from the UK and Switzerland due to bilaterals. Russia's AZUR air and Nordwind, which were the fourth and fifth largest operators in 2019, no longer serve Tunisia. It means that Russia – previously Tunisia's third largest European market – now ranks 15th.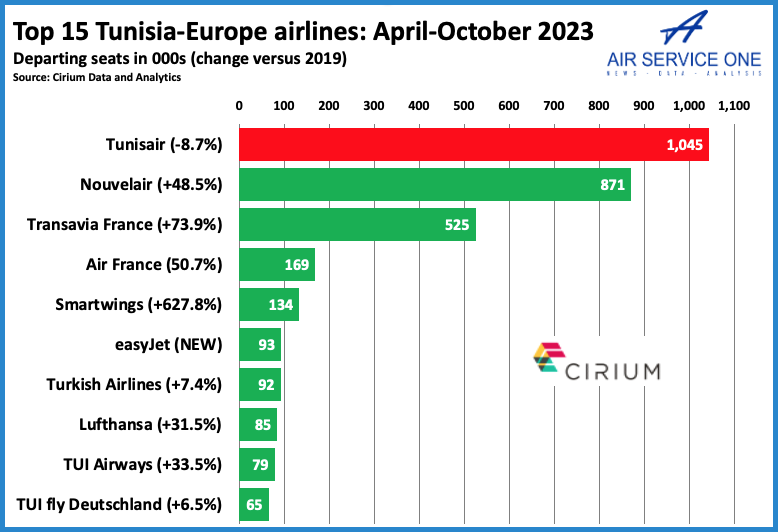 Only Tunis and Djerba are in the top 10 markets list
Cirium shows that the North African country has more than 160 European airport pairs this summer. Given Tunis and Djerba, an island off the mainland, account for three quarters of European seats, it is not surprising they only feature in the following figure.
As Tunisia is a Francophone country, the importance of France – which has one in two seats – is all too clear. Tunis to Paris ORY is the leading market. Based on August flights, it is served by Tunisair (4-daily), Transavia France (4-daily) and Air France (daily). It has grown considerably, from Transavia more than doubling capacity and the May 2022 return of Air France.