Turin celebrates first anniversary of Ryanair base; Irish ULCC is leading carrier followed by Wizz Air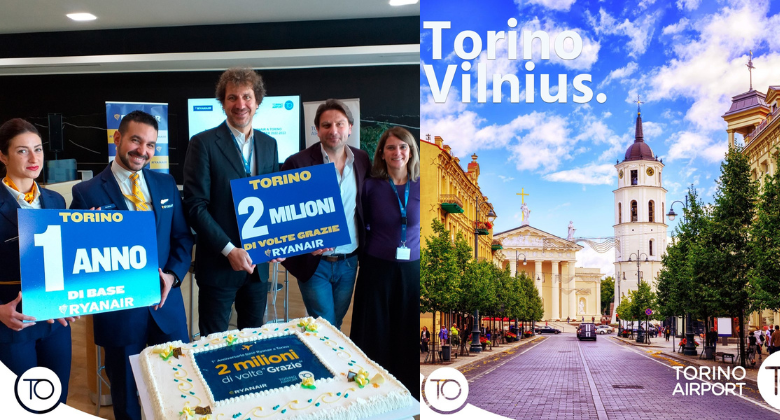 The capital of the northwest Italian region of Piedmont, Turin is the country's fourth-largest city by population. Perhaps best known for skiing, cars, truffles, and the Juventus football team, Turin has nearly 1.1 million departing seats this winter, a 3% increase over W19 but 6% lower than the peak in W18. Turin is now Italy's 11th busiest airport and Europe's 93rd, based on Cirium schedules information data.
The first anniversary of Ryanair's new base
Ryanair has long been Turin's foremost airline and has a 42% share of winter capacity. It launched flights to the city from London STN in 1999, although it was not a base until the end of October 2021. Not coincidentally, the opening of its two-aircraft operation came after now-defunct Blue Air closed its base and ended flying there two months earlier. Ryanair celebrated 2 million Turin passengers in its base's first year – despite that, the airport's overall capacity remains lower than at the pinnacle.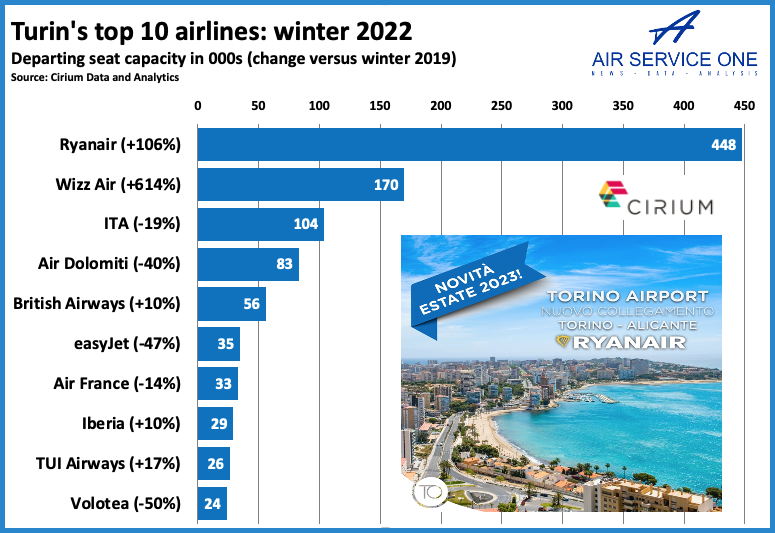 56% of Turin's seats are international
Across all airlines, 56% of Turin's winter seats are international, the joint highest proportion in the past decade. However, domestic is at its lowest share for many years, not helped by the exit of Blue Air and Blue Panorama.
Turin has benefited from multiple new services that have started, or will, this winter season, plus others that launched in the summer but are year-round. New routes include the following, with numbers in brackets denoting weekly frequencies. * means that it was not served from Turin previously.
28 March: Wizz Air, Lamezia Terme (4 to 7)
29 March: Ryanair, Billund (2)
2 May: Ryanair, Wroclaw (2)
5 July: Ryanair, Prague (2)
2 November: Ryanair, Stockholm ARN (2)
5 November: Ryanair, Manchester (1)
1 December: Ryanair, Vilnius (2)*
2 December: Lumiwings, Foggia (2)
8 December: Volotea, Paris CDG (1 or 2)
17 December: Wizz Air, Craiova (2)*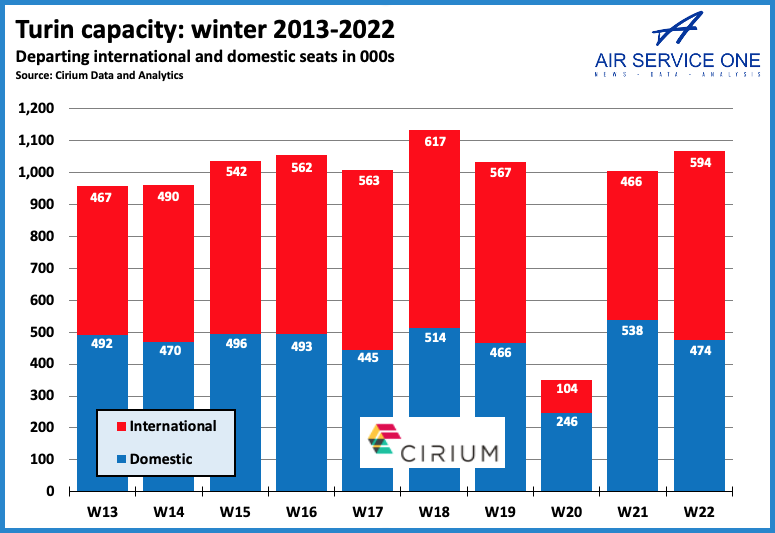 53 winter routes
Examining Cirium schedules information reveals that Turin has 53 winter routes involving 17 countries. Obviously, Italy has the most capacity and 12 airports are served, then the UK, Spain, Germany and France. Almost all of Turin's capacity (99%) is within Europe. The only exceptions are two routes to Morocco in North Africa; Ryanair to Marrakech (2-weekly) and Royal Air Maroc to Casablanca (also 2-weekly).
The 530-kilometre route to Rome FCO has the most seats and about one tenth of Turin's total. Its 5-daily operation is now entirely by ITA; Blue Panorama ended the route last year. However, at city level, London has more seats than anywhere else from flights to Gatwick, Luton and Stansted, even though it lost Heathrow service in April 2022.