Turin only Italy's 14th busiest airport in 2019; Ryanair is top carrier despite it not being a base; Alitalia operates just one route to Rome
Turin in northern Italy is possibly best known as the home of the car makers Alfa Romeo, Fiat and Lancia (and the stunning former Lingotto factory, the one with the test track on the roof as featured in the classic 60s movie The Italian Job), the Shroud of Turin and Juventus football team. It also hosted the 2006 Winter Olympics. The city's airport lies around 15 kilometres north-northwest of the city centre and was built in 1953. It was renovated before the 1990 FIFA World Cup and also ahead of the Winter Olympics.
14th busiest airport in Italy
The airport handled just under four million passengers in 2019, ranking it as Italy's 14th busiest airport. Between 2000 and 2019 traffic grew at an average of just 1.8% per annum. The airport's seasonality profile is considerably flatter than most airports in Europe, highlighting its role as an industrial and commercial city rather than a tourist destination, though in winter the airport provides a gateway to a number of popular ski resorts.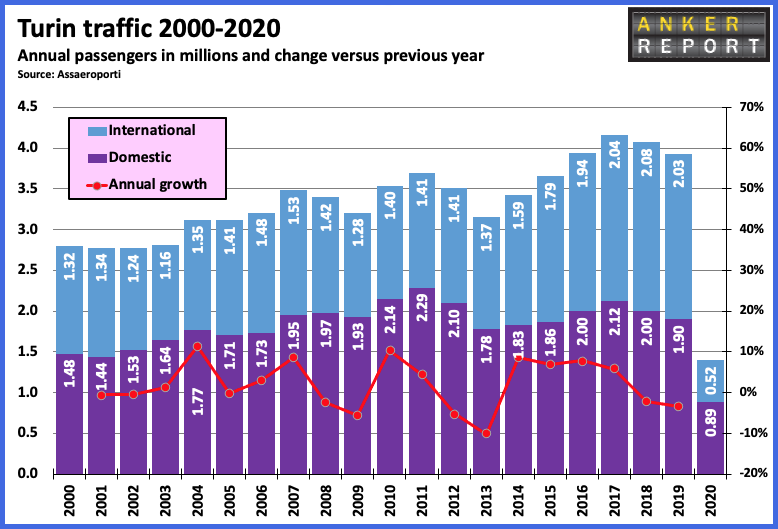 International traffic has grown faster than domestic since 2000, averaging 2.3% growth up to 2019 compared with just 1.3% growth for domestic. However, in 2020, domestic traffic was down 53% compared with 2019, while international demand fell by 75%.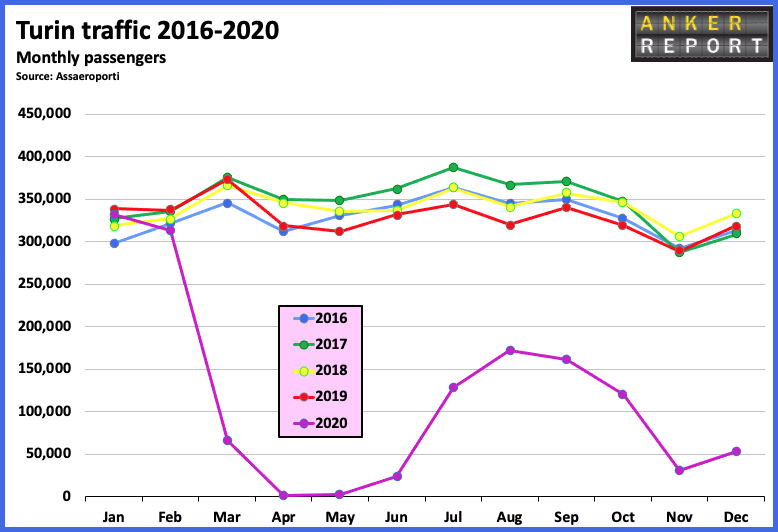 Ryanair is leading carrier
The leading carrier by some distance in 2019 was Ryanair. Despite the airport not being a designated base for the ULCC, it still offered 60% more capacity from the airport than its nearest rival, Blue Air. Ryanair first started serving Turin in 1999 from London STN and began a second route from Girona in 2004.
Around 30 routes have been tried by Ryanair over the years, 12 of which operated during 2019. The leading routes for the carrier that year were Palermo, Bari, London STN, Catania, Barcelona, Brindisi and Brussels CRL. Last year, as a response to the pandemic, Ryanair launched three additional domestic routes in late October to Cagliari, Lamezia Terme and Naples. Flights to Fez in Morocco, however, were suspended.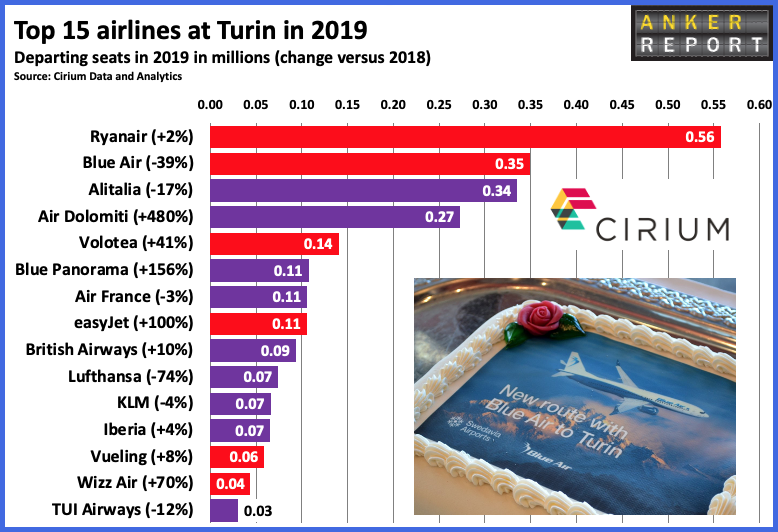 Blue Air focuses on Italy and Romania
For second ranked Blue Air, Turin is a base. The Romanian carrier started serving the city in November 2014 from Catania and in S17 was offering over 100 departures per week from the airport. This summer, according to Cirium Data and Analytics, Blue Air will serve 11 destinations non-stop from Turin, nine in Italy and two in Romania.
Alitalia was the third busiest airline in 2019. It offers just a single route to its hub at Rome FCO. Other flag-carriers serving the airport in 2019 included Air France, British Airways, Iberia, KLM and Royal Air Maroc. Although Lufthansa is no longer present, its subsidiary Air Dolomiti offers flights to Lufthansa's hubs in Frankfurt and Munich. Maybe surprisingly, Turkish Airlines is not present, nor is fellow Star Alliance carrier SWISS.
Low-cost carriers expand
In recent years, other (U)LCCs have been growing in Turin. easyJet, Volotea, Vueling and Wizz Air have also started (and in some cases dropped) a number of routes. easyJet offers a number of winter-only services to various UK bases, but also flies year-round to Naples. Volotea now flies year-round to a number of domestic destinations as well as offering seasonal, summer routes to two Greek islands and Palma de Mallorca.
Wizz Air first began serving Turin in September 2014 from Bucharest. Since then it has added flights to Bacau (2021), Bari (2020), Chisinau (2019), Iasi (2020), Krakow (2019, since dropped), Palermo (2021), Tirana (2020) and Warsaw WAW (2015), with St. Petersburg service set to launch later this year.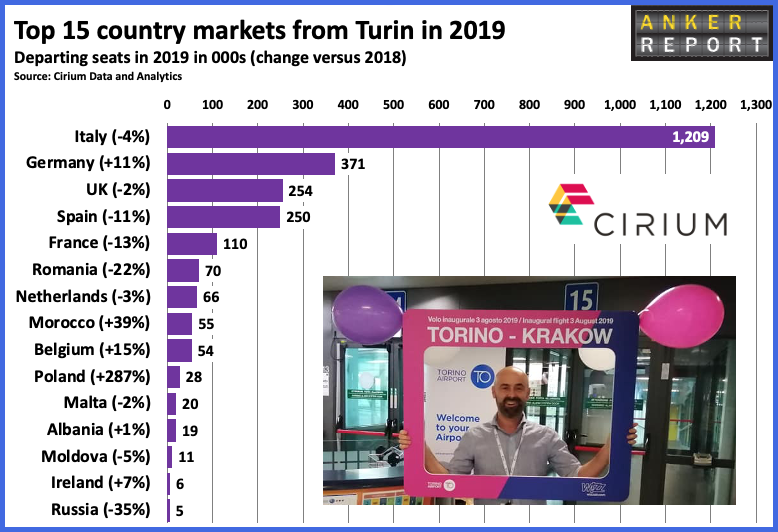 This year should also see the start of new services with Binter Canarias (to Gran Canaria), easyJet (to Olbia), Luxair (to Luxembourg), and Ryanair (to Lviv). The route to Gran Canaria will be the airport's longest this summer at 2,795 kilometres. There are no long-haul services.