Turkey-Central Asia capacity rises by 47% versus W19; Ankara recently welcomed first flights to Kazakhstan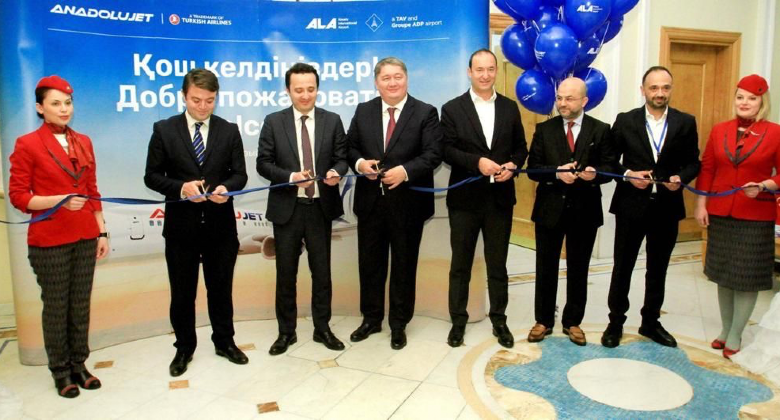 On 1 November, Pegasus Airlines commenced Ankara to Almaty service with 2-weekly flights. It connected the Turkish capital to Kazakhstan for the first time, while again providing Ankara – a city of six million – with Central Asia flights, after Turkmenistan ended in 2020.
Perhaps inevitably, Pegasus' Almaty non-stop was joined on 19 November by a 2-weekly service by Turkish Airlines' lower-cost subsidiary, AnadoluJet. Ankara to Kazakhstan isn't done yet. On 4 December, AnadoluJet will introduce Nur-Sultan, also 2-weekly. It is, for now, the finale of a large amount of Turkey-Central Asia expansion.
17 Central Asia cities served from Turkey
Istanbul IST, Istanbul SAW, Ankara and Antalya all have non-stop flights to Central Asia this winter, with 17 cities across the region served. Showing the power of Istanbul, all 17 are served from IST. For context, 14 are served from Dubai, while unsurprisingly, Moscow is connected to 28.
Seven of the cities from Turkey are in Kazakhstan (Aktau, Aktobe, Almaty, Atyrau, Nur-Sultan, Shymkent and Turkistan), two in Kyrgyzstan (Bishkek and Osh), one in Tajikistan (Dushanbe), two in Turkmenistan (Ashgabat and Turkmenbashi), and five in Uzbekistan (Bukhara, Fergana, Samarkand, Tashkent and Urgench).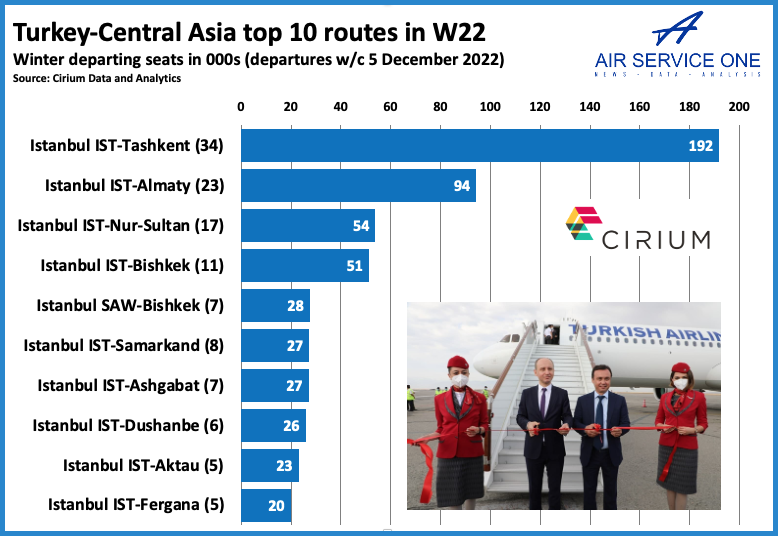 Turkey-Central Asia seats grow by 47%
Turkey's Central Asian network has risen from 11 cities in W19 to 17 now. However, the region's eighth most populous city – Namangan in Uzbekistan – is not served, although it is from Dubai and from 14 airports in Russia. Will this change?
This network expansion has contributed to Turkey-Central Asia departing seats rising to 744,000 in W22, up by 47% versus W19.
It is primarily because of big growth by the market leader, Turkish Airlines (+62%), pushing its share of the market to 45%, up by two percentage points versus W19. But four of the other nine airlines with scheduled flights have expanded strongly too: Pegasus (+126%), Air Astana (+117%), Scat (+72%), and Uzbekistan Airways (+54%).