Turkish Airlines and Aeroflot Group continue to be Europe's leading airlines for capacity in April 2021; six (U)LCCs among top 15 airlines
Analysis of the latest schedule data provided by airlines to Cirium Data and Analytics confirms that Turkish Airlines and the Aeroflot Group continue to lead the way with regard to passenger capacity in Europe. The Turkish flag-carrier is offering more than twice the capacity of third-ranked Ryanair. Combining capacity for Aeroflot and its low-cost subsidiary Pobeda, means that Aeroflot Group is also offering twice as many scheduled seats as Ryanair.
Ryanair only just beats Pegasus among (U)LCCs
After the top two the battle for the next four places in the rankings is much closer with Ryanair just edging out Pegasus Airlines for third place. Then come western Europe's two leading flag-carriers right now, Lufthansa and Air France.
There are six (U)LCCs in the top 15 (shown in red), with Ryanair and Pegasus Airlines joined by easyJet, Pobeda, Wizz Air and Vueling. Lufthansa's low-cost subsidiary Eurowings ranks 20th in April, Transavia France 34th and Norwegian just 39th.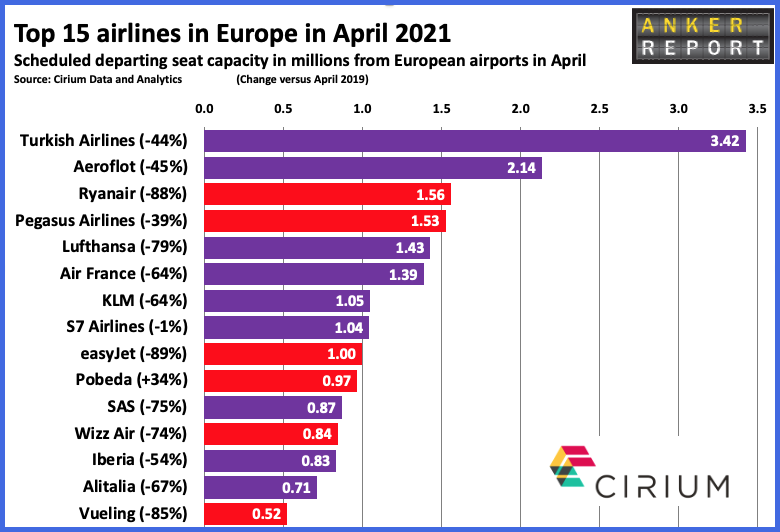 British Airways ranks just 25th
While most of Europe's biggest flag-carriers make the top 15, one notable exception is British Airways. The Heathrow-based carrier ranks just 25th, behind Air Europa, Alitalia, Austrian Airlines and TAP Portugal, and only just ahead of SWISS. Its capacity from European airports is down 92.5% compared with April 2019.
Looking at non-European carriers, Emirates holds a slender lead over Middle East rival Qatar Airways. The UAE carrier ranks 28th with capacity down 67% while its Doha-based competitor is 31st, with European capacity down 60%. The three major US carriers rank 46th (Delta), 47th (American) and 51st (United).
Istanbul and Moscow lead the way
Looking at airports rather than airlines shows that the leading airports in April are expected to be Istanbul IST, Moscow SVO, Istanbul SAW, Frankfurt and Paris CDG. Moscow's other two main airports at Domodedovo and Vnukovo rank 7th and 10th. Heathrow is up to 9th. However, this fails to take into account that much of the capacity being offered from Heathrow on long-haul flights to the US is not being used very efficiently, with these flights often being operated primarily to carry freight. As a result, when passenger figures are released for April, Heathrow and other major European hubs such as Amsterdam, Frankfurt and Paris CDG, may see themselves falling down the rankings once more.