Turkish Airlines jumps from fifth to first to become top airline for European intercontinental ASKs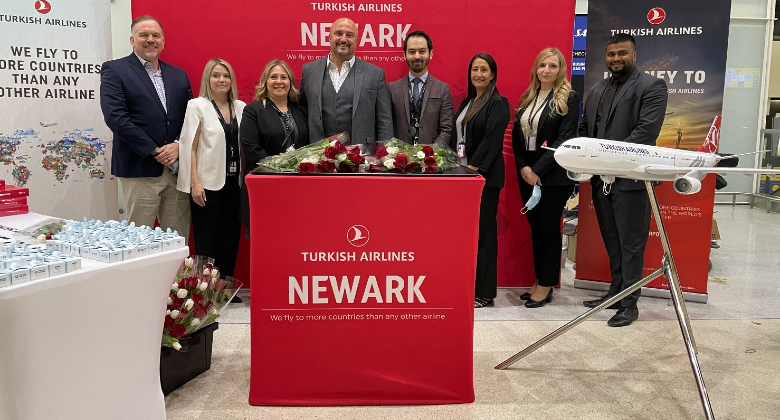 From Europe there are non-stop flights to many other continents, such as Africa, the Americas, Asia and the Middle East. While many intercontinental flights would be considered long-haul, some can be really short, such as from Spain to Morocco. Analysis of the leading airlines operating intercontinental flights from Europe (as measured by ASKs – Available Seat Kilometres) reveals that the ranking has changed considerably between October 2019 (pre-pandemic) and October 2022.
Lufthansa falls from first to fourth
Three years ago the top six carriers by this metric were (in order) Lufthansa, British Airways, Air France, Emirates, Turkish Airlines and KLM. Since then, total ASKs in this market have declined by 22%. For comparison, flights have fallen by 13% and seat capacity by 16%, indicating a fall in the average sector length and a reduction in average aircraft size (as measured by seats per flight).
Analysis of Cirium schedule data shows that Lufthansa has fallen from first to fourth, British Airways from second to third, Air France has moved up to second, Emirates has fallen from fourth to fifth, and Turkish Airlines has leapt from fifth to first, although not by much. And Delta has passed fellow SkyTeam member KLM for sixth place.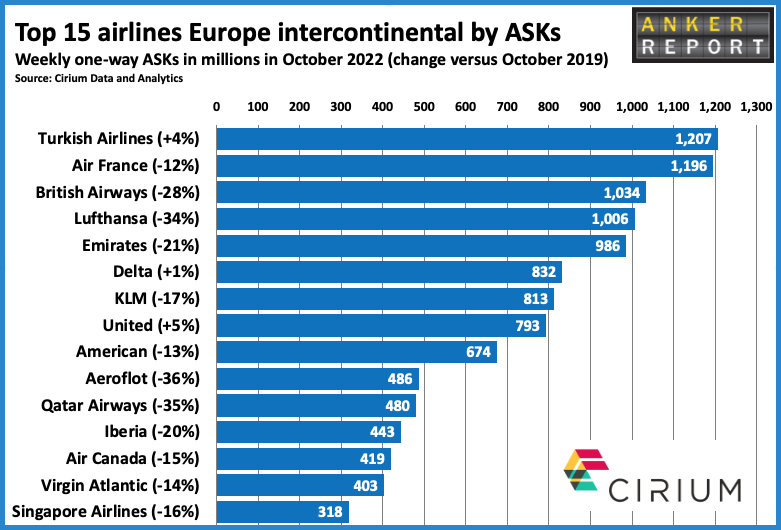 Turkish drops 16 destinations but adds 23
A comparison of destinations served non-stop by Turkish Airlines outside of Europe shows that between October 2019 and October 2022 it has dropped (or suspended) 16 airports. However, it has added 23 new destinations outside of Europe, including Dallas/Fort Worth, New York EWR, Seattle, Tokyo HND, Vancouver, three destinations in Uzbekistan and several new destinations in Asian Russia.
Among the top 15 carriers, eight are based in Europe, three in the US, two in the Middle East, and one each in Canada and Singapore. While ASKs overall were down 22%, three of the leading carriers show an increase in ASKs since October 2019. Apart from Turkish Airlines (+4%), the other two carriers to show ASK growth were both from the US; United (+5%) and Delta (+1%).
Three of the leading carriers showed a drop in ASKs of more than 30%. Aeroflot (intercontinental ASKs from Europe down 36%) was just ahead of Qatar Airways (down 35%) and Lufthansa (down 34%). Qatar Airways is likely to see its performance improve significantly in November and December as the country hosts the FIFA World Cup, which features 13 European nations among the 32 teams taking part.