Turkish Airlines passengers down just 23% in July compared with 2019; Asian market share declining as other regions recover faster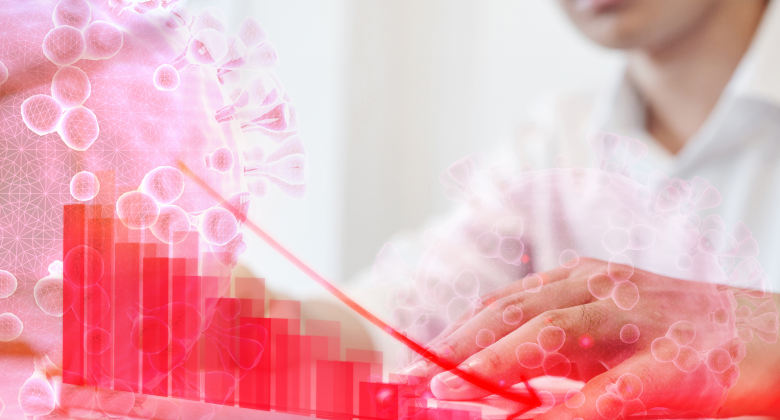 Star Alliance member Turkish Airlines has arguably the world's most diverse network, as it serves destinations in more countries than any other airline. According to Cirium Data and Analytics schedule information the airline offered scheduled passenger flights from over 110 countries in both 2020 and 2021. Thanks to the airline also publishing monthly traffic statistics which are broken down by geographic region, it is possible to track the airline's network recovery by region, highlighting the regions that have recovered best (and worst) since the start of the pandemic.
Europe and Far East led the way in 2018/19
Turkish Airlines publishes passenger numbers, load factor, ASKs (Available Seat Kilometres) and RPKs (Revenue Passenger Kilometres) for seven regions; Africa, Central & South America, Domestic, Europe, Far East, Middle East and North America. To highlight the evolution of the network the share of total monthly RPKs has been calculated for each of the regions going back to January 2018.
Looking across 2018 and 2019, Europe was typically the leading market ahead of the Far East, though due to seasonality, the Far East had a higher proportion of total RPKs during the winter months. North American routes represented just 15% of total RPKs, while the domestic routes share appeared to be gradually falling from 15% at the beginning of 2018 to around 12% by the end of 2019. African routes represented just under 10% of all RPKs, Middle East routes around 7-8%, and Central & South American routes were at around 4% by the end of 2019, up from 2.5% in early 2018.
The data for early 2020 shows the decline in Asian (Far East) RPK share as concerns about the virus started to emerge. Data for 2020 Q2 months have not been plotted as services were extremely erratic as the pandemic took hold and travel restrictions were implemented across the globe.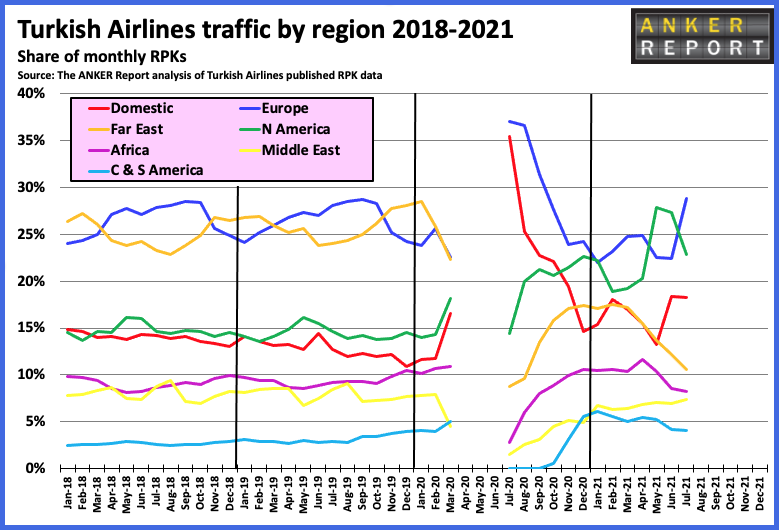 Post-pandemic trends
The graph highlights how domestic and European flights were the quickest to recover in July 2020, while Africa, Central & South America and Africa were the slowest to recover. Since the beginning of 2021 the share of total RPKs for reach region has become more stable. However, Asia has been on a downward trend since March which highlights how that region is still severely limiting international travel while other regions are opening up.
North America, which was averaging around 15% of RPKs prior to the pandemic, has seen its share consistently above 20% since the pandemic started and came close to 30% in May and June when it was the airline's leading region for RPKs. Unlike some western European carriers which have seen really low passenger load factors on North American services (but continued to operate them for their cargo value), Turkish Airlines reported passenger load factors of 68.5% in May, 77.7% in June and 81.9% in July on these routes.
71.2% load factor in July
Across all regions, Turkish Airlines's load factor in July reached 71.2%. Domestic routes had a load factor of 82.9% followed by North America 81.9%, Europe 68.1%, Africa 66.7%, Middle East 66.5%, Central & South America 65.3% and Far East 52.2%. In terms of passenger numbers in July, there were 2.62 million on domestic routes followed by Europe (1.57m), Middle East (421k), North America (239k), Africa (226k), Far East (200k) and Central & South America (35k). In total Turkish Airlines carried 5.5 million passengers in July 2021, down 23% compared with the 7.1 million welcomed in July 2019.