Türkiye's thriving aviation market shows no signs of abating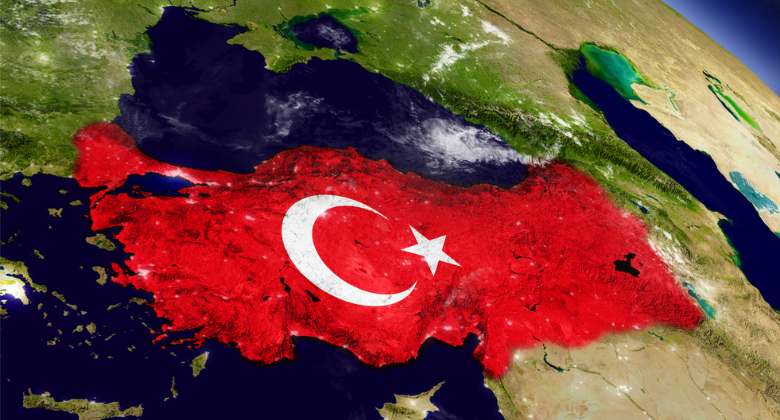 Over the past few decades, Türkiye's aviation market has experienced remarkable growth, transforming the country into a major player in the global aviation industry. This growth can be attributed to a combination of strategic planning, investment in infrastructure, economic development, and increased connectivity.
Istanbul's main airport second busiest in Europe
Istanbul's main international airport - IST- is Europe's second busiest and the only major airport on the continent to have exceeded its pre-pandemic passenger levels. During the first half of 2023, it handled 35.6 million travellers, growing 10.6% on the same period in 2019.
This year, Istanbul IST has 94.8 million available seats, up 20.4% on last year and 12.3% on 2019. Much of Istanbul's strength relies on the performance of Turkish Airlines, which, with 75.7 million seats, accounts for almost 80% of capacity. As a result, the airport has sought to diversify its airline portfolio. This year saw the arrival of European low-cost carriers Wizz Air and easyJet after several years. Istanbul's largest foreign carrier is Saudi Arabian Airlines with 1.14 million seats, followed by Aeroflot and Emirates.
During the year, Istanbul IST replaced Amsterdam as the airport with the highest level of direct connectivity in Europe, moving up from fifth before the Covid crisis. The hub has exceeded its pre-pandemic direct connectivity level by 9%. Its busiest European destination outside of Türkiye, based on available seat capacity, is London LHR with just over 786,000 seats. It is followed by Paris CDG and Frankfurt. Further afield, Tehran IKA and Dubai are its largest international markets outside of Europe, with 1.3 million and 994,000 seats respectively.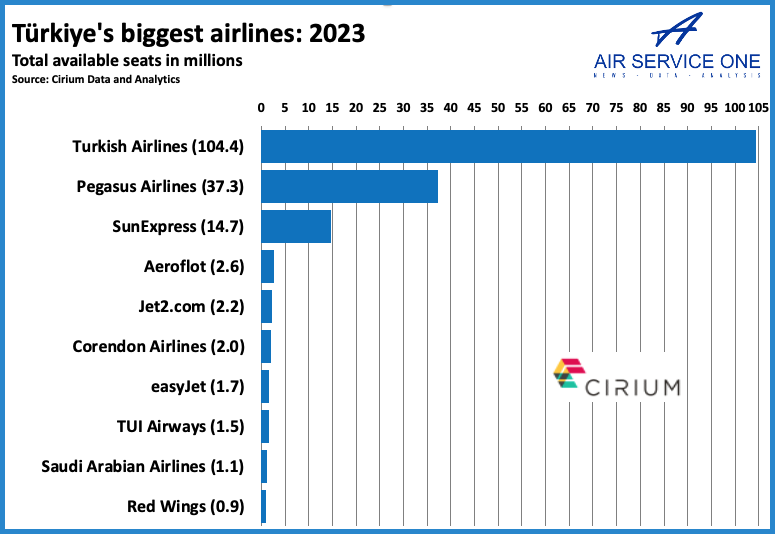 Turkish Airlines soars to new heights with 2023 growth
One of the key factors driving the growth of Türkiye's aviation market is the rise of Turkish Airlines, the country's national carrier. Turkish Airlines has successfully positioned itself as a leading global airline with its modern fleet, hub-and-spoke model centered around Istanbul Airport, and strategic partnerships.
Turkish Airlines has 104.4 million seats on sale in 2023, Cirium schedules data indicates, making it Europe's second largest. The airline has expanded with several new routes this year including those from Istanbul IST to Palermo and Krakow, with Detroit launching in November. The flag carrier's busiest international route based on seat capacity is Moscow VKO, with the airline being one of the few in Europe still able to operate into Russia. With 1.2 million available seats, Moscow is followed by Tel Aviv and Paris CDG.
Another key driver of Turkish Airlines' growth this year has been the rapid development of its lower cost brand Anadolujet. Based at Istanbul SAW, Turkish Airlines has expanded operations using the brand to launch short-haul routes from various cities across Türkiye to Europe, Asia and the Middle East.
Türkiye sees strong domestic demand
Türkiye's rising middle class with greater disposable income has translated into a higher demand for air travel domestically. This year, Turkish carriers have scheduled 54.7 million seats on domestic flights. This is short of the 58 million in 2019 and is mainly down to the collapse of two domestic carriers - AtlasGlobal and Onur Air. Although Turkish Airlines offers the most domestic capacity with 38.3 million seats, Pegasus Airlines has grown the fastest on the domestic market, adding five million seats on 2019 for a total of 13.5 million this year.
Istanbul SAW - Antalya is the busiest domestic city pair with 2.7 million seats on the market in 2023, followed by Istanbul IST to Izmir, as well as Istanbul SAW - Izmir.
Another factor contributing to the slight decline in domestic capacity was the closure of several major airports across the country due to damage sustained as a result of the devastating earthquake that hit central and southern Türkiye in February this year. However, due to the quick response of authorities, all have reopened since and are handling commercial flights.