UK airline Jet2.com reaches 100 million passenger milestone; flies over 100 aircraft from 10 UK bases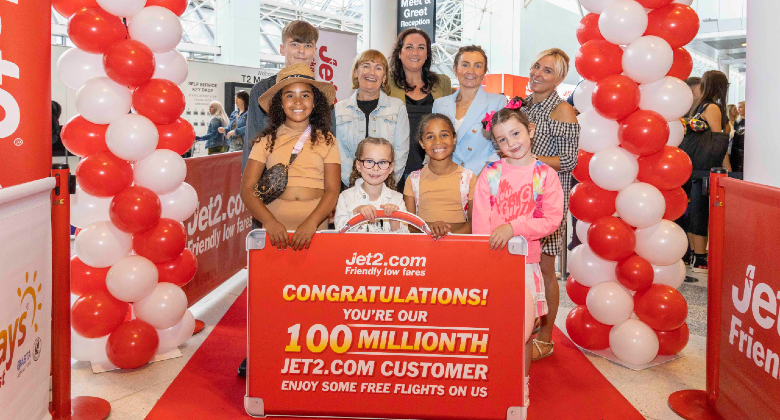 With its headquarters at Leeds Bradford Airport, UK leisure airline Jet2.com has just reach a significant milestone. On 24 August 2022 the carrier celebrated its 100 millionth passenger. The airline, which had evolved out of Channel Express, launched its first flight out of Leeds Bradford (to Amsterdam) on 12 February 2003. By the end of the year, it had added flights to Alicante, Barcelona, Belfast BFS, Faro, Geneva, Malaga, Milan BGY, Nice, Palma de Mallorca and Prague.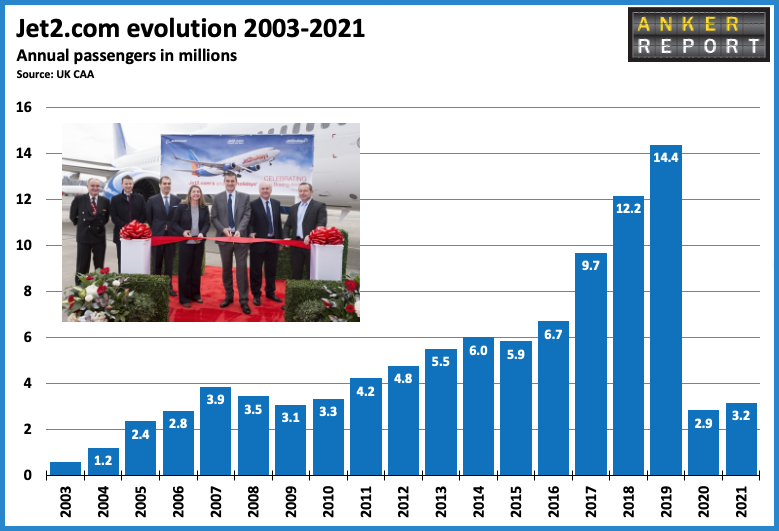 The airline has survived and thrived while older airlines operating in the same market have collapsed, notably Monarch Airlines (in October 2017) and Thomas Cook Airlines (in September 2019).
Operating from 10 UK bases this summer
Jet2.com has operated from a number of UK bases during its almost 20-year existence:
Leeds Bradford on 12 February 2003
Belfast BFS on 17 November 2003
Manchester on 1 December 2004
Newcastle on 4 September 2005
Blackpool on 4 November 2005
Edinburgh on 2 April 2006
East Midlands on 19 May 2010
Glasgow on 31 March 2011
Birmingham on 30 March 2017
London STN on 30 March 2017
Bristol on 2 July 2021
Of the above, only Blackpool is no longer a base. In fact, the airport has not had scheduled passenger services of any sort for several years after the terminal building was demolished in 2016.
Palma de Mallorca is leading destination
Overall, Jet2.com is set to operate 10% more flights in August than in 2019 and is offering 14% more seats. A look at its top airports this summer reveals that Palma de Mallorca is the airline's leading destination and welcomes more flights than six of its UK bases (shown in red). Rounding out the airline's top five biggest destinations are Tenerife TFS, Faro, Dalaman and Alicante.
Compared with August 2019, five of the 10 UK bases have grown (or are new), while five have seen a reduction in flights; Leeds Bradford (down 9%), Belfast BFS (down 13%), Glasgow (down 17%), East Midlands (down 20%) and Edinburgh (down 21%). The fastest growth rates among the top 20 airports have been recorded at Antalya (+88%), Dalaman (+85%), Tenerife TFS (+40%), Heraklion (+39%), Lanzarote (+38%) and Manchester (+31%).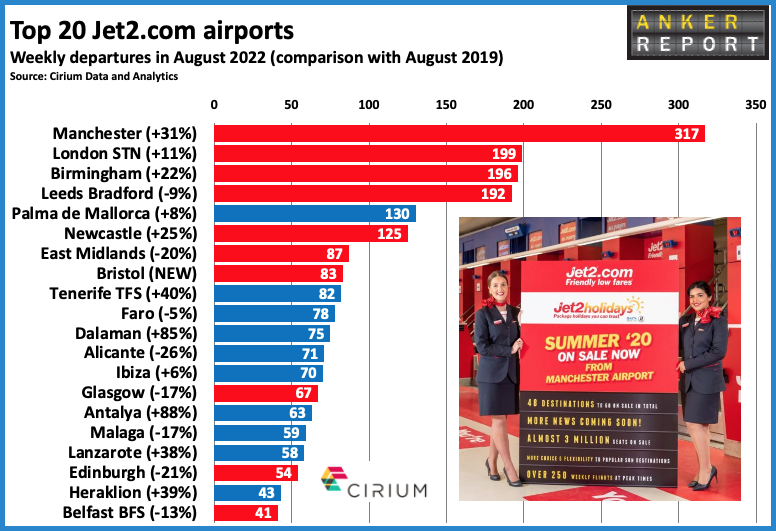 According to Cirium schedule data for August, Jet2.com has now overtaken Ryanair and easyJet to be the leading airline at Manchester based on weekly seat capacity but ranks just behind its low-cost rivals for flights. This is because it uses A321s, 757s and two A330-200s (leased from Air Tanker) on some of its Manchester services, as well as its usual 737-800s. In total, the airline's fleet now exceeds 100 aircraft. Looking ahead, the airline has placed an order for 60 A321neos which are set to be delivered between 2023 and 2029.
Jet2.com is also the leading airline by seats in August at Leeds Bradford (by some distance), Birmingham and Newcastle, and ranks second at London STN (well behind Ryanair), Belfast BFS (well behind easyJet), Glasgow (behind easyJet) and East Midlands (behind Ryanair), and joint third at Bristol. In Edinburgh it currently ranks fourth.
10 destinations added since summer 2019
In August 2022, Jet2.com was operating from 65 airports across Europe. Compared with August 2019 it has added 11 airports and dropped four for a net gain of seven. Apart from the new base in Bristol the 10 new summer destinations are spread across three countries:
Austria: Innsbruck
Greece: Athens, Kalamata, Mykonos, Mytilene, Preveza, Santorini and Skiathos
Italy: Catania and Olbia
Jet2.com also serves a number of destinations only in winter, mainly for ski enthusiasts. These include Chambery, Geneva, Grenoble, Salzburg and Turin.
The airports not served in August that were served three years ago are Amsterdam, Krakow, Pula and Murcia RMU. However, Krakow flights from Manchester and Newcastle resume in September, while service to the Polish city from Birmingham, Glasgow and Leeds Bradford will start up again in February 2023. The other destinations are not currently bookable on the airline's website.