UK airports saw 224m pax in 2022 still 25% down on 2019; Jet2.com, Loganair and Wizz Air growing v 2019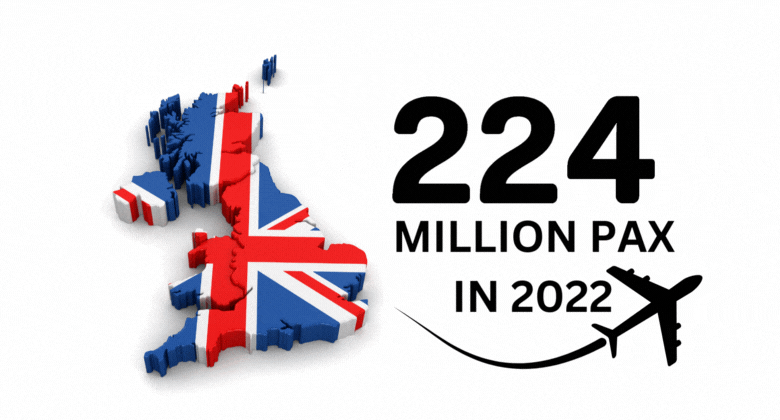 Analysis of UK CAA monthly statistics for all of last year reveal that UK airports welcomed over 224 million passengers in 2022. That is more than three times as many as the 65.6 million handled in 2021, but still 25% fewer than were processed in 2019. Relative to 2019, the UK's best month was October when traffic was 15% below 2019 levels. In November and December demand was still 17% below 2019 levels.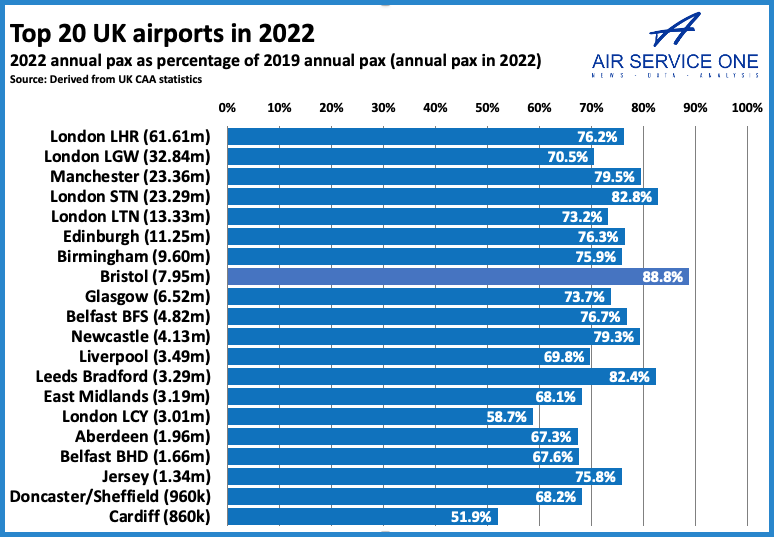 Unlike in other parts of Europe, no UK airport came anywhere near to handling as many passengers last year as it did in 2019. Most airports saw traffic for 2022 down between 20% and 33%. The best performance was achieved by Bristol airport, where traffic was down just over 11% to just under eight million passengers. The reason Bristol outperformed its UK rivals was primarily due to Jet2.com opening its most recent base at the airport in July 2021. Last summer the airline was offering over 80 weekly departures spread across over 30 destinations. This made it the airport's third biggest carrier, some way behind easyJet and Ryanair, but marginally bigger (in terms of flights) than TUI Airways.
The only two other major UK airports that managed to achieve at least 80% of their pre-pandemic traffic last year were London STN (Ryanair's biggest base in Europe) and Leeds Bradford (where Jet2.com accounts for over half of capacity).
It is worth noting than Doncaster/Sheffield, which closed as an airport in early November 2022, still had a better recovery rate across all of 2022 (68.2%) than either London LCY (58.7%) or Cardiff (51.9%).
easyJet passes British Airways for #1 airline
Analysis of Cirium schedules data shows that planned airline seat capacity departing from UK airports was down 21% in 2022 versus 2019. While British Airways, Ryanair and easyJet remained the three leading airlines in the UK market, British Airways was overtaken by both easyJet and Ryanair to slip to third place based on available departing seats.
The national carrier's capacity was down 27% versus 2019. easyJet (down 11%) and Ryanair (down 5%) both also cut capacity, but not by as much. Five of the UK's top 20 airlines recorded capacity growth versus 2019 according to Cirium data. Jet2.com, Loganair and Wizz Air added the most seats, while Turkish Airlines and Vueling also added capacity.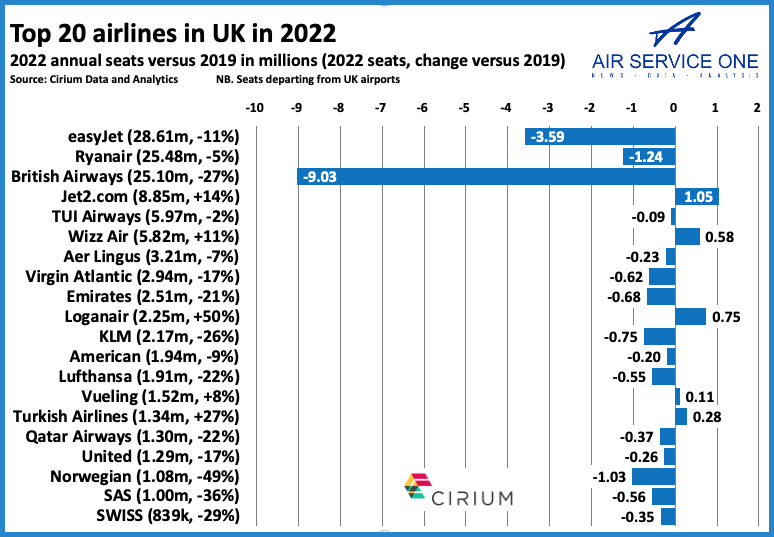 Flybe, which had ranked fourth in 2019, had suspended operations in 2020 and then emerged as a new airline in 2022. However, it ranked only 26th last year and since then has, once again, suspended all flights. Among foreign long-haul carriers, Emirates is still twice as big as Qatar Airways in the UK market, while among US carriers American (down 9%) has increased its lead over United (down 17%).
Available seats still down in Q1 and Q2
Scheduled data submitted so far for 2023 shows that seat capacity at UK airports is still set to be around 11% lower than in 2019 during the first quarter of the year, with flights down around 17%. Looking ahead to the second quarter of the year (April to June), currently shows seat capacity down 6% versus 2019, with flights down 12%.