UK and French domestic recovery rates compared; France benefits from overseas territories while Heathrow dominates UK's top routes
Across much of Europe, domestic air travel is being hailed as a potential saviour for air travel, at least in the short-term. While in large European countries, such as Russia and Turkey, domestic traffic has remained robust in recent months, elsewhere the picture is less clear. In this feature we look at France and the UK.
French domestic market stronger than international
Passenger data from DGAC in France kindly segments domestic traffic into several categories; mainland radial (routes to and from Paris), mainland transverse (domestic routes not involving Paris), domestic routes from mainland France to French overseas territories (such as Guadeloupe, Martinique and La Réunion) and routes within these territories.
As can be seen from the graph below, for much of the last year all domestic segments were impacted in a similar way, but there are a few outliers. For example, last May and June, travel within the territories started to recover sooner than routes involving the French mainland. Then in August, when the recovery peaked, it was mainland transverse routes that were doing better than the other markets, down just 15%.
The reintroduction of strict travel restrictions in November heavily impacted the internal mainland markets, but less so routes involving the territories. However, all of the domestic markets, have performed better than international demand (the black line), which since last July has consistently been down over 80%, with the exception of August where it was down only 73%.
With the French government's bailout of Air France apparently conditional on it abandoning domestic routes (such as Paris ORY to Bordeaux, and Orly to Lyon) where the high-speed TGV rail network is considered an environmentally better alternative, it will be interesting to see how the French domestic market recovers. The Paris ORY to Bordeaux route had 10 daily flights and welcomed almost 570,000 passengers in 2019, representing around 7% of Bordeaux's total passenger traffic that year.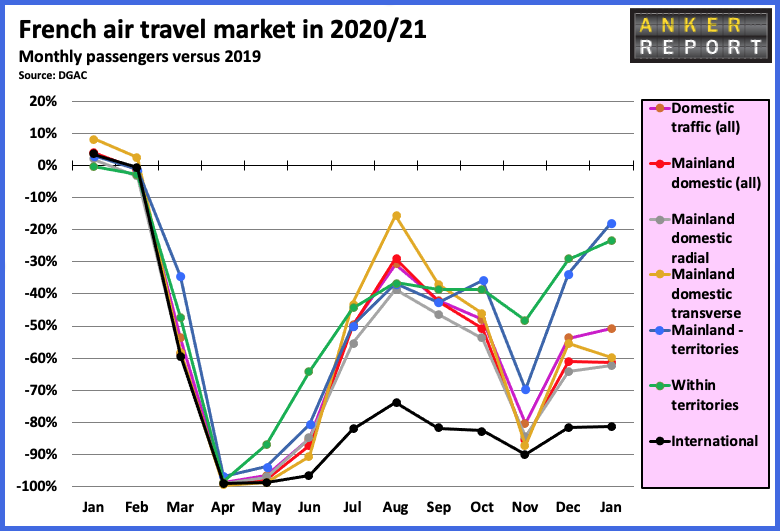 UK domestic traffic down over 70% every month
In the UK, according to CAA passenger statistics, domestic traffic across all UK airports was down 97% in June, 87% in July, 74% in August, 73% in September, 79% in October, 91% in November, 85% in December and 93% in January 2021. Given that Scotland and Northern Ireland were able to apply different rules from England, this created extra confusion in the UK domestic market.
A look at the top 15 domestic routes in the UK in January 2021 shows that services involving London LHR (shown in red) accounted for seven of the top 15 routes. Belfast BFS was involved in a further seven routes, leaving Gatwick to Glasgow GLA as the only route in the top 15 not involving either Heathrow or Belfast's main airport. The route with the lowest drop-off in passengers was the Heathrow-Manchester service, where demand was down by 'just' 70%.
New routes from Teesside
Following the collapse of Flybe last March, Eastern Airways and Loganair have been busy taking over many of Flybe's old routes. However, new routes have also been started; such as Loganair's services from Teesside to Belfast BHD, London LHR and Newquay; Eastern Airways from Teesside to Newquay and Southampton; and easyJet between Gatwick and Aberdeen, a route the airline last operated in February 2019.