UK-Canada capacity down 12% v S19; Air Canada, Air Transat, BA and WestJet drop 13 routes, add five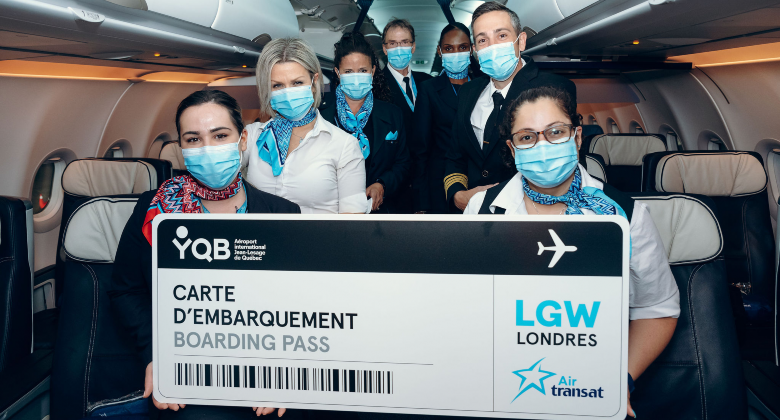 According to Cirium schedule data, the UK-US market is set to be almost exactly the same size this summer (April to October) as it was in the summer of S19, with around 8.5 million one-way seats. British Airways accounts for just one-third of all seats. During that time the market has seen the disappearance of Norwegian, Thomas Cook Airlines and Air New Zealand and the arrival of Aer Lingus, JetBlue and Norse Atlantic.
By comparison, summer capacity between the UK and Canada will be down around 12% compared with 2019. The same four carries present in the market four years ago are still present now. Air Canada now accounts for around 52% of the market (up from 46%) with capacity virtually unchanged. Then comes British Airways with 21% of the market, having reduced seats by 14%. Air Transat is third with 16% of seats, having cut capacity by 27% and finally WestJet has 12% of the market, offering 28% fewer seats than in S19.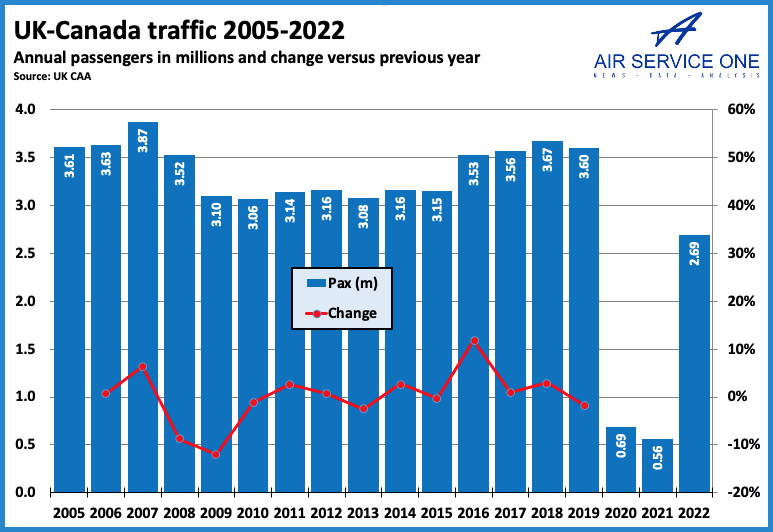 Non-stop flights from just five UK airports
There are non-stop flights to Canada from just five UK airports; London LHR (capacity up 2% versus S19), London LGW (down 42%), Manchester (down 40%), Edinburgh (up 205%) and Glasgow (down 45%). Five Canadian airports have regular non-stop service to the UK; Toronto YYZ (down 15%), Calgary (up 12%), Montreal (up 56%), Vancouver (down 37%) and Halifax (down 6%). In addition, Quebec City has 13 flights this summer to London LGW with Air Transat.
Edmonton, Ottawa and Winnipeg, which all had some non-stop flights in S19 are not served non-stop in S23. Ottawa has lost its Air Canada service to Heathrow, while Edmonton and Winnipeg have lost their WestJet flights to Gatwick.
Airlines drop 13 routes, add five
WestJet now only serves the UK from Calgary, though it does serve both Gatwick and Heathrow in London as well as Edinburgh in Scotland. Since S19, WestJet has dropped six routes, Air Transat three, Air Canada and British Airways both two. There are, however, five new airline services compared with S19:
Air Canada: Halifax to London LHR (service resumed in April 2022 after operating until March 2019)
Air Transat: Quebec City to London LGW (launched 11 May 2022, operates weekly during peak)
British Airways: London LGW to Vancouver (starts 19 May 2023, will operate 6-weekly until late September)
WestJet: Calgary to Edinburgh (starts 17 May 2023, will operate 3-weekly)
WestJet: Calgary to London LHR (launched 26 March 2022, operates daily in S23)
Interest in visiting Canada this summer may be boosted by the latest series of the BBC TV show "Race Across The World" which features five couples attempting to get from Vancouver to St. John's by land via a number of waypoints on a limited budget and without the aid of electronic devices.