UK had 193 million France passengers since 2004; 21 French airports cut; easyJet leading operator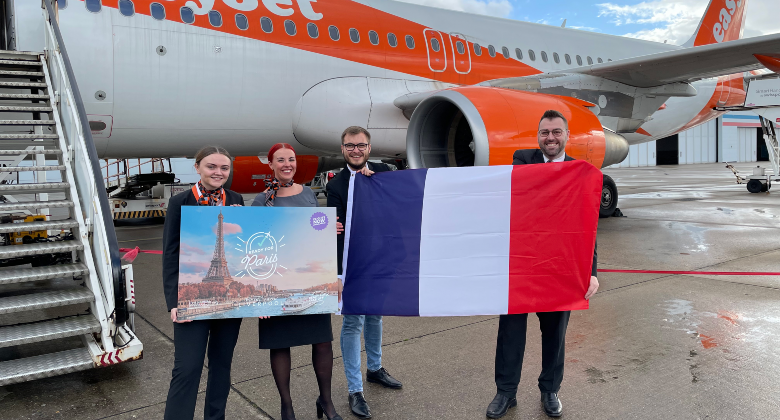 About 193 million passengers travelled by air between the UK and France since 2004, according to the UK Civil Aviation Authority. In 2022, 8.7 million did – the lowest volume, excluding the pandemic, in almost 20 years. Traffic remained down by nearly a third (-31.0%) versus 2019, with France among the lower recoveries of the UK's major markets.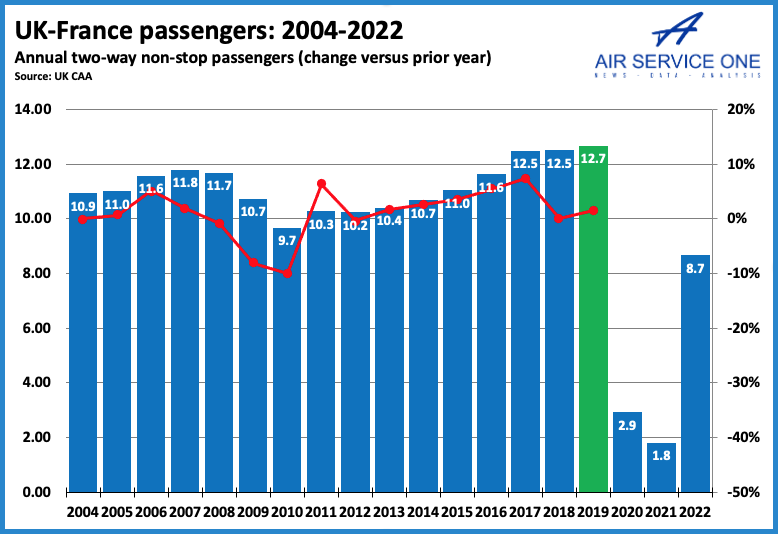 32 French airports have UK flights – but 21 cut since 2004
According to Cirium schedules information, 32 French airports are served from the UK between August and December 2023, some on a seasonal basis. However, 21 airports have lost flights since 2004 and are shown on the map below. One of the most recently served was Avignon, linked with Birmingham and Southampton by Flybe Mk2 through S22.
Cirium tells that the 21 airports had five million two-way UK seats, of which Dinard provided 60%. Ryanair served the Brittany airport for many years, mainly from STN but also from Birmingham, Bristol, East Midlands, Leeds Bradford and London LTN. Occasionally it had 4-daily departures – and up to 2-daily from STN. The Channel Islands' Aurigny served Dinard from Guernsey for years until 2019, 14 years after Jersey ended.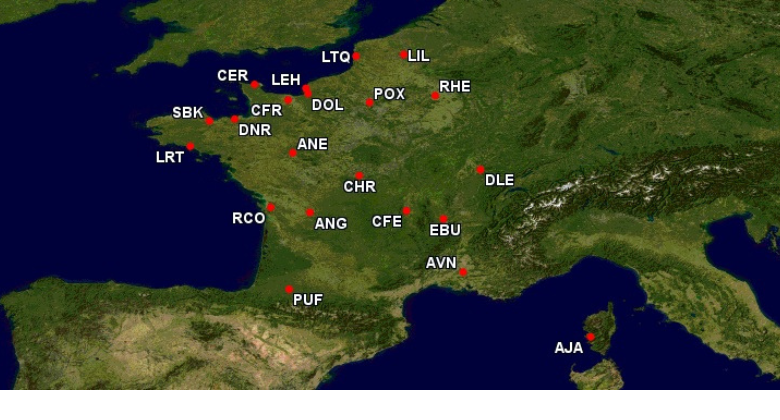 Strasbourg would have been there…
Strasbourg would have been on the map above, but Volotea – the LCC of small and medium-sized cities – has announced London. Beginning on 9 November, the 2-weekly service will be to London LGW and will mark Volotea's first normal, regular UK operations. Until now, it has only served the country on a sports and TUI charter basis. Strasbourg last had UK flights in 2019 by Ryanair to London STN.
Ryanair served nine of the 21, several from Buzz days
Cirium indicates that 20+ airlines served the 21 airports in the past two decades, including a raft of tiny operators using appropriately small aircraft serving destinations just across the English Channel. These included Skysouth's Navajos from Shoreham to five destinations until 2009, Brighton City Airways' wet-leased Let 410 to Pontoise in 2013 and Poland's SkyTaxi's Saab 340 from London SEN to Châteauroux in 2018.
Despite the breadth of operators, Ryanair accounted for two-thirds of the available seats, obviously because of its aircraft size. It served nine of the 21 airports – Angouleme, Clermont-Ferrand, Dinard, Deauville, Dole, Lorient, Pau, Rochefort, St Etienne – of which some were inherited from Buzz, an airline it acquired.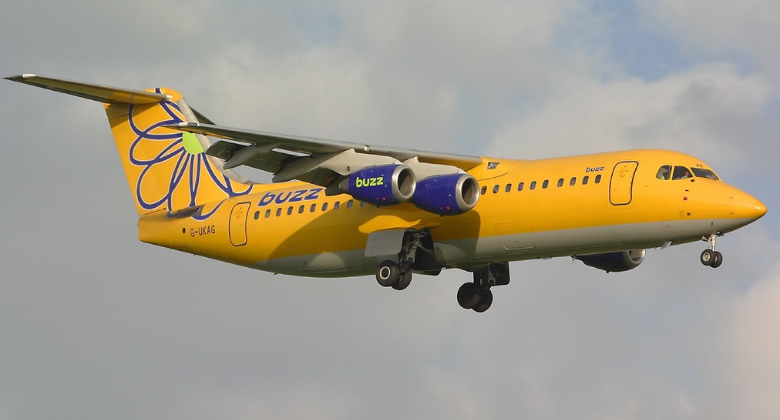 easyJet leads; nearly twice the size of second place Ryanair
Excluding the pandemic, easyJet has been the largest operator between the UK and France since 2008. In 2022, the LCC had 36.7% of available seats, followed by Ryanair (21.0%), British Airways (20.8%), and Air France (13.4%). These four were so significant they had more than nine in 10 of the country-pair seats. Inevitably, the capacity and share of BA and Air France has reduced significantly in the past 20 years, mainly to the benefit of easyJet.
In 2004, 'other carriers' had 2.4 million seats and 15.9% of the market, reduced to just 1.4% and 163,000 in 2022. Many airlines ceased serving UK-France in this period, including intriguingly named entities like FlyKiss, which linked LTN non-stop to Brest and Clermont-Ferrand using the Embraer 145. Carriers with 300,000+ seats in total included bmi, bmibaby, bmi regional, Cityjet, Flybe, Monarch and Thomas Cook. The entry of Transavia France in 2016 and Wizz Air and in 2018 – each still serving the market – only slightly offset the losses.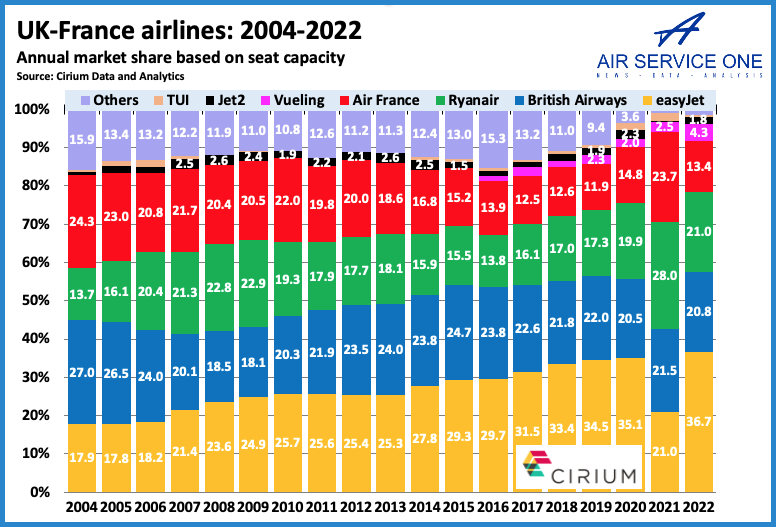 Exit of Flybe had the biggest impact
By far the most significant former operator was the original Flybe. In 2019, it was the fifth largest carrier in the market, with 1.3 million two-way seats and 45 routes, not all of which are now served. That year, it served 17 French destinations from nine UK airports.