UK-Ireland saw 10m pax in 2022; 23 UK airports had Irish flights, Ryanair grows market share to over 60%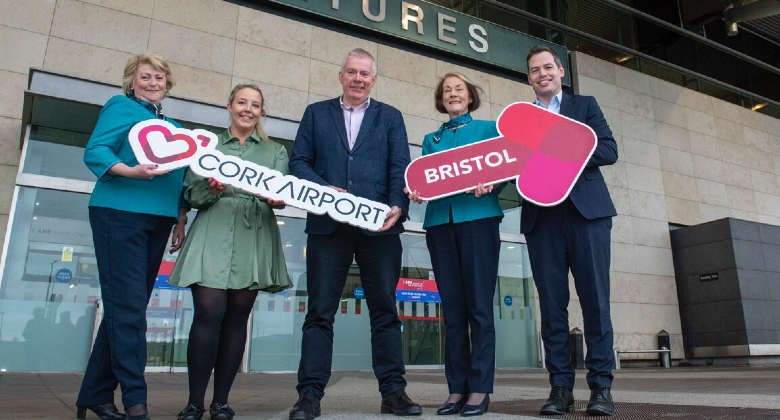 The importance of the UK to Ireland market cannot be overstated. In 2022, over 28,000 people flew between the two countries each day, according to UK Civil Aviation Authority data. While this includes those who transferred to other flights, the majority were local. Across the whole year, more than 10.3 million people were transported. While that was down by a fifth versus 2019, the difference was inevitably heavily influenced by Q1 (-46%), much worse than Q2 (-18%), Q3 (-16%), and Q4 (-11%). UK-Ireland achieved a paltry estimated load factor of 73.1% last year, reduced from 79.9% in 2019.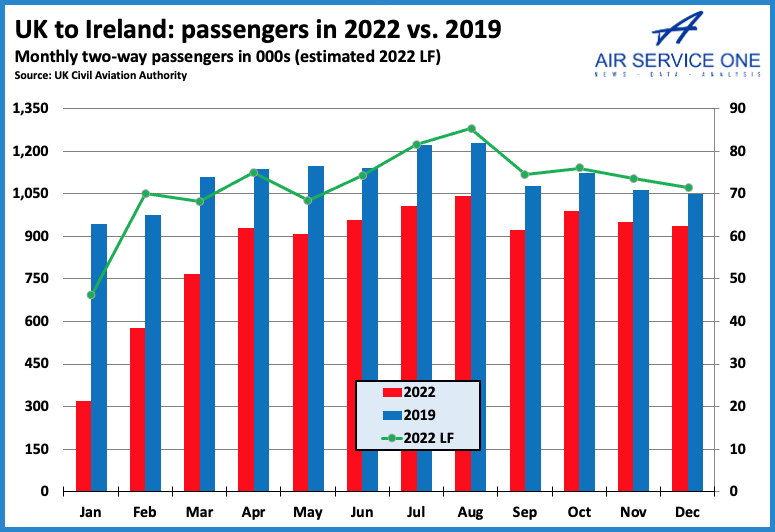 Analysis of Cirium data suggests that between 2019 and 2022 Ryanair has increased its share of seat capacity between the two countries from 52% to 64%, while Aer Lingus has seen its share fall from 36% to 28%. British Airways had just 7% of seats last year, the same as in 2019. Back then Flybe had 4% of the market. However, despite resuming flights from the UK last year none of them were to Ireland.
UK to Ireland: December 2022
While December is ordinarily among the quieter months even with Christmas and New Year demand, it still had over 937,000 passengers, as shown in the figure above. Ryanair, Aer Lingus, Aer Lingus Regional, British Airways, BA CityFlyer, Loganair, Eastern and Aurigny operated. (Blue Islands only operated in the summer.) The UK CAA informs that the carriers had 50 airport pairs between them.
Five Irish airports had UK flights. With three-quarters of passengers, it was obviously mostly about Dublin (including connecting passengers). The capital had flights from all 23 UK airports with Ireland service. Cork was the next biggest (109,000 passengers, with routes from nine UK airports), then Shannon (60,000; six), Knock (46,000; nine) and Kerry (17,000; three). Inevitably, West Ireland airports were impacted by this being the winter season, with far lower inbound tourism.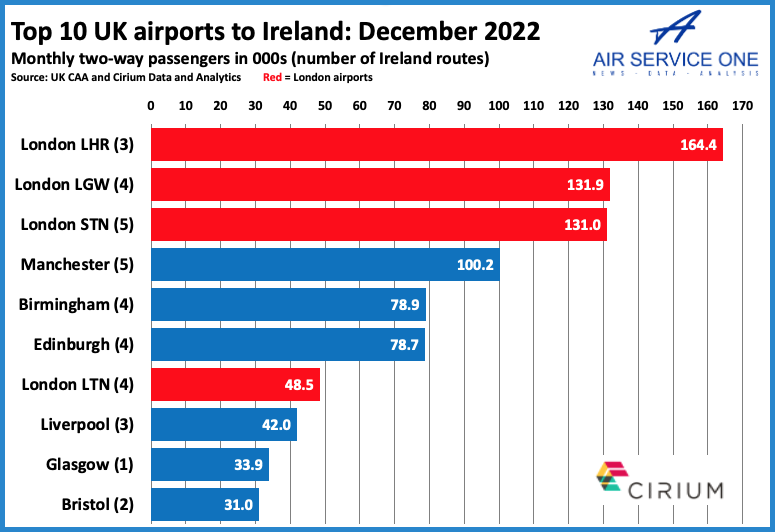 23 UK airports had Ireland flights in December
As the above figure shows, London LHR had 164,000 passengers in December and about 18% of the UK-Ireland total. Partners British Airways and Aer Lingus operated to Dublin (116-weekly), while Aer Lingus served Cork (26-weekly) and Shannon (19-weekly), two of which are within the top 10 routes list (see the following figure). Heathrow will soon have a new route to Knock (see later). Of the 23 UK airports, the least served was Guernsey: it had just 231 passengers to/from Dublin on Aurigny's 2-weekly ATR-72 service.
Cirium schedules information data indicates that Ireland will have flights from 24 UK airports in H1 2023. The addition is Jersey, served summer-seasonally from 31 March by Blue Islands (4-weekly) and Aer Lingus Regional (weekly to 2-weekly).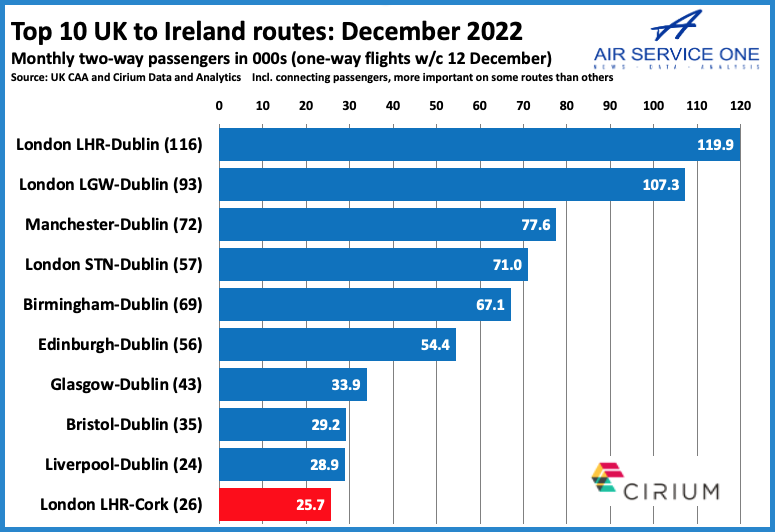 16 UK airports have lost Ireland flights
Comparing UK airports with Ireland routes in H1 2023 versus 2004-2022 using Cirium schedules data reveals that 16 airports no longer have flights. This is based on having a minimum of 2,000 seats. Note that 'until' means they operated from 2004 onwards (even if with different airlines) and multiple airports have either closed entirely or at least no longer accept scheduled service. A myriad of airlines were involved, including Air Wales, Air Southwest, EUjet, Manx2, Thomsonfly – and Minoan. The latter's Fokker 50s operated the short-lived service between Oxford and the Irish capital a decade ago.
Belfast BHD: Cork (until 2011), Galway (2006-2008, 2010-2011)
Blackpool: Dublin (until 2014)
Cambridge: Dublin (2014)
Carlisle: Dublin (2019-2020)
Coventry: Cork (until 2005), Shannon (until 2005)
Derry: Dublin (until 2011)
Doncaster Sheffield: Dublin (2005-2010, 2015-2019)
Glasgow PIK: Cork (2007-2009), Donegal (2004-2010), Dublin (until 2014), Knock (2014), Shannon (until 2010)
Humberside: Dublin (2006)
London SEN: Galway (2011), Dublin (2011-2020), Waterford (2011-2013)
Manston: Dublin (until 2005), Shannon (until 2005)
Norwich: Dublin (until 2009)
Oxford: Dublin (2013)
Plymouth: Cork (until 2006, 2011), Dublin (until 2006; 2011)
Swansea: Dublin (Air Wales until 2004)
Teesside: Cork (2005-2006), Dublin (until 2010, then 2022), Knock (2016)
What is coming in 2023?
Cirium shows that there are 8.1 million two-way UK-Ireland seats in H1 2023. That is 25% more than the same period in 2022 but 1% below H1 2019. The recovery continues, including by passenger volume and loads. It will be helped by five additional routes – including the return of Glasgow to Donegal with Loganair, meaning that six Irish airports will again be served.
26 March: Aer Lingus, Knock-London LHR (daily); brand-new, replacing London LGW
26 March: Ryanair, Shannon-Newcastle (3-weekly); last served in W08/09
26 March: Ryanair, Newquay-Dublin (3-weekly); new for Ryanair, will compete directly with Aer Lingus
28 April: Aer Lingus Regional, Cork-Bristol (6-weekly); last served in W19/20
1 July: Loganair, Glasgow-Donegal (2-weekly); last served by Loganair in October 2021