UK reaches 35% of pre-pandemic traffic demand in September; Heathrow welcomed over 2.5m pax
Passenger figures for September from the CAA, show that the UK's airports handled 9.86 million passengers, which was 65% fewer than in September 2019, but over 70% more than in September 2020. This means that demand in September was at 35% of the level of two years ago. This is a significant improvement on the 19% recovery rate in July and 30% in August.
While the CAA has published October figures for many UK airports, the data is incomplete. However, The ANKER Report estimates that the recovery rate for last month across all UK airports should be around 44%. That compares with 70% for Spanish airports, 63% for Italian airports, 58% for French airports and 54% for German airports. Elsewhere in Europe, Turkey is at 81%, Ukraine at 81%, Portugal at 72% and Norway at 69%. Only Finland, at 34%, is significantly worse than the UK in October.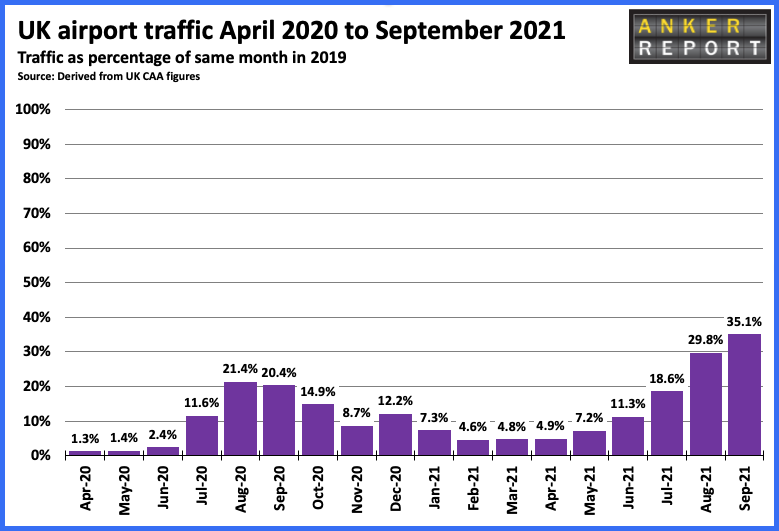 A look at the top 15 airports in the UK in September reveals a range of recovery rates from Gatwick (at just 24%) to Belfast BFS (at 54%). Major airports in Scotland (shown in blue) have performed no better than those in England, with the exception of Aberdeen. Belfast BFS in Northern Ireland (shown in red) has the best recovery rate, while the city's second airport, Belfast BHD, also performs better than average, with a recovery rate of 51%.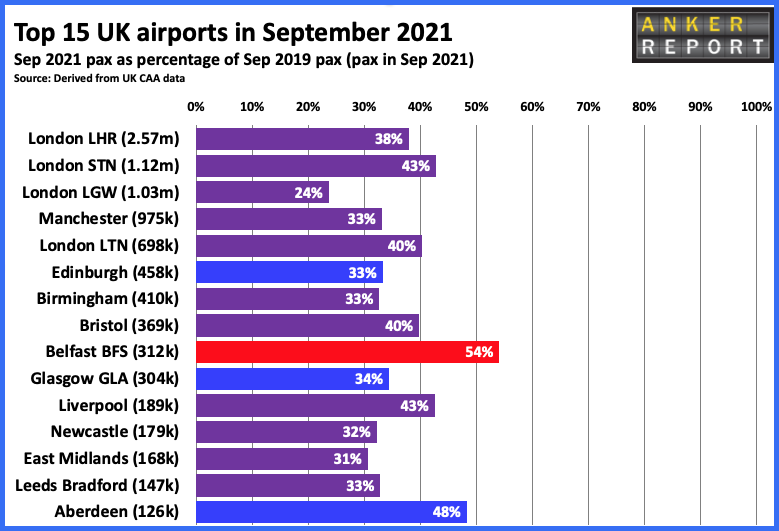 Outside of the top 15, the range of recovery rates is even more extreme. Scottish island airports perform well with Sumburgh at 73%, Stornoway at 64% and Kirkwall/Lerwick at 62%. However, all are trumped by Teesside in the north-east of England which is at 77%. There has been considerable investment in the airport and it has been able to attract a number of new services.
At the other end of the scale is Cardiff Airport in Wales which is at just 13% in September. This is still a significant improvement on July's performance when traffic was down 95% compared with 2019. Wales has had more severe travel restrictions imposed by the local government than other parts of the UK. However, several other UK airports are still below 30% when it comes to traffic recovery. These include London SEN (11%), Exeter (20%), Humberside (20%), Glasgow PIK (21%), London LCY (26%), Southampton (26%) and Norwich (27%). Sadly for Southend, Ryanair and easyJet have now ceased all flying from the airport.
Ryanair is now clear #1 airline in UK for seats
Analysis of Cirium Data and Analytics schedules shows that seat capacity to and from UK airports in September was down 52% across all airlines. In September 2019 there was little to choose between British Airways, easyJet and Ryanair for UK seat capacity, with the national carrier just beating easyJet, and Ryanair in third. However, two years later, Ryanair is now the clear leader in seat capacity, almost 50% bigger than both British Airways and easyJet. Jet2.com and TUI Airways have maintained their rankings of fourth and fifth.
UK CAA data for September reveals that British Airways' load factor for the month was 60%, compared with 68% for easyJet UK Ltd. Jet2.com was at 58%, TUI Airways at 74% and Wizz Air UK at 60%, with Loganair managing 53%. Overall, across all UK registered carriers, the passenger load factor in September was 61.4%.
Flybe, which had ranked sixth in September 2019, has seen a lot of its capacity taken over by Loganair, which helps explain why the Scottish carrier is the only one in the top 15 to offer more seats this September than it did two years ago. The airlines with the next best rate of recovery after Loganair (120%) are Wizz Air (76%), Ryanair (73%), Jet2.com (67%) and TUI Airways (60%). These are all carriers focussed on the leisure market.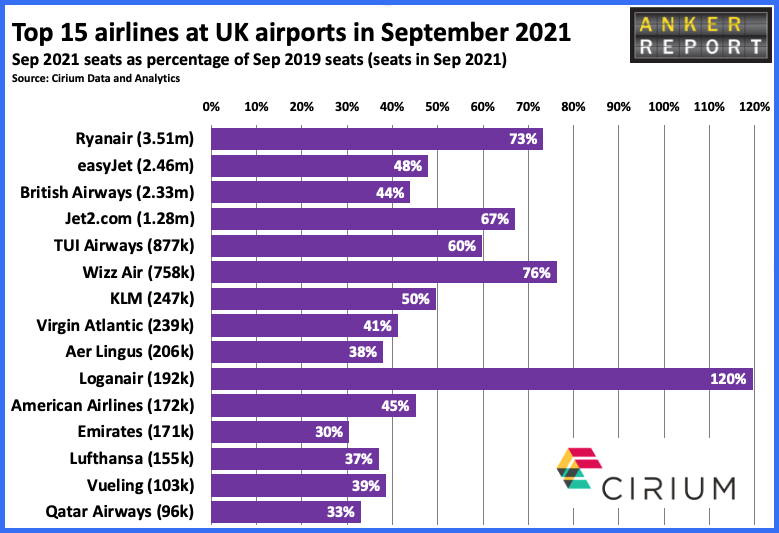 The appearance of Virgin Atlantic and American Airlines may be surprising, given that the UK-US market has only recently re-opened to non-essential travel. However, many of the flights operated by these airlines will be primarily operated for freight. There also seem to have been rather more people travelling on "essential" business than might be imagined.