UK seats down 15% in September versus 2019; Bristol, Jet2.com, Loganair, Greece and Turkey star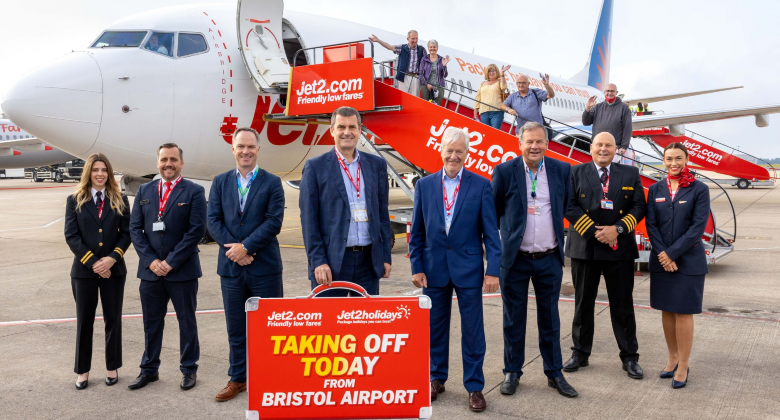 The latest airport traffic statistics from the UK CAA for August 2022 confirm that none of the country's top 15 airports has yet seen traffic recover to pre-pandemic levels. Even Germany, which has a significantly lower rate of recovery than the UK, had a few airports that were recording traffic growth compared with three years earlier. Analysis of Cirium schedule data for UK airports reveals that capacity was down 16% in August 2022 compared with 2019. However, passenger data shows that demand was down around 20% in August versus 2019. Either the schedule data overstated what airlines actually flew (as a result of cancellations) or load factors are down a few percentage points during this key summer month. Or possibly, a combination of the two factors.
Bristol leads the way for UK demand recovery
Among the UK's top 15 airports just two saw passenger recovery in August at above 90% compared with August 2019. Those two airports were Bristol and London STN. Bristol became a Jet2.com base in July 2021 and had around 12% of capacity at the airport this summer, similar to TUI Airways. However, easyJet remains the leading carrier at Bristol with almost half of all flights and seats.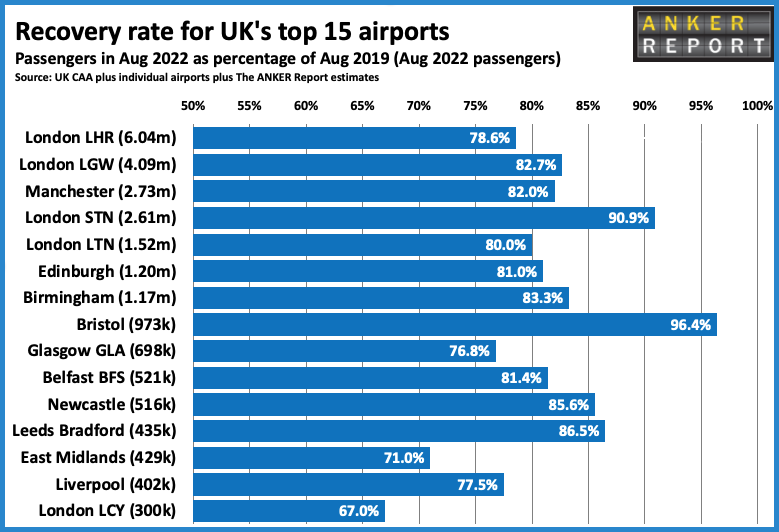 London STN became a Jet2.com base back in 2017 and it is now the second biggest carrier at Stansted with around 12% of seats. Ryanair dominates with well over 70% of capacity. Most major UK airports saw demand at between 75% and 87% of 2019 levels in August. Just two airports were significantly below that; East Midlands at 71% (Ryanair has cut capacity by 30%) and London LCY at 67%. With its focus on business traffic, the slow recovery at London City Airport gives a clear insight into the slower than average recovery of the business travel market.
British Airways and Loganair at the opposite ends of recovery rankings
Looking at the leading airlines serving the UK, we at least find a number of carriers that have increased capacity in September compared with 2019. Among the top 15 airlines, British Airways comes bottom of the recovery rankings with capacity still down 25% versus 2019. Some of this may be down to the capacity restrictions being enforced at the airline's home base of London Heathrow due to staffing issues.
The UK's two leading airlines (by seat capacity), easyJet and Ryanair are both at between 95% and 100% with regard to capacity recovery in September. Maybe surprisingly, seven of the top 15 airlines are recording capacity growth in the UK, with five of them increasing capacity by more than 10%. Leading the way is Loganair. The Scottish-based carrier has increased capacity by almost 40%. Some of this is as a result of growing in markets that were left vacant when the original Flybe collapsed in early 2020.
The other airlines recording double-digit percentage growth are all low-cost or leisure airlines; Jet2.com, TUI Airways, Vueling and Wizz Air. Vueling has increased its capacity at Gatwick by over 50% as IAG seems to be using the carrier as a defence against easyJet and the growth of Wizz Air at the south London airport. In September, Vueling was serving 16 destinations from Gatwick, of which 12 were in Spain. Having abandoned Gatwick at the start of the pandemic, British Airways has returned but is only around half the size it used to be at the airport.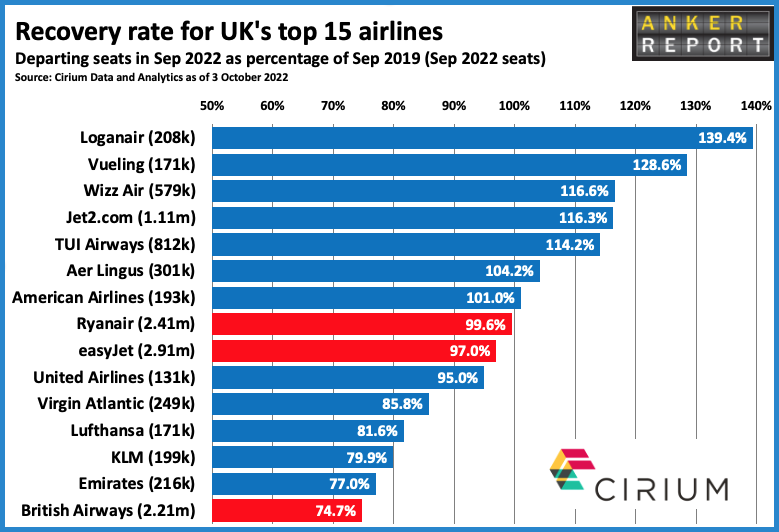 Domestic market recovery is below average
When we examined the German market recently it was shown that it was the domestic market that was underperforming most significantly. The UK domestic market (the second biggest country market) is showing a recovery rate of 78% despite the fact that Flybe, a leading player in 2019, is only around 10% of the size that it was then. The biggest country market, Spain, is at just over 90%. Given that these are the two largest markets (and shown in red) it's no surprise that the overall average for all countries is about the level of the average of these two major markets.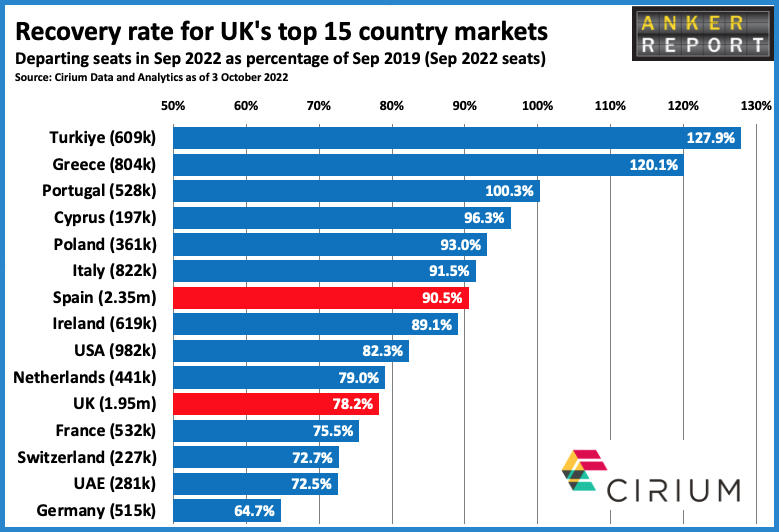 Two popular holiday markets, Greece and Turkiye, have both seen capacity increases in September of over 20% compared with 2019. Despite the loss since 2019 of Thomas Cook Airlines and Atlasglobal, all other carriers connecting the UK and Turkiye have seen significant capacity increases, with easyJet and Jet2.com leading the way. It is a similar story in the Greek market with easyJet and Jet2.com again leading the way. Of note is the fact that Ryanair is only the fifth biggest airline between the UK and Greece and it increased capacity by only 3%.