United is the best recovered of the US3; Denver has overtaken Chicago ORD as its top hub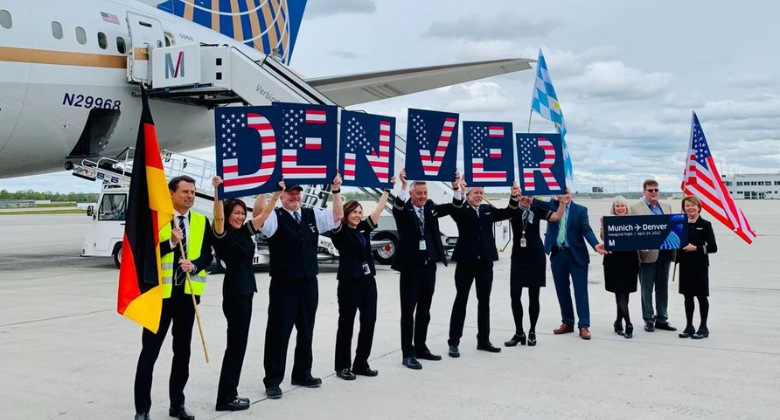 United is the fourth-largest US carrier by October-December (Q4) seats. According to Cirium data, it has 51.2 million available, against 64.5 million for American, 61.4 million for Southwest and 57.5 million for Delta. Yet comparing Q4 2023 to 2019 shows that United has exceeded its pre-pandemic capacity (+2.7%), surpassing American (-2.2%) and Delta (-3.7%), although far behind Southwest (+17.0%). Unlike the others, United has a greater proportion of available seats deployed internationally and is the largest long-haul carrier serving the US.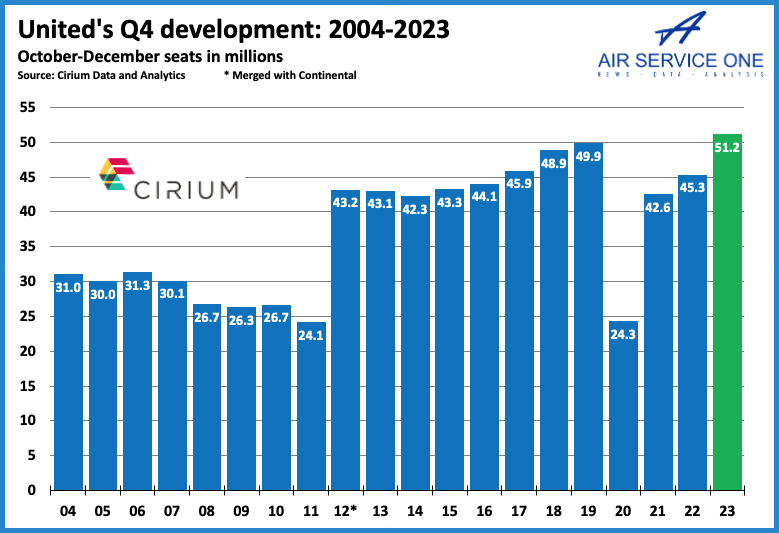 Denver is United's leading hub in Q4
United's network comprises 333 airports in these three months. Despite only ranking fourth in 2019, Denver has become the carrier's top hub, dethroning Chicago ORD, which remains the carrier's worst-performing hub by recovery. But notice how relatively little separates the busiest three hubs. Not much expansion or recovery would be needed to see things change. Newark's strong growth has seen it jump one place to second.
Denver's rise is from capacity increasing by nearly a fifth, with the domestic market gaining about 765,000 additional departing seats (+17.8%). While international remains a miniscule part of its operation there, it has risen by a considerable 57.3% in four years.
United's Denver network comprises 171 non-stop destinations this October-December. With 44.1% of seats, United remains the Colorado airport's leading carrier. However, despite its expansion, its dominance is marginally lower than in 2019 (44.5%), mainly from the growth of Southwest.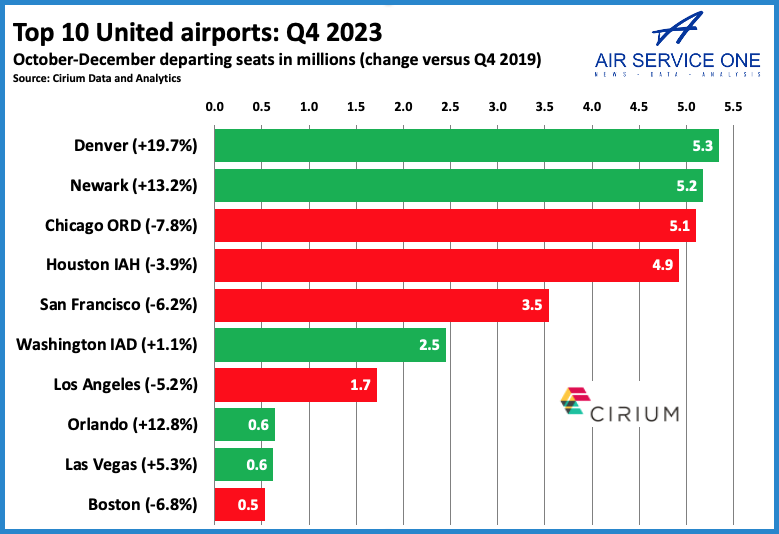 Hub-to-hub routes remain vital
Cirium schedules information shows that United has more than 900 routes this quarter. Newark-San Francisco – connecting the carrier's largest East Coast and West Coast hubs – is its most served route. All but one of its top 10 are hub-to-hub services. They particularly feature highly as they are served frequently and many also use higher gauge aircraft.
In mid-October, United has 63-weekly Newark-San Francisco flights, more than half by Boeing 777-200s and 787-9s. It is one of two carriers in the market, which also connects to the country's two major metros, alongside Alaska Airlines (20-weekly). Of course, United's top route would be different if flights or ASKs were used instead.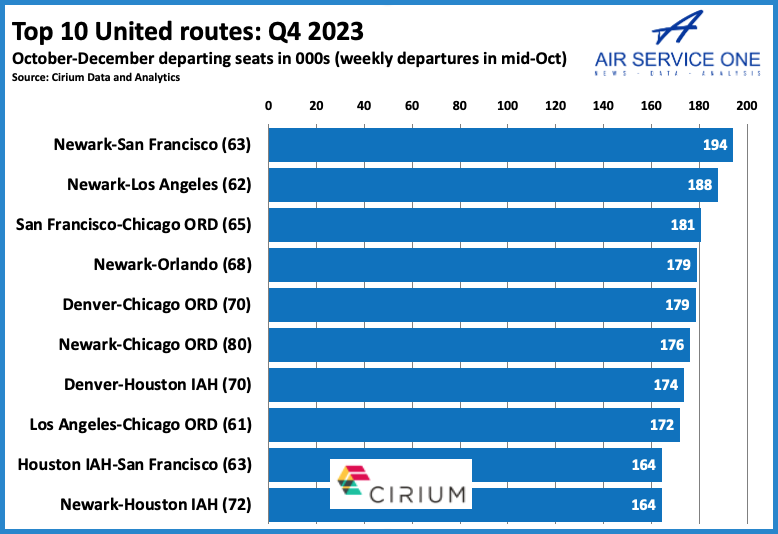 Multiple new routes in Q4
United's network will see various new routes this quarter, as summarised below. Simple resumptions are not included. United makes history by becoming the only US airline with non-stop Manila flights from the mainland. It will also provide Christchurch's only North America service.
28 October: Los Angeles to Auckland (up to 4-weekly)
28 October: Los Angeles to Hong Kong (daily)
29 October: Denver to San Juan (daily)
29 October: San Francisco to Manila (daily)
4 November: Denver to Montego Bay (weekly)
29 November: Los Angeles to Brisbane (3-weekly)
8 December: San Francisco to Christchurch (3-weekly)
While perhaps less glamorous than others, Denver-San Juan will, at 4,400 kilometres, be the longest scheduled US mainland passenger flight from the Puerto Rican capital. However, Los Angeles had service by American until 2011.