United plans to offer 71 routes this year between the US and Europe overtaking American and Delta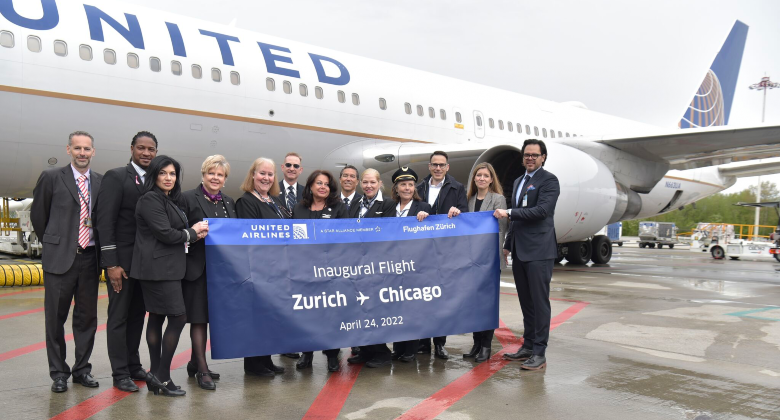 Among the three global US carriers, Delta had been the leading airline for most US-Europe routes before the pandemic struck. In 2019, the Atlanta-based carrier had offered 69 routes in the market, ahead of United (62) and American (58). Although non-essential travel between Europe and the US was basically banned for much of 2020 and 2021, all three airlines maintained a significant number of services, with a greater emphasis on cargo as well as carrying politicians, sports people, actors and other people who somehow managed to justify their travel as "essential".
This year, things have changed. While American is down 12 routes (from 58 in 2019 to 46 in 2022) and Delta is down 10 routes (from 69 to 59), United is the new market leader, increasing its network by nine routes (from 62 to 71).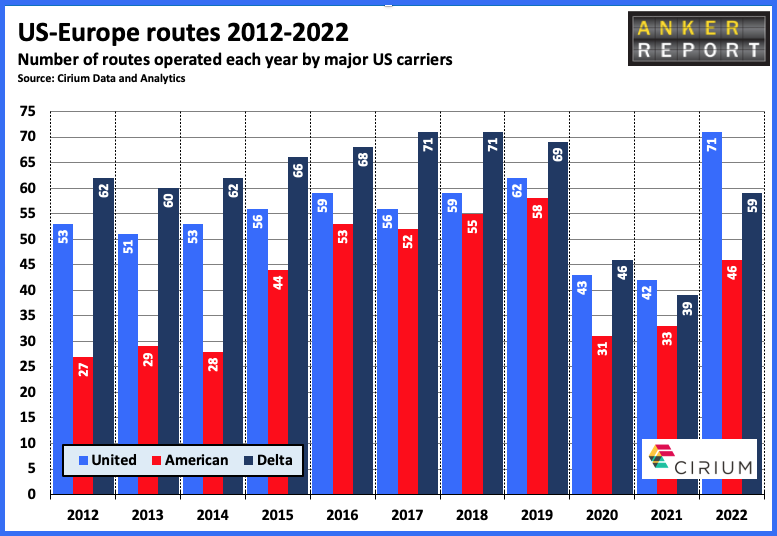 12 new routes launched but three have been suspended
United's net increase of nine transatlantic routes is actually made up of 12 new routes with three routes having been suspended. The 12 new services added in 2021 and 2022 (or soon to start) are:
1 July 2021: Chicago ORD – Reykjavik
1 July 2021: New York EWR – Dubrovnik
1 July 2021: Washington IAD – Athens
14 April 2022: Boston – London LHR
23 April 2022: Chicago ORD – Zurich
23 April 2022: Denver – Munich
29 April 2022: New York EWR – Nice
6 May 2022: Chicago ORD – Milan MXP
13 May 2022: New York EWR – Ponta Delgada
20 May 2022: New York EWR – Bergen
2 June 2022: New York EWR – Palma de Mallorca
9 June 2022: New York EWR – Tenerife TFS
Nine of these routes are set to start (or have already started) this summer, with one new route being launched most weeks between mid-April and early June. The three routes served in 2019 that are not operating this summer are all from Newark; to Glasgow, Manchester and Prague. In addition, Newark to Berlin services have moved from Tegel to the new Berlin airport. Talking of Berlin, United did announce a non-stop service between Washington and Berlin that was set to launch this summer. However, at present the route appears to have been delayed.
United offers non-stop service to Europe from eight US airports this summer, one more than in 2019. Newark leads the way with 258 weekly flights in August (compared with 210 in August 2019), ahead of Washington IAD with 126 (up from 119), Chicago ORD with 105 (up from 84), San Francisco with 63 (up from 56), Houston IAH with 35 (no change), Denver with 28 (up from 14), and Boston and Los Angeles with seven each. Boston is the airport that has been added since 2022 as a result of the recently introduced London LHR service.
For comparison, American serves Europe non-stop from 10 airports, while Delta also offers non-stop flights to Europe from 10 airports. However, back in 2019, Delta flew to Europe from 14 US airports. The airports that have lost non-stop service to Europe since then are Indianapolis, Los Angeles, Orlando and Tampa.
United now serves 29 airports in Europe
This summer, United aircraft will be seen at 29 airports across Europe, compared with 26 in 2019. While planespotters at Glasgow, Manchester and Prague will have to cope without seeing scheduled United flights this summer, enthusiasts at Bergen, Dubrovnik, Nice, Palma de Mallorca, Ponta Delgada and Tenerife TFS will get to see some of the United fleet in action.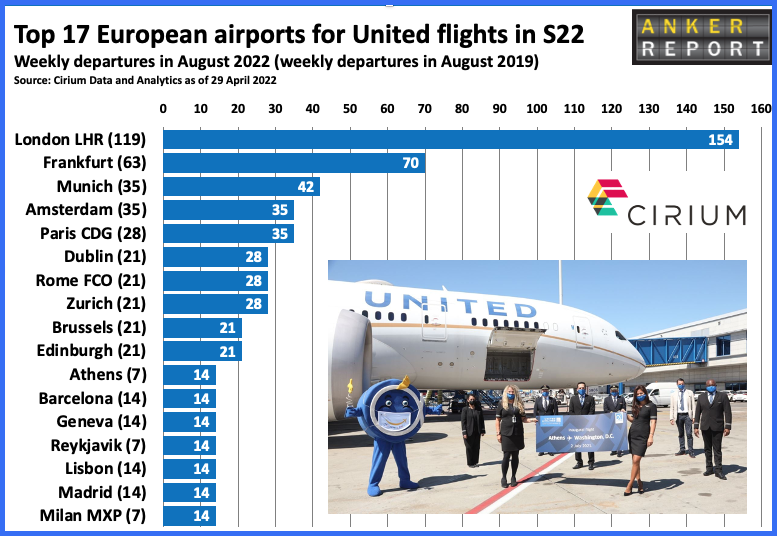 In total, United is planning to offer 629 weekly flights between the US and Europe this summer, compared with 525 in 2019. That is an increase of almost 20%. Among European airports, London LHR leads the way with 154 weekly flights well ahead of Frankfurt (70) and Munich (42). The Bavarian airport recently (24 April) welcomed a new, daily United service from Denver, which will complement Lufthansa's existing daily operation.