US airlines have dropped over 1,400 US domestic routes in last 12 months and started over 1,100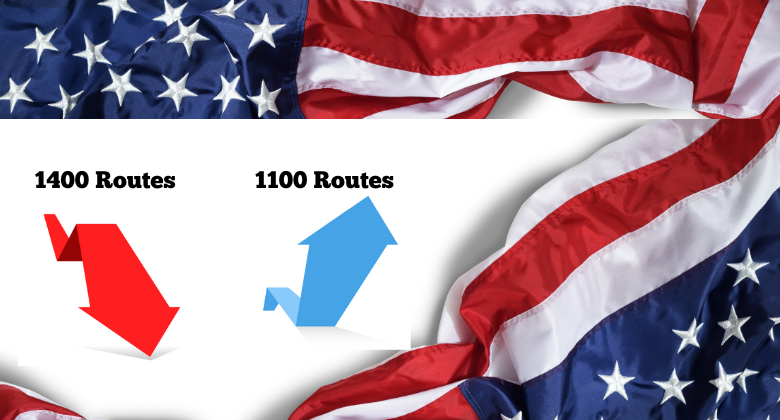 With demand currently at around 90% of what it was during the same period three years ago, it is not surprising that there are many US domestic routes that were operating in August 2019 that are not operating this August. What is maybe more surprising is how many US domestic routes that were operating last summer, in August 2021, are no longer operating in August 2022. For the purposes of this analysis, we are looking at airport-pairs, so that a return route between airports A and B is counted twice, from A to B and from B to A. This is important as there are some triangle routes which operate A-B-C-A, which is a total of three routes, A-B, B-C and C-A.
Analysis of Cirium schedule data for peak weeks in August 2021 and August 2022 shows that US carriers have dropped 1,423 US domestic routes, while adding 1,163 new routes. This only compares these two time periods in isolation. It does not include services launched after August 2021 that may have been suspended before August 2022.
Frontier and United tied for most dropped route
One factor to consider is the well-publicised issue of pilot shortages at US regional carriers. Another thing to bear in mind is that with business demand significantly below pre-pandemic levels, airline network planners were given much greater freedom to try new routes to keep aircraft generating revenues and ensure flight crews remained active. However, it was inevitable that many of these 'experimental' routes would fail to deliver suitable financial returns and have therefore been removed from airline schedules for this summer.
Analysis by airlines reveals that both Frontier and United have dropped almost 200 routes since last August. Allegiant and Southwest are not far behind on 192 and 188 respectively. Then comes American with 148 and Spirit with 120. Among the major carriers, Delta (80) and Alaska Airlines (30) have dropped the fewest routes in the last 12 months.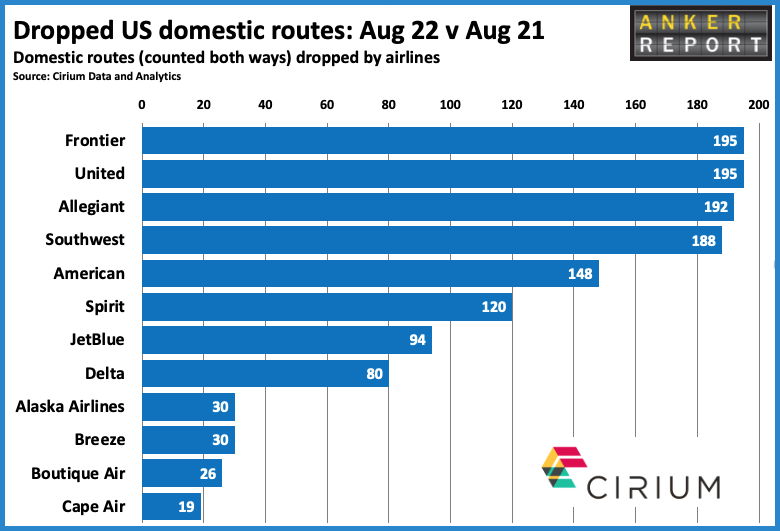 Allegiant tops new route rankings
Looking at the positive side of things, Allegiant has added 152 new domestic connections since last August. Next comes American with 128, Frontier with 124 and Southwest with 106. Not all of these routes are necessarily completely new services. Some may have operated before August 2021.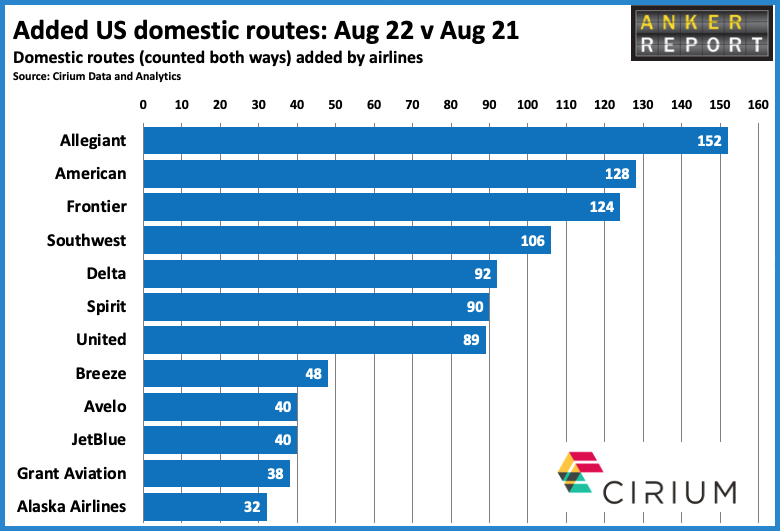 Chicago loses most domestic services
At an airport level, 264 US airports have lost at least one domestic service. Chicago ORD has lost the most (53) followed by Denver and Los Angeles (both 39), Orlando MCO (37) and Fort Lauderdale (31). On the other hand, 272 airports have seen the addition of at least one domestic service since last August. Leading the way are Las Vegas and New York LGA each with 39, followed by Austin (32), Boston (30), Miami (26) and New York JFK (24).