US and Mexico lead North America's winter recovery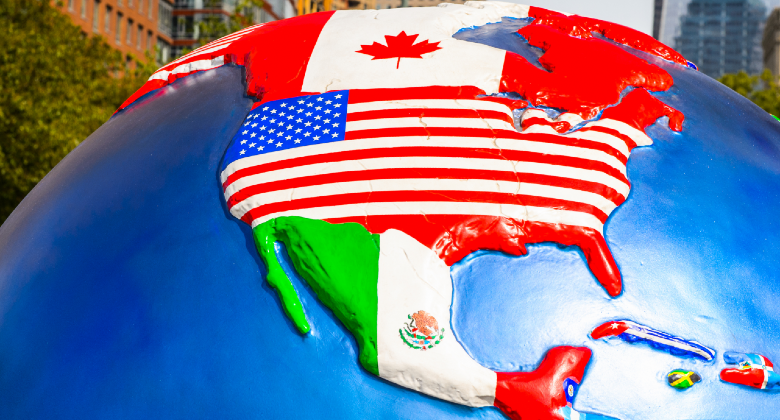 The North American market will continue to build on its recovery during Q4 2023 with capacity above 2019 levels, although the US has proven to be much more resilient compared to its Northern neighbour Canada which still lags behind.
The US air travel market was quick to recover from the global health emergency, with capacity in the final three months of the year, which includes the busy Thanksgiving holiday travel period, standing at 342.7 million, representing a 5.9% improvement on 2019, according to analysis of data provided to Cirium. This is despite the number of flights down by almost the same amount (6.5%). Both domestic and international capacity in the US increase during Q4 by 5.8% and 6.6% respectively.
Canada's tough pandemic-related travel measures, which were only removed towards the end of last year, have resulted in a slower recovery. During the final quarter, Canada boasts 32.8 million seats, a decrease of 4.6% on four years ago, while the number of operated flights is even more impacted, contracting 17.9%. Domestic travel has been hardest hit, with 15.1% fewer seats on the market. On the other hand, international capacity is recovering much quicker and will exceed pre-pandemic levels by 3.7% during Q4.
Mexico is North America's second-largest market
Mexico overtook Canada as North America's second-largest market behind the US this year and will maintain its position during the winter Q4. It has 39.3 million seats available, up a notable 24% on Q4 2019. Apart from being the runner-up on the continent, Mexico is also Latin America's biggest aviation market during Q4 - even beating Brazil.
Several factors have played in favour of the rapid development of Mexico's aviation market over the past four years. The country was one of the few in the world to have almost no travel-related restrictions during the pandemic, welcoming travellers from across the world. Its robust economy, low unemployment and a strong peso have also generated growing domestic demand.
The fast growth of LCCs VivaAerobus and Volaris, both of which are adding an extra four million seats on the market in Q4 compared to four years ago, have also helped Mexico's aviation sector reach record capacity.
Southwest adds most seats
Southwest continues to maintain its position as North America's fastest growing carrier during Q4. It adds 8.9 million seats over the last quarter of the year compared to 2019. This represents above average growth of 16.9%. Compared to four years ago, it has introduced 21 airports to its portfolio. Only Newark no longer sees Southwest. The LCC launched it in 2011 but decided to consolidate its Greater New York service on LaGuardia and ceased serving Newark in November 2019. It had a total of 16 routes from the airport.
Spirit Airlines comes next with the addition of over 4.5 million seats on the market compared to four years ago, an improvement of 43.5%. United will see modest growth in Q4 of 3.7%, while American will be under its 2019 capacity by 0.8%.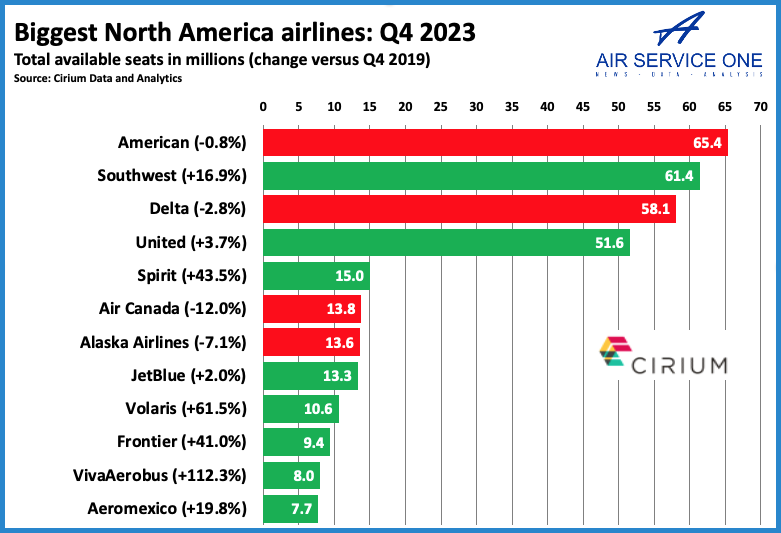 Denver sees biggest growth on pre-pandemic levels
Denver has positioned itself among the 20 busiest airports in the world since 2020 and has held the position since. Q4 shows its growth momentum is not running out of steam as it adds an extra 2.1 million seats on 2019 or an increase of 21.4%. Denver will be the world's second-fastest growing airport compared to four years ago, behind only Beijing Daxing, which opened its doors only in September 2019.
Fuelling Denver's strong growth is the increase in traffic by almost all of the US' major carriers, with Southwest leading the way, growing its Q4 capacity at the airport versus 2019 by 45.3%.