US-Asia flights remain down by 33%, mainly from slow China recovery; United is still the top carrier to Asia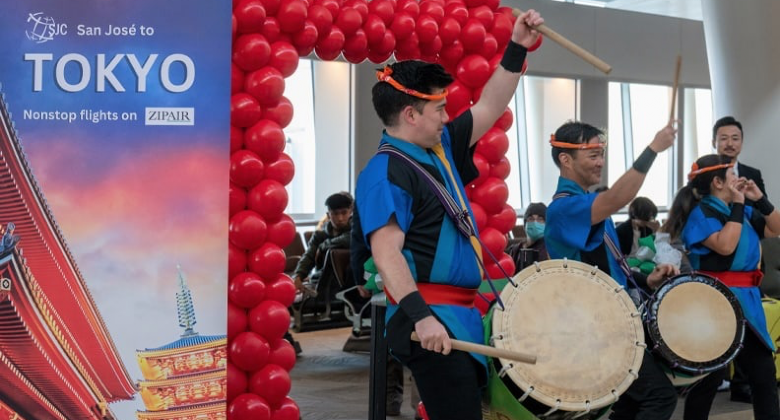 Asia is large and important market from the United States, including its Pacific Ocean territories. According to Cirium schedules data, there are 4,881 departing non-stop flights across August, excluding the Middle East. This makes Asia the US's third largest continent/region after Europe (17,218) and the Caribbean (10,338). However, flights remain a third lower than in August 2019, equivalent to about 77 fewer departing flights and 22,000 fewer seats a day.
Japan remains the US's top Asian market
The US has non-stop service to 10 Asian countries, of which Japan is the most served. There are more than 2,000 departures on 62 routes with nine airlines. Half of the market is controlled by Japan Airlines (25.1%) and United (25.0%). All Nippon is next (22.0%), very distantly followed by Delta (7.6%), Hawaiian (6.3%), American (6.1%), ZIPAIR (4.8%), Jeju Air (1.5%) and Singapore Airlines (1.5%). The latter continues its daily Los Angeles-Tokyo NRT-Singapore operation. 55% of US-Japan flights are by Asian carriers.
Some 20 US airports have Japan flights in August, led by Honolulu, Los Angeles, San Francisco, Guam and Chicago ORD. The number of airports is the same as in 2019. This is because low-cost ZIPAIR inaugurated Tokyo NRT-San Jose in December 2022 (5-weekly), following the March 2020 exit of All Nippon. Nearby San Francisco gained ZIPAIR in June 2023 (5-weekly), the first time since 2014 that the California airport has had four passenger airlines with Japan flights.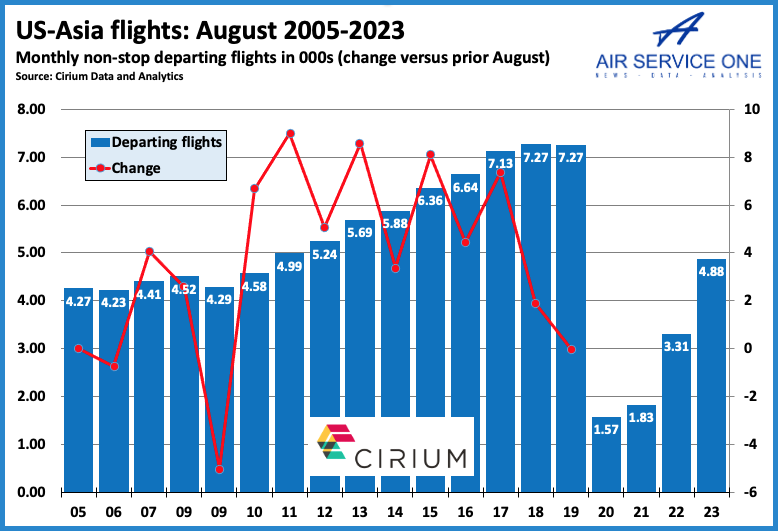 China flights are down by 93%
China is overwhelmingly still the most impacted Asian nation from the US. Cirium tells that departures have fallen from 1,619 to just 105, a drop of 93.4%. Non-stop routes have dropped from 62 to 12. Hong Kong flights are down by two-thirds, the Philippines by a fifth, Japan by 18.6%, and South Korea by a more most 8.6%.
The recovery has a long way to go. However, new routes help, or will do. For example, in May 2023, Air Premia began Seoul to Newark (4-weekly), a very long distance for a hybrid long-haul LCC. The month before, Taiwan's Starlux introduced Taipei to Los Angeles (daily). United will launch Los Angeles-Hong Kong and San Francisco-Manila in October (both daily).
In contrast, Uzbekistan, Taiwan, Singapore, and India all have more flights than in 2019. So does Vietnam, discussed below. India has 125 more – an impressive rise of 85.6%. However, this is not as it seems. Cirium informs that United did not have India flights in July/August 2019 – but did in all the other months of that year. Even if it had operated, there would still be more service now due to the return of American (in November 2021 after a nine-year absence) and Air India's growth.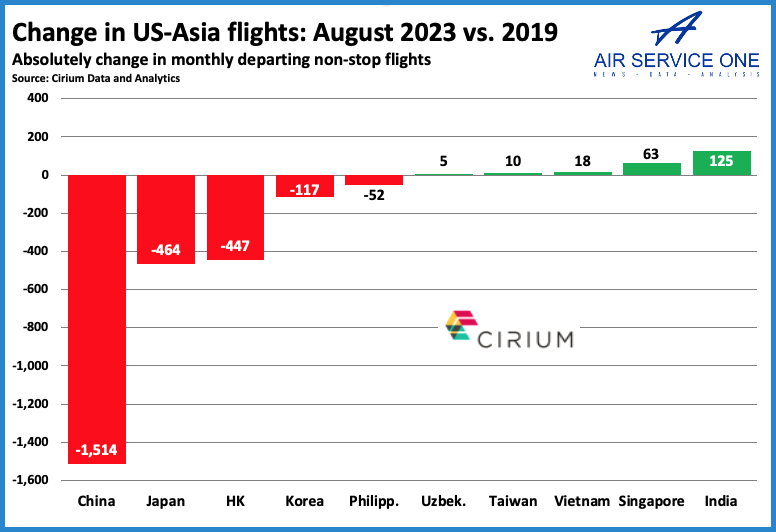 The US has gained Vietnam flights, but lost Azerbaijan
Despite the long distance from the US mainland and VFR- and tourist-driven demand which impacts fares, all of which means lower yields, Vietnam Airlines commenced Ho Chi Minh City to San Francisco in November 2021. A large volume market, it is the first time the US has had regular, non-stop service. While Vietnam was gained, the US lost Azerbaijan Airlines flights from Baku to New York JFK in early 2020. It is unclear if it will return.
United is still the top carrier to Asia
Despite United's flights being down by more than a quarter, albeit far more recovered than Delta and American, it is still the largest non-stop operator to Asia. United has 22 routes this August, including six from Guam and Saipan. Naturally, most (eight) are from its Pacific hub at San Francisco.
Unlike in 2019, Cathay Pacific, Jeju Air, and Air China are no longer in the top 10. They have been replaced by Asiana and – because of growth in non-stop departures – Singapore Airlines and Air India.